13 Dec. 2017
Aim High
Every year since I've been in the points and miles hobby, I've had goals.  Initially it was just to get a rewards card and earn enough miles for a "free" flight somewhere.  That was accomplished with a single rewards card.  Shortly after I had the lofty goal of earning a million frequent flyer miles, hotel points and other rewards currencies in my first year.  That goal was also accomplished but remains a steady goal each year since.  Each year I've accomplished all of my points goals, but having them for me is good because it produces targets that I can strive for.
Ultimately I'd like to earn enough points and miles where I can give travel to others.  Last month I booked Lufthansa first class back from Europe for a buddy and myself, along with all of hotels in our 2 week trek through Eastern Europe.  But I'd like to get to the point where I can give more; more flights and even entire trips away to deserving people – church workers, volunteers, relatives, and others.  I've been able to collect over 7 million points and miles over the past several years, but giving to the level that I have in mind is a  level to where I'm at now.
With that said, here's a peak at some early points goals for 2018.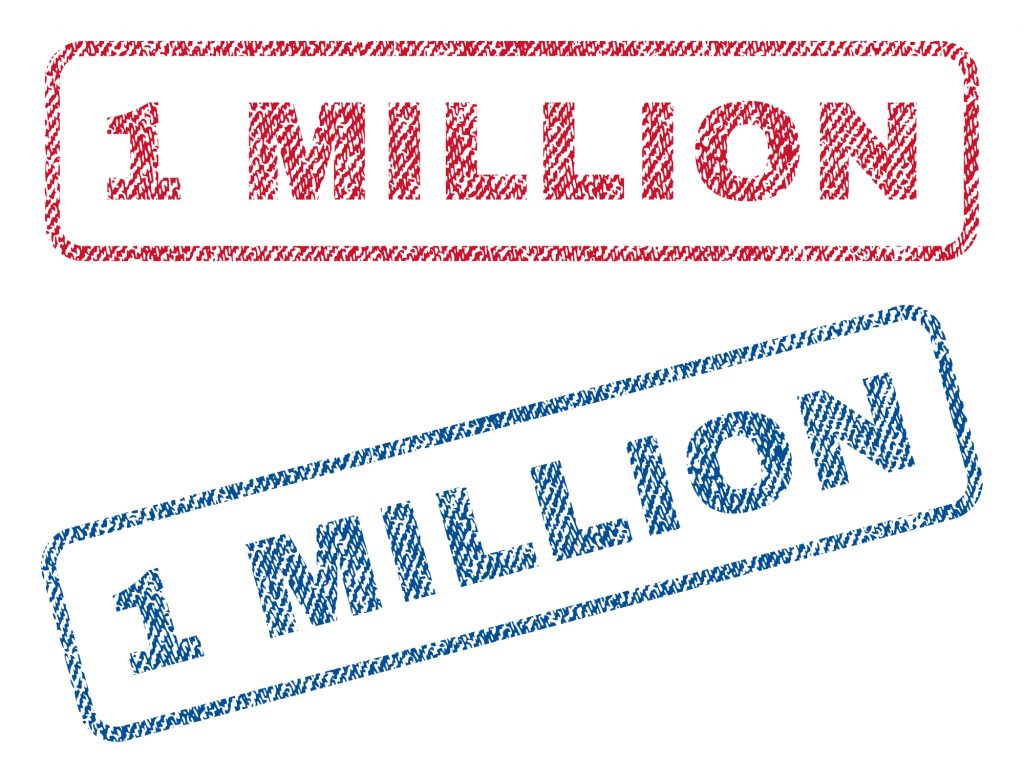 Reach 1 million SPG, Alaska, and Ultimate Rewards
This is the goal that's driving me right now.  I started to think about a million points or miles for a single currency after I heard about Dan Eleff (from Dansdeals.com) using 1.06 million SPG points to throw out the first pitch in game 7 of the World Series in 2016.  At the time, I had a few hundred thousand SPG points and the thought of accumulating 1 million any time soon seemed nearly impossible.  But I've set my mind to this goal, and even with low credit lines, the arrow is moving in the right direction. Hopefully in the early spring of 2018 I'll surpass the million mark with all three programs.  I'm also especially happy that each of the three programs is a very valuable currency (although I fear a major Alaska devaluation coming up in 2018).
$500k of Manufactured Spend in a Month
I'm not sure what my record high for MS in a month is now, but it's close to $500k.  I am comfortable with my credit card setup and usage, and my currnet MS levels are in stride with what I think are appropriate right now.  With a few more good rewards cards to work with, $500k is entirely feasible, although it's very possible that I may reach this goal before 2018.  I value my free time too, so getting to $500k would consume more of that.  500k is a loose goal and more for fun, but one I'll probably go for – and reach – at some point.
Getting a little Splashy with Award trips
First class Lufthansa 747-8 from Germany back to the U.S. is booked for 2018, and I'm looking for another couple of trips.  Visiting Belarus, and Ukraine will be new countries for me.  Time off my main job is the main factor making longer trips difficult, as I can't just come and go from the office as I please.  India is a big draw as are a few other spots.  Where to go and what point to use?  That jury is out.
Change my Application Style
I used to apply for 4-6 new rewards credit cards every 91-95 days, but I think that sequence may have to change a bit.  To be more successful, I may have to drop down to 2-3 applications.  My last round of apps didn't go very well, with only 1 approval out of 4 total, which I posted about.  Others have had some rough luck too recently.  Getting rejected for credit cards kind of rattles my cage a little, but I'm researching and evaluating for the best path forward – which could mean a total change of my application strategy.  I'm not set on the strict 91-95 day rule, and may just apply for cards based on solid bonus opportunities.
Get New Rewards Credit Cards
About 6 months ago I thought about tapping out and not applying for new credit cards for 2 years.  I thought I had reached the mountain top in terms of the amount of cards that I had, and those that I might qualify for.  Then came my Barclays shutdown where all 3 of my rewards cards with the bank were closed.  Since then I've re-evaluated everything, and believe that there is room for more cards to be had.  On the shortlist of cards that I'd like to get are the Alliant 3% cash back, and the Amex Platinum.  Even the Capital One Venture Rewards would be nice replacement for the Barclay's Arrival Plus that I lost.  I'd like to cage dive with great whites in Mexico soon, and it's not cheap to do so.  General travel points would be a key component to paying for that.
Earn at least 100,000 Membership Rewards via the Blue Business Plus
With a $50k annual spend cap that earns 2x on everything and no annual fee, the Blue Business Plus is one of the best credit card deals out there.  I'm not super high on Membership Rewards, but did manager to collect well over 100k worth this past year with this single card.
Max out the Chase Ink Plus for 250,000 Ultimate Rewards
I'm already close to achieving this thanks to the Office Max/Office Depot/Staples promotion that ran in the same week in November (2017).  The rest of the 5x for my Ink Plus will probably be spent on gift cards for stores that I shop at most like Amazon, Whole Foods, and Airbnb.
Earn any spend bonuses on my cards
Some of my cards offer spending incentives that earn free miles.  The Chase United Business card offers an additional 10,000 bonus miles for spending $20,000 on the card in a calender year.  There should never be a spend bonus that I can't reach.
Achieving SPG Gold Status
After $30k in spend in a year, SPG rewards customers with Gold Elite status.  That's not really a big deal for me right now, as I'll be trying for the Ritz Platinum status that should give me Platinum with SPG.  But just in case achieving SPG Gold is a standing yearly goal.
Achieve Marriott Gold Status
Marriot Business offers Gold status if you spend $50k on the card in a calender year.  Gold status isn't amazing, and but it's not far off from the benefits of Platinum.  Wish there was a spend level for Platinum too.  Transfer rate of Marriott to SPG is a measly 3:1, but I may end up doing that.  If I can get Platinum Ritz Platinum status then that transfers over to SPG and Marriott.  Any Marriott play isn't a must because I haven't stayed in one of their hotels in well over 10 years and don't have a big interest in their properties at this time.  The spend here is mostly likely just extra SPG points.
Earn Free Nights with Club Carlson
After spending $10,000 on the US Bank Club Carlson Visa, a free night is awarded along with 40,000 bonus points for renewing (paying the annual fee).  The annual fee is $75 for the card, but for that I'm getting 3 free nights – the 40k for renewing, a free night for 10k in spend, and from that (10k) spend, another free night (10k x 5x = 50k).  There's still value with Club Carlson.
Achieve Platinum Status with Ritz
I don't even have this card yet and I'm planning on obtaining status lol.  After $75k in annual spend on the Chase Ritz Carlton card you're granted Platinum status.  That's fantastic because that status transfers over to SPG and Marriott.  From there I'm hoping for status matches with other hotels.  SPG Platinum also has some tie in perks with Delta, United, and even Emirates and Hertz.  Kind of amazing the benefits are that far reaching.  Achieving top tier status based on spend is an incredible deal for those who have very few paid hotel stays each year (like myself).
Earn as many points as possible
Even though a million points is the base earnings goal each year, in 2018 I know I will surpass that by a substantial amount.  I don't know what the total upside possibilities are actually, so it's kind of exciting to see what the results might be.  I know there are others that have more points and earn more in a year than I do, but I don't really care much, as I'm content with what I can do.
Summary
If the points and miles hobby ends tomorrow, it won't be a big deal.  It's a fun hobby – I enjoy it – but it doesn't define me.  Until it does end though, I plan to maximize it while I can.