10 Apr. 2018
Status
I'm a frequent flyer to many of the Walmart locations in my area.  If they had status at Walmart's Money Center, I would probably be a Double Diamond Platinum.  But in the end, it's Walmart so I'm not doing cart-wheels over that fact.
My area is a bit unique compared to some around the country in that many of the stores here have been in flux in terms of the allowances for manufactured spending (MS).  The changes, both positive and negative, have brought frustration to many points runners who frequent various stores with hopes of cashing in cards for miles.  Through all the changes though, I can't complain as we are pretty fortunate to still have some reliable options for MS.
eMSAR
If you're manufacture spending amounts greater than $3,000, you'll generally either have to fill out a paper Money Order Transaction form, Suspicious Activity (MSAR) form, or provide information to the Walmart service representative via an electronic or eMSAR.  I've written about manufactured spending and Walmart's previous money order documentation requirements pretty extensively in the past, but haven't tackled the eMSAR form much.
If a Walmart Money Center employee suspects suspicious activity during a transaction, they are instructed to use the Suspicious Activity Form.  Here's the updated paper form: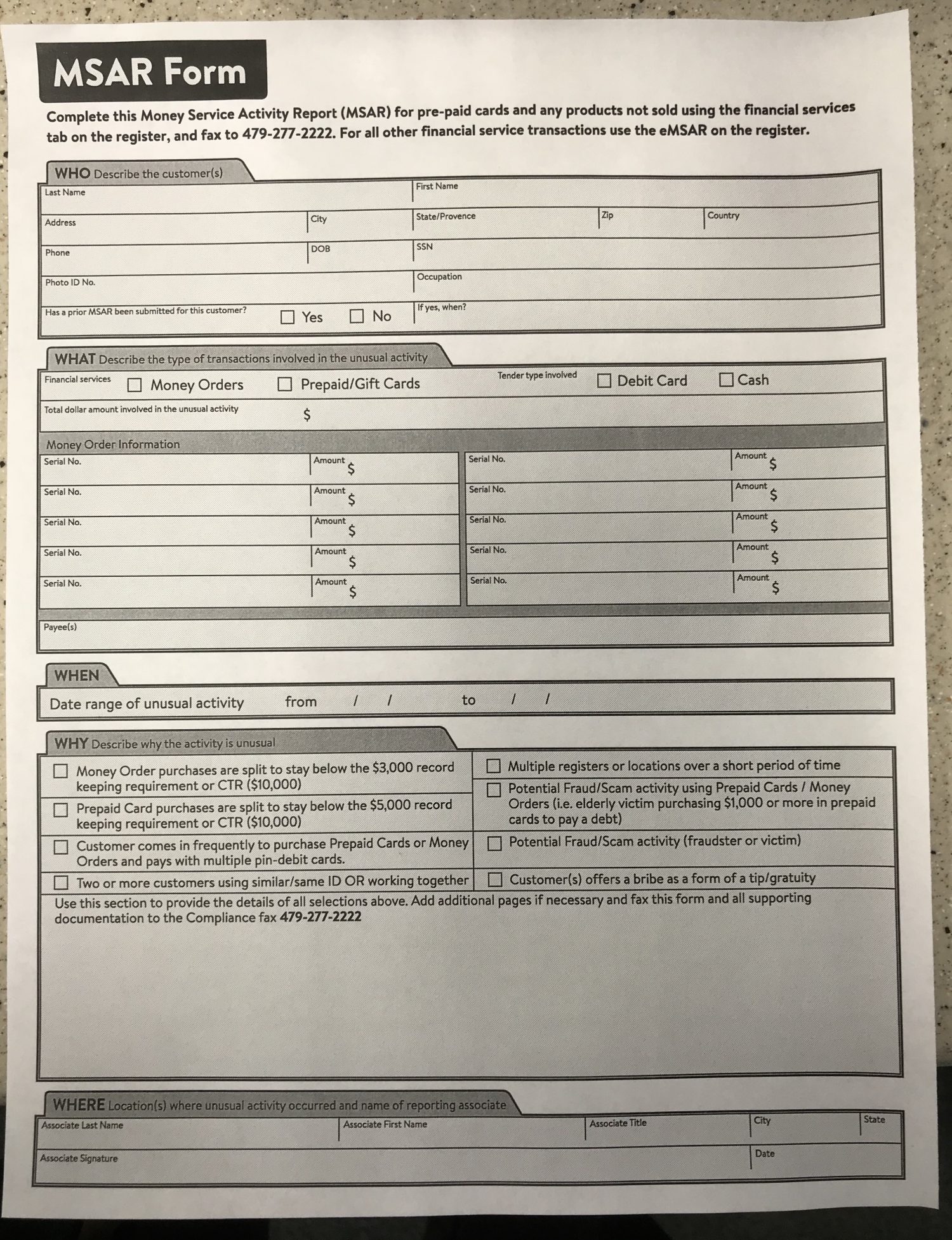 A store that I frequent has begun using the eMSAR form to capture customer's information for money orders.  That's a bit odd since the MSAR should be used for suspicious activity, not as the main source for processing multiple money orders.  With that said, here's a look at the opening screen:
A downside to using the eMSAR form is that it's specifically designed for suspicious activity.  People using debit (gift) cards for money orders and ultimately for travel rewards aren't doing anything illegal, and don't seem to fit any of the menu options shown.  The service representative said that only the first 2 selection options (above) led to the production of a money order.  The last 3 options (highlighted above in red) apparently lead to a decline of service.
The positive aspect for me in this liquidation run was that the eMSAR worked without freezing and ultimately saved me time.   I expected to provide my license, and social security information, but wasn't asked to provide either for any of my transactions.  Although my total amount of money orders was $6,000 for my trip, each transaction totaled $2,000, so the representative concluded that ID wasn't needed.  I'm not sure that was actually the correct thing to do, but I wasn't going to argue if it saved time.  I also felt fortunate that the software didn't freeze up during any of the transactions, as registers at this location seem to have internal memory capabilities slightly less than first generation Atari machines.
The next screen (above) doesn't get much better in terms of the choices and how appropriate they are for points runners.  My service representative selected the top choice (Customer changed transaction amount…), but agreed that the options were awkward at best and didn't fit my transaction type.
The final screen has a text box where the service representative literally typed in that I was using debit cards for miles.
Conclusion
Filling out a paper form for money orders (totaling over $3,000) that is either faxed to Walmart corporate or that's stored in a large file cabinet inside a back room cash office isn't very concerning to me.  Manufactured spending for points isn't breaking the law, and the type of information supplied on the forms doesn't keep me up at night.  Sensitive personal information along with a my social security number are on the forms, but I assume all of that information is out in the open or near open anyway.  To be honest, I actually have more faith in the safety of a paper form stored in Walmart's cash offices than providing my social security and other personal information electronically at any time.  However, the eMSAR form is a little troubling.
First it's troubling because it doesn't really fit the transaction types that points runners engage in via manufactured spend.  I know that people doing bad things at Walmart and similar stores are engaging in similar activity/methods to people running cards for points, and in those cases, precautions need to be put in place.  I'm all for any measure that helps bring down the bad guys.
However the updated paper and eMSAR forms have language thats much different than other forms that Walmart has used in conjunction with money orders.  A concern of mine would be that the information in the eMSAR form doesn't just sit somewhere in a database, but that it's routed to people who can actively track and manage the data – as if there really was something bad occurring from people doing manufactured spending for points.  That sentiment might be partly paranoia, but I don't feel it should be used for anyone doing multiple money orders that total over $3,000.  Hopefully, this store will change course and abandon the eMSAR unless it's really needed.  In the case of manufactured spending, it's not.