25 Feb. 2019
Sick
I've been traveling overseas on a round the world trip for about a month and returned home last night.   To put it mildly, my trip was a challenge.  With a stint in the hospital in Delhi, India and sickness and struggle to follow me most of my days on the road.  To prepare for the time change back home, I stayed out all night in Minsk, Belarus the night and morning before flying back home and departed on an early flight.  It was an exhausting day.
Even though I arrived back in the evening, I've gotten into the habit of doing laundry and organizing things when I get back from trips overseas rather than let things sit around in luggage, and bags.  While my first batch of laundry was in process, I started reading through my mail that was put on hold while I was away.  Unfortunately, I found some bad news early in my mail stack:  two shutdown letters from Bank of America (BoA).
Past & Present
Compared to many others in the points and miles community, my current and previous Bank of America relationships have been pretty conservative.  In the past several years, I've opened two checking accounts with Bank of America (for the bonuses) and closed them each within a year.  I had the MERRILL+ Visa Signature, and made money on the card along with a completely free flight to Europe.  I've also had more than 5 but less than 10 BoA Alaska credit cards in the past 5 years, which is the time when I started collecting Alaska miles.  During those 5 years, I've accumulated roughly 2 million Alaska miles, mostly through credit card spend, and still have over 1.8 million unused miles stashed away in my travel rewards bank.  Last year I used 110k or so Alaska miles for a business class redemption on Fiji Airways and Cathay Pacific to and from Australia to the U.S.  My goal in 2019 was to hit 2.3 million Alaska miles in my bank, but that likely won't happen now.
Risk
When I saw the BoA letter, the paper inside the envelope was slightly darker and clearly not a marketing piece.  The outside of the letter and address on the envelope wasn't one that I recognized either.  I feared a shutdown even before opening the letter, which doesn't say a ton, as I fear nearly any letter I get from a bank.  This time though, it was the real deal.  Until this letter came my way, I only had 2 active Bank of America rewards credit cards in my wallet: the Alaska personal and business co-branded cards.  Both were closed and my online login/access was completely turned off too.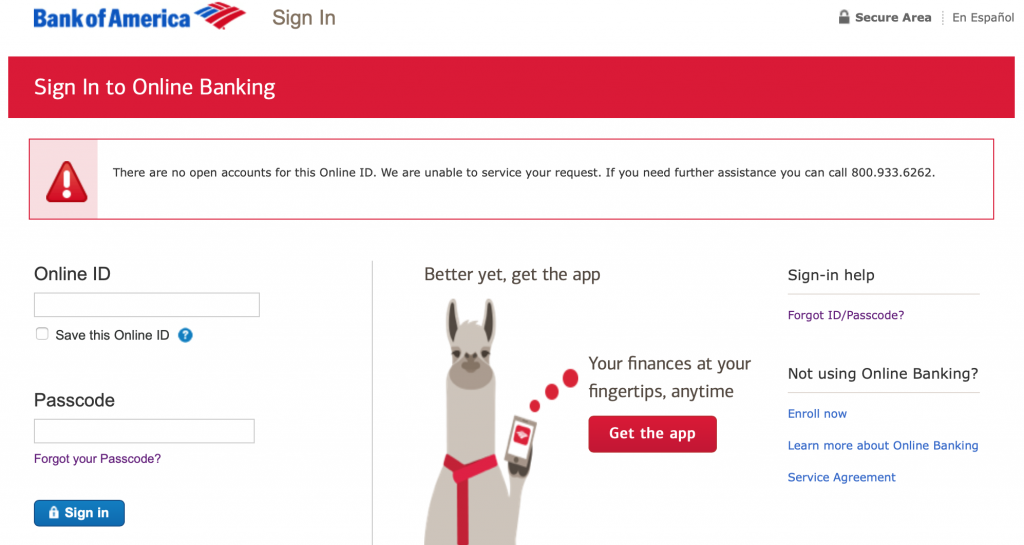 While in India, I tried logging into my BoA account but couldn't (above).  I was a little puzzled but figured that my inability to login was because of my VPN or overseas travel.  At the time, a shutdown never crossed my mind, which is why I was so surprised when I read through the nastygrams.  Here's what they said.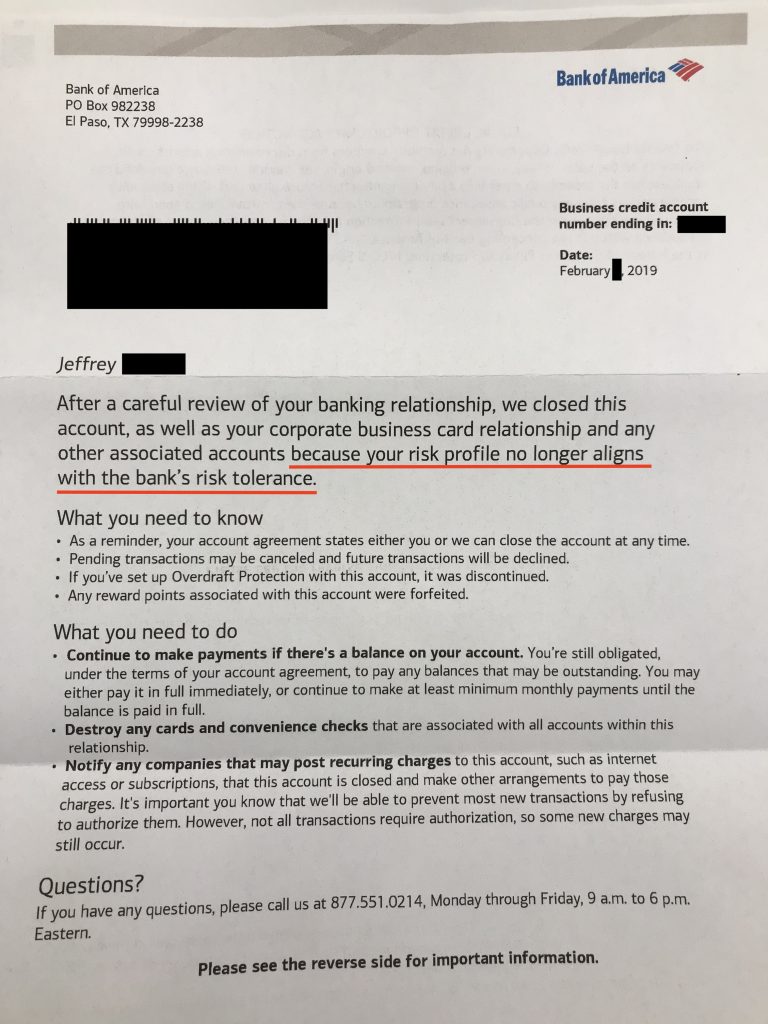 The reason given, for both my personal (above) and business (below) cards is strange, as I was one of the banks less risky cardholders.  I paid my bills in full and every few to several days.  The last "issue" I had with BoA was nearly a year ago, when I payment from a newly linked external checking account bounced back on one of my cards due to an incorrect routing number.  I rectified my error the next day, but BoA has slowed my available credit considerably off and on since then.  That off and on slowdown hasn't really affected my spend on the cards, but my credit limit (CL) cycling hasn't been any more in the past several months than in any in the past year.  I can't give you exact cycling figures right now, as I can't access my account and without seeing some statements, would only be guessing at the real figures.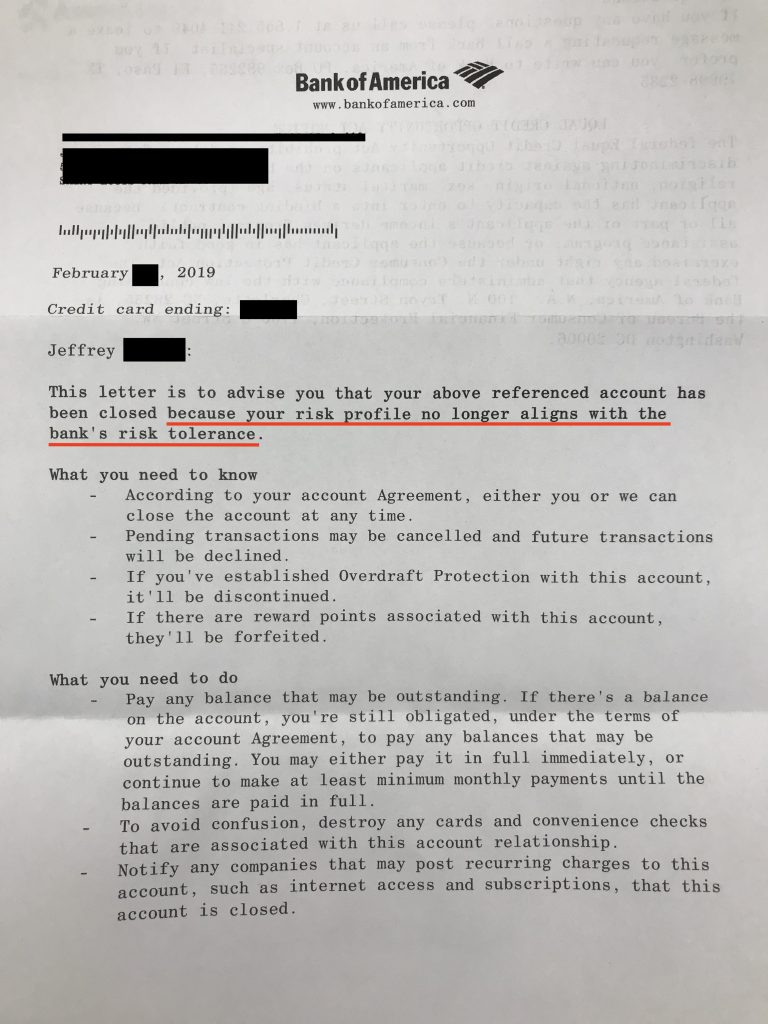 Why Me?
I'm not exactly sure why my BoA accounts were closed.  I didn't have a current checking account with BoA, so there wasn't any issue of large amounts of money orders being deposited.  I did a reasonable amount of manufactured spend on the 2 cards combined each month, but less than I was doing 6 months or a year ago.  I also was doing steady bill pays to both accounts each month, which started 3-4 months ago and occurred every 30 days.  Those bill pays occasionally created a negative balance that I would carry for a few to several days.  I also had a negative account balance at statement close a couple of times.  The bill pays likely contributed to the shutdown, I'm just not sure exactly how or why.
Going Forward
I haven't been able to get approved for other Bank of America credit cards in the past year.  I've tried twice for the Virgin Atlantic and was denied both times.  I had basically given up for 2019 for applying for any more BoA cards, although I was open to new checking account bonus opportunities if they did arise.  Even before the shutdown, I didn't particularly care for BoA.  There aren't a ton of branches in my area, the interior of the branches seemed odd/almost futuristic, available credit can be slowed down without notice, payment processing is sometimes slow, and customer service isn't exactly numero uno either.  BoA was one of the easiest banks to be approved for rewards credit cards, but it has become very difficult to get approved for BoA any of the bank's cards of late.
I view BoA as a "B Tier" rewards program.  If you happen to have large amounts of money ($100k+) invested with BoA and the right credit cards, the program and return become much better and possibly closer to the "A Tier" list of rewards banks (with Chase, Amex, Citibank).  I'm fortunate in that I have a lot of Alaska miles stocked away, which will last me years, even redeeming for some business or first class flights.  I've heard that a BoA shutdown is "lifetime", which is pretty bad news.  Offhand the shutdown doesn't feel like a big deal, as my BoA strategy at this point revolved around Alaska miles and not much else.  However, if this really is a lifetime ban, opportunities for travel reward products (or cash) in the future will also be forfeited, which could be very substantial.  I'm planning on going into a local branch and speaking with a banker to see what they can dig up.  After that I'll likely call into BoA and see about an explanation.  My account and relationship with BoA is likely toast.
I was also shutdown at Barclays over a year ago, which was a foolish mistake on my part.  The BoA shutdown was also in my control, but wasn't really avoidable considering the path(s) that I chose over the past year or so to earn Alaska miles.  Fortunately there are other ways to earn Alaska miles if need be.  such as through a transfer from Marriott Rewards for example.  However, I probably won't take that path unless I need to, because at this point, more Alaska miles isn't something I really need.  The moral of the story is that if you manufactured spend on BoA credit cards, you are shaking the dice on whether or not you'll be shutdown.  I used to be much more cautious about manufactured spending, deposits and how payments were made, but that caution has decreased dramatically.  It's helped me earn higher rates of rewards, but there are also larger consequences.
I've said before that manufactured spending isn't all duckies and bunnies.  It might seem kind of fabulous from the outside, but there are real risks on many fronts, to employing it as a strategy.