9 Jun. 2018
Big, Big, Game
South Africa is probably the most beautiful country that I've visited in nearly 50 countries of travel.  Before I was shutdown by Barclays, I did a 5 day safari in Kruger National Park and Sabi Sands (in Eastern South Africa) along with 2 days of great white shark cage diving.  I used points for all of those adventures that resulted in no out of pocket expenses.  It was easily one of my best and most memorable points redemptions.
One thing that separates South Africa from many others is the abundance of big game and spectacular wildlife from great white sharks to penguins, rhinos, lions, giraffes, and just about everything in between.  Safari's are a wonderful experience but visitors can see lots of game by themselves on self guided tours and rental cars.  Safari's offer some pretty large advantages over self guided tours, and are worth the money in my opinion.  There are a variety of tours and price points for people of nearly any budget.  Here are some tips for those planning their first safari.
Preparation
Bring a light scarf – if you're driving around in a vehicle to see animals, you're going to be on dirt roads much of the time and that means dust….and lots of it.  If you're there in the winter, well then the scarf will serve multiple purposes, blocking the cold and the dust.
Plan on downtime – generally safari trips utilize the early morning and late afternoon/evening for spotting animals.  It gets hot mid day and the animals are less active, especially the big cats.  So bring some reading material or things to keep you occupied at your camp or accommodation site.  Napping isn't a bad idea either.
Bring cool weather gear – if you go on safari during the winter months in Southern Africa (June, July, August), the mornings and evenings are surprisingly cold.  And if you're in an open jeep driving around and looking for animals, it's even colder.  It might be 85 degrees in the middle of the day, but in the morning you can easily need a winter hat and gloves.  The range of temperatures in the winter months is amazing.
Budget safari options exist – try safari pricing with groups like African Budget Safaris to find quality tours that are well priced.  A weak Rand (South African currency) and stronger U.S. dollar help save money too.  Some safari companies have tipping options, by cash or credit card, for tour guides after a trip ends as well.  I didn't realize it when I booked, but tip was "not included" as part of my safari price.
Bring long sleeve pants and tops – for cold mornings yes, but bites from mosquitoes with malaria is the real deal.  It can make you extremely ill or even kill you.  Enough said.
Bring a Zoom lens – no matter what type of photographer you are, you will probably need a zoom lens to get some nice wildlife shots during your trip.  I recommend a zoom lens with at least 6x to 10x optical zoom.  I used a Sony a77ii camera (great for action) with a Tamron 16-200 zoom lens and it was magical for good photos and video.  You also may want to learn how to take fast action shots with your camera as some photos could be animals on the chase/hunt.
Don't plan on an internet connection –  safari lodges may the internet but sometimes they don't.  It depends on your safari tour group and the accommodation that you have.  In general the internet is slow even if they do have it, so continuously being virtually connected back in the city may not be feasible.  If you're using points for your stay, Marriott's Protea Hotel Kruger Gate is located on the border of Sabi Sands and Kruger Park.  The internet is solid there too.
Rough and Tumble – jeep drivers often go off-road to follow the animals into the bush.  When I say off-road, I mean driving over thorny bushes, fallen trees and even taking down standing trees.  The vehicles that transport guests are heavy duty, as are the tires.  Much of what the tour guides drive over would puncture normal car tires in a flash.  Drivers are very skilled, but be prepared for some pumpy and adventurous off-road activity, some of which is at good speed.
Food – if you're touring national parks like Kruger on your own, they have places to stop, dine, and to restock water and food supplies.  It's not necessary to bring a week's worth of supplies with to the to Kruger.  I was surprised at the variety of food options within Kruger, but but there are many other game reserves around the country, and those food stocks vary.  Make sure to check your safari destination for more information.
Some safari companies charge for extras – some safaris provide a certain amount of food but charge for extra items (like beer and alcohol).  You may not want to drink the tap water in this area too, so having extra rations is a good idea.  Bring some extra snacks with you in case you get hungry (or don't like the food offered by the safari company!)
Consider a self tour for part of your safari experience/visit.  Generally a hired safari will stay within a certain geographic area and show your property they own, are familiar with, or that is within a certain distance of the lodging.  If you rent a car and tour yourself before or after, you will see lots of wildlife, it's just a matter of how much and what kind.  Generally lions, cheetah, and leopard are difficult to find but if you're driving and see some parked cars on the side of the road, there's wildlife in the area.
Have a plan B for navigation – Google Maps may or may work inside of a game reserve or national park.  Kruger Park is a huge mass of land and has areas and roads where electronic devices may not pick up signals accurately, if at all.  Failed navigation could waste a lot of time, or even get you lost.  With lion, leopard, cheetah, and hyenas around you, getting lost isn't a good idea.
Double rooms = Double price- I stayed in a really nice "clamping" tent that were built up 5-6 feet from the ground.  There were 2 beds as well as a shower, toilet, air conditioner, mirror and more.  However, I was charged for 2 people, since prices were for the room, not the individual.
Stay still around the animals – The animals, big and small are really cute and often majestic, but if you stand in a vehicle or make sudden movements (for photos or to get a better view), that moment can actually provoke the animal, as many see it as aggression.  When a full grown adult elephant is 3-5 feet from you and you an clearly see the power potential of the animal, provoking it isn't recommended.
Don't try to call animals –  You will probably scare them off or worse yet, they will get pissed and charge or confront you.  An elephant could easily tip over your jeep or worse, and other animals could wreak havoc as well.
Malaria pills – in the winter time, malaria pills are probably not necessary.  Protective clothing and some anti-mosquito lotion will do very nicely.  It's cold during the winter months and the bugs are not in full effect yet.  However when it warms up, these should be strongly considered.
Seal the Deal – If you're camping, or staying in a camp type environment (glamping) , keep your tent zipped up and sealed at all times.  It's easy to slack off and leave a zipper open or velcro seam unsealed, but animals are very curious.  I was awakened my first night on safari in South Africa by a brown mongoose about a foot tall, scratching my zippered door trying to get in.  Those little guys can kill poisonous snakes!  He wasn't invited in.
Hot Lava – there are around 3 winter months in Kruger National Park where it's cool with cold mornings and evenings.  Sleeping is comfortable and the bug/malaria risk is very low.  But outside of June, July, August, it gets hot in Kruger (and other parks near JoBerg).  If you're in a camp site area as part of your safari, those tents can get steamy.  If you're on safari in the warmer/summer months, those tents are like pressure cookers – almost unbearable – even if they have air conditioning.
Watch your step – there are many thorned trees and bushes in Kruger and other parks.  It's easy to get snagged or get cut when you're not looking.  If you're on a safari truck, they often drive past or through these thorned areas very quickly, and you need to be aware.  You can easily get your clothing snagged or suffer cuts.  During the warmer months, there are some poisonous snakes around too so thank twice about wearing flip flops in the bush.
Paying by Points – if you're hoping to pay for a safari or other animal experience with Barclay Arrival or Capital One points, call in to find out if the bank will allow it.  Sometimes "travel experiences" are not allowed for points redemption.  I was able to get confirmation that Barclays would allow points to cover my safari in advance and it saved me a few thousand dollars.
Baboons bite – baboons look cool.  They often scamper around with little newborns on them and just seem pretty docile.  Please know that baboons have amazingly powerful jaws, and are definitely wild animals.  I saw a leopard with a gash on it's leg from a baboon bite.  You wouldn't stand a chance if it came town to a match with a baboon.  Please leave them and the other wild animals alone and appreciate them from a distance.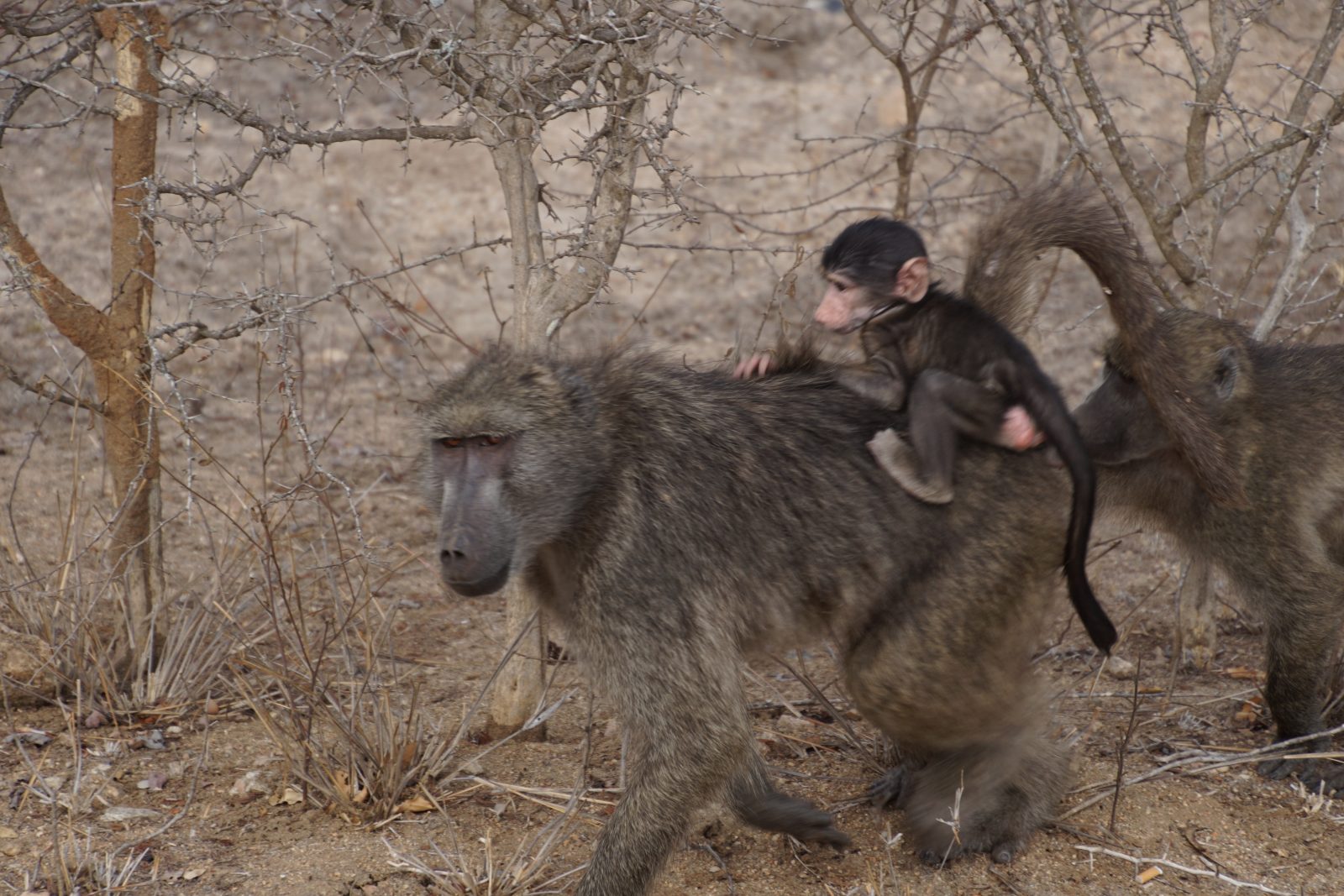 Animal Rights – some of the drivers, during both the morning and evening drives, get very close to the animals.  The animals are still wild and anything could happen, most have grown up with humans and jeeps close to them.  Some tour guides can drive very aggressively in order to get the photographs that safari goers want.
Cookouts – my safari company had dinner cookouts every night.  Each company has different menus and setups.  Eating around a massive fire with wine, beer, and food prepared by the staff was great.  Basically the tour guides drove us around the park much of the day and night, then cooked all of our food too.
Rise and Shine – multi-day tours start early, before the sun rises.  Once it heats up the animals tire and nap much of the late morning and afternoon.
Take it all in – sure there's the big 5 to see, but seeing and appreciating the birds, small game, sun rises and sun sets, and amazing stars at night are all part of the safari experience.  It's truly unique and possibly a once in a lifetime opportunity.
The best way to get to South Africa:  it's only 70,000 Alaska miles to fly one way in first class from North America (including Canada) to Hong Kong on Cathay Pacific, then continue to Johannesburg, South Africa in Cathay's business class.