22 Apr. 2018
Backpacked
When I was in my 20's I backpacked Europe for over a year.  I traveled through Western Europe, Scandinavia, Great Britain and Ireland for 6 months, and then came back not long after to do a similar length trip through Scandinavia, Central and Eastern Europe.  At that time, I was within close proximity to the border of Russia, Belarus, and Ukraine but never entered those countries.  At that time, traveling into any of those countries required a visa and that was too much hassle and extra money for me to deal with so I went around them to other places.  It's a decision that I regret now, but the past is the past.
So around 15 years later, here I am – in Minsk, Belarus.  Things have a changed a bit since that time.  I've traded a backpack for a suitcase, and hostels for mostly hotels and apartment rentals, but other things remain very similar to when I was traveling before.
Getting There
Belarus now allows travelers from the U.S. (and others) to enter and stay in the country for 5 days without a visa.  There is talk about opening up travel in the country to 10 day visits visa free, but that issue hasn't been cleared up yet.  There are some simple caveats with the current visa free visit though, as you must fly into the capital Minsk (no trains or busses from other countries), and have medical insurance.  Minsk is not a cheap place to fly into, and I've never seen a flash airfare sale there either.  Using points and miles to get there is highly advisable.
The medical insurance part is interesting, because most travelers have some sort of home based insurance that will cover them when they travel overseas.  Traveling to Belarus is another matter though.  Even if you have Blue Cross, HealthPartners, or other major U.S. based insurance, you'll be turned away from entering the country unless you purchase local insurance.  Before entering the customs line in the airport to enter Belarus, you need to walk over to the medical insurance booth and buy local insurance.  The workers in the booth sell medical insurance to travelers for a variety of time frames and it's cheap (under $10 for a 5 day stay).  Here's the lates medical insurance form (not sure if photos of this form are allowed, but I snapped one quickly).
Where to Stay
Most foreign tourists in Minsk seem to stay at the Hilton Double Tree (30,000 points/night).  It's a new, modern hotel in a nice location.  The new Galleria shopping mall is adjacent to the hotel too, and offers luxurious shopping compared to the vast majority shopping options in the city.  Another option using points is the Hilton Hampton Inn.  It's cheaper than the Hilton (at only 10,000 points a night) and roughly another mile away, but still offers easy access to the metro and rest of the city.  Finally, there's the Marriott which is further outside the city center, or around 2.5 to 3 miles out.  The city center really isn't walkable from the Marriott, and for me it was thrown out of the selection process because of the distance factor.
There are also various Airbnb's popping up inside the city.  These are great options that help out locals and offer the opportunity to stay in a neighborhood with better access than most of the hotels provide – and all at a good price.  My buddy and I found a 2 bedroom apartment in the heart of the city center, across the street from October Square, 2 blocks from the KGB headquarters, and a few more to other top landmarks.  The apartment was fully secured, across the street from a supermarket and wonderful cafe, and close to what nightlife that Minsk has.  Best of all, I earned 5x for the entire stay via Airbnb gift cards purchased at Staples with my Chase Ink Plus business card.
Getting Around
Minsk is spread out and very different than most cities in Europe.  It doesn't really have an "Old Town" per se.  Around 80% of Minsk was destroyed in WWII and later rebuilt by those savvy communist architects.  To hear the logic behind the architectural rebuilding of the city would have been pretty interesting.  I'm guessing the logic goes something like this:
"Let's build a giant gray building, without character, that lessens the spirit, dulls the mind, and blends in completely with the other gray buildings around it."
and might be followed shortly after with:
"Then let's put a massive square in front of the buildings, to set them off and apart from there rest of the natural landscape as much as possible.  That way these depressive behemoths can really impose some significant depression!"
Minsk has a lot of communist architecture.  Others might say much of the city's architecture is an eyesore, but it definitely isn't pretty.  I will say though that at night there are tons of lights around, and that many parts of the city do look quite nice.
The major landmarks and tourist sights aren't very impressive compared to other parts of Europe, or even countries that border Belarus like Vilnius, Lithuania or Kiev, Ukraine.  It's also nearly impossible to walk to all of the major tourists sites.  Thankfully Uber is widely used and inexpensive so that's your best bet besides using the metro.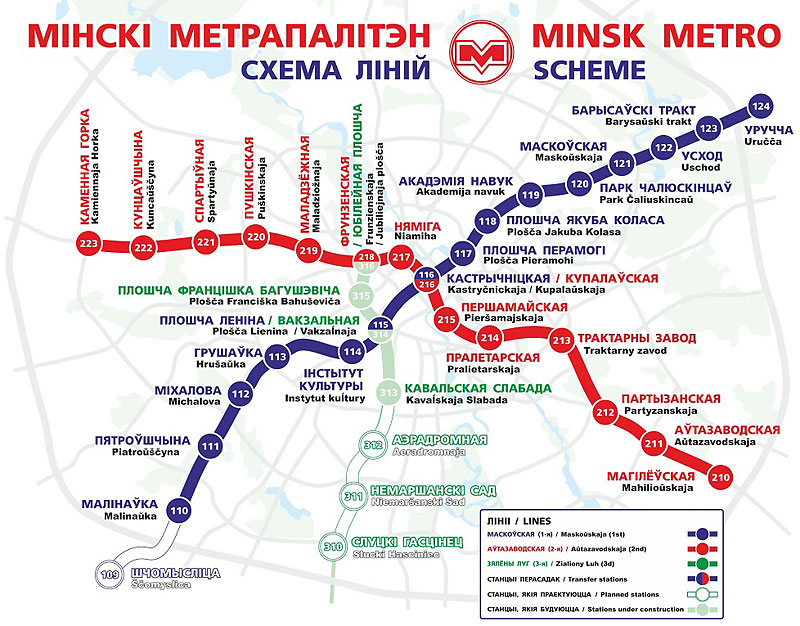 A single metro ticket is only about 30 cents U.S. and trains come every minute or so in the main center stops during high traffic times.  The Minsk metro is a bit odd, as the city's major roads are a series of circles around the metro, while the metro system is a giant "X".  A decent portion of the city isn't covered by the metro, so have your Uber app ready to go before leaving for Minsk!
Safety
At over 2 million people, Minsk is by far the safest large city that I've traveled to.  Not once, in miles of walking, or taking trains, buses, and the metro, or Uber did I feel concerned about personal safety.  Many consider Belarus to be ruled by a dictator.  That ruling structure seems to have produced a very safe place for tourists and residents.  It's also the cleanest city that I've been in.  Rarely will you see trash, broken glass, or litter of any kind spread about the ground.  Even dirty on the sidewalks or streets is hard to find.
According to some officials I spoke with and a local tour guide, taking photos of government buildings and the metro is not allowed.  I took a short video of an outdoor food market far away from the city center and was stopped and questioned by the police.  They could have taken my camera and video stabilizer, but didn't.  I felt pretty fortunate walking away from that incident.
People
The men here aren't exactly the warmest bunch of people.  As a general rule, they don't smile much at all, don't hold open doors for others, say thank you much, and hard shell feeling about them.  Belarus is interesting because it has some of the best software developers in the world.  Viber (the free talk/text app) was created by Belorussian developers, and the country is often linked with being "the new Silicon Valley" by various media sources.  It's weird, on one hand the country seems like other countries in it's area 20-30 years ago, and on the other, it's really cutting edge.  Mostly though, it's lagging other countries on a variety of indicators – including all things male.
Older women also seem a bit cold too, but are definitely warmer than the average man in Minsk.  There are more women in Belarus than men, and the hard living in the Soviet Union combined with high alcohol consumption has taken its toll on the male population.  There's an 11.5 year longevity gap between women and men in Belarus.  Belarusian women rank 66th in the world by life expectancy, while men sit in 119th place.  Many women in Belarus are thin with long hair and quite feminine.  You won't see many tatoos or short hair on women, especially those under 40 or so.
As a general rule, people in neighboring countries seem happier than those in Belarus.  Freedom, income, and the ability to travel outside the countries borders all play roles in that happiness.  You'll definitely see less smiles in Belarus than nearly any other country in the region.  Workers in Belarus only earn $300-$500 on average a large percent of that often goes to housing.  If people are fortunate enough to have extra money to shop, they often go to Poland or Ukraine because the options are better there.  If people from Belarus want to travel, they usually depart from Vilnius or Warsaw as it's much cheaper to fly from those airports.
See and Do
Here are some of the top things to take in while in Minsk:
Independence Square
KGB building/headquarters
Victory Square
National Library of Belarus
Minsk Upper City / Old Town
Minsk metro
October Square
Belarusian State Museum of the History of the Great Patriotic War
National Arts Museum
Belarusian State Circus (yes complete with animals)
Botanical Garden (summer)
Visit an old neighborhood (yet to be demolished for high rise apartments)
Pripyatsky National Park
Minskiy Komarovskiy Market
Church of All Saints