25 Jun. 2017
People often ask me about things that they should see in Europe on their next visit.  I tell them that on a tour of Europe, they'll see and later forget many wonderful places, but that they'll never forget Auschwitz.  It's a unique place where people come from all over the world to experience one of the most well known examples of modern cruelty.
The Auschwitz-Birkenau Concentration Camps
Auschwitz was the largest WWII concentration camp in Europe and is located a little over 1 hour (40 miles) west of Krakow near the Polish town of Oswiecim.  Auschwitz is now a Polish state museum and is very well preserved.  I've been to other concentration camps in Europe but Auschwitz is different because of the condition and quality state of the facilities.  The Dachau camp in Southern Germany is quite famous because it was the first such facility of its kind in Germany, but only a few reconstructed buildings exist for visitors to pass through.  Because it's a state museum and largely escaped damage from the War, Auschwitz is still in very good condition.
Modern day Auschwitz consists of 2 distinct areas, Auschwitz (main camp), and Birkenau.  Auschwitz was opened in 1940 mainly as a labor camp to house and incarcerate Polish prisoners and those who were mentally ill.  Birkenau is around 3 km away and was created in 1941 to ease the growing population at the main camp.  Birkenau is a much larger camp but is was almost completely destroyed at the end of the war and is largely ruins to walk amongst.  Shuttles back and forth from the two camps run constantly and are included in the admission price.
Most of the viewing for visitors takes place inside the old prisoner barracks at the main camp.  Many kinds of audio, video, visual, and storied examples are found in the various buildings.  The total area that houses all of the information for tourists is not that big compared to how many people visit the camps each day, and you should expect lines for many of the areas that you'll see.  Getting there early or late in the day is best, especially in the summer peak tourist months.
During the war, there were also facilities in the surrounding area including Buna or Monowitz (also known as Auschwitz III).  Monowitz was established in 1942 to house prisoners assigned to work at the Buna synthetic rubber works, located on the outskirts of the small village of Monowice.  The basic plan for the facility was to exploit concentration camp labor to manufacture synthetic rubber and fuels.  Buna/Monowitz (and it's 47 sub-camps) no longer exist, and there are no structures visible today.  The Monowitz site was converted into an industrial park by two Polish companies, who interestingly enough, still make synthetic rubber and plastics there.
In mid-January 1945, as Soviet forces were closing in on the area around Auschwitz, the SS started evacuating Auschwitz and its subcamps.  SS units forced between 50 and 60 thousand prisoners to march west from the Auschwitz camp system. Prisoners were forced to march either northwest for approximately 30 miles to Gliwice (Gleiwitz), or due west for approximately 35 miles to Wodzislaw (Loslau). Prisoners suffered from the cold weather, starvation, and exposure on these marches and were shot if they fell behind or could not continue. Estimates say that as many as 15,000 prisoners died during the evacuation marches from Auschwitz and the subcamps.
From Gliwice and Wodzislaw, prisoners were put on unheated freight trains and transported to concentration camps in Germany, particularly to Flossenbürg, Sachsenhausen, Gross-Rosen, Buchenwald, Dachau, and also to Mauthausen in Austria. The rail journey lasted for days without food, water, shelter, or blankets, many prisoners did not survive the transport. The evacuation and transport of Auschwitz at the end of the war is a forgotten part of the overall horror of the facility.
"When a man stops believing in God he doesn't then believe in nothing, he believes anything." ― G.K. Chesterton
Prisoners selected for forced labor were registered and tattooed with identification numbers on their left arms.  Auschwitz inmates were employed on large farms, forced to work in coal mines, in stone quarries, in fisheries, and especially in armaments industries such as the German Equipment Works (owned by the SS and established in 1941).  In the daily life of forced labor, if the SS judged a prisoner too weak or sick to continue working, they were almost always transported to Auschwitz-Birkenau and killed in some way.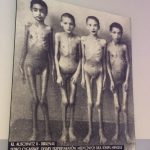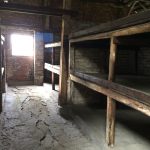 "Auschwitz was liberated by Soviet and Allied troops with guns, not by peace activists" – Dennis Prager.
Auschwitz was liberated in January, 1945 by Soviet troops. The Soviet army entered Auschwitz, Birkenau, and Monowitz and liberated around 7,000 prisoners, most of whom were near starvation, ill and dying.  Of those killed at Auschwitz approximately:
1 million were Jews
70,000 – 75,000 were Poles
21,000 were Romanies (Gypsies)
14,000 were Soviet POW's
10,000 – 15,000 were Other prisoners
Some other notes about Auschwitz:
Although Auschwitz is the most well known concentration camp, the SS had over 42,000 other similar camps in Germany and other territories around Europe.
SS physicians carried out medical experiments in the hospital, Barrack/Block 10. They conducted pseudoscientific research on infants, twins, and dwarfs, and performed forced sterilizations and castrations of adults.
About 200,000 inmates of the camp between 1940-45 survived.
Out of a total of about 7,000 guards at Auschwitz, including 170 female staff, 750 were prosecuted and punished once Nazi Germany was defeated.
In total, at least 1.3 million people were deported to Auschwitz and approximately 1.1 to 1.5 million died there. Roughly 11 million people in total were killed during the Holocaust, including those at Auschwitz.
My Trips to Auschwitz:  2001 and 2016
Auschwitz is different now than when I first visited there in 15 years ago.  Visitors used to be able to basically walk in and stroll along without much bother, either by yourself or with a tour group. Some changes that I noticed at Auschwitz:
1.  There are more photo restrictions (no camera flashes or areas that are completely off limits for photos), with a sign showing a red strike through a camera.  You'll see people still taking photos, and occasionally getting in trouble with roving security.  The security can be very "direct" when instructing someone to obey photo restrictions in the prohibited areas.  In short, just avoid doing so.   The extra precautions are designed to help preserve the displays, and also speed up transit through the viewing areas.
2.  The bus parking and transport area is now different, mainly to has changed to accommodate the larger tourist crowds and new security measures. Buses still drive to the front of the museum but the transport to Birkenau is a bit different than it was before.  Now buses go to and from Birkenau every 30 minutes and are free.  The total size of the camp including viewing areas, lodging areas and displays, is not that big compared to how many people visit the camps each day.
3.  There have always been a lot of tourists at Auschwitz, but that's true now more than ever.  As of 2014 over 4,100 tourists per day or 1.5 million each year, visited Auschwitz.  The 70 year anniversary of the liberation of the camps also took place in 2015 which drew even more people to the area.  There were thousands of visitors there during the day I visited, even in the off-season and in the morning.  There were lines for almost every building I went into including many tour groups, and I got there at 9:30 a.m on a Sunday in late late spring, only 1.5 hours after the camp actually opened.  Reservations for tour groups now happen in advance as well as at arrival.  Most people at Auschwitz take tours, but I went on my own both times.  Visitors must buy a ticket for your visit (even though traveling without a tour guide is free) at the ticket window which is past the security entrance and right in line with the mechanical station that allows entrance to the camps.  Each ticket is scanned and the person is allowed to walk through a one way entrance machine.  The multiple steps just to get into the camp does create some confusion, but it's just another reason to get there early.
4.  There is now full on security for the entrance at Auschwitz.  There are 3 standard metal detectors and security guards in the entrance building at Auschwitz 1.  No such precautions exist yet at Birkenau.  During my visit in 2001, there was much less security in general, and definitely no metal detectors.  Considering the number of people that visit the camps, the entry area is not that big. When I spoke with two women who worked in the information/gift shop (who have been there well over 20 years total), these changes at Auschwitz went into effect in early 2015.  My subsequent research also shows this to be true.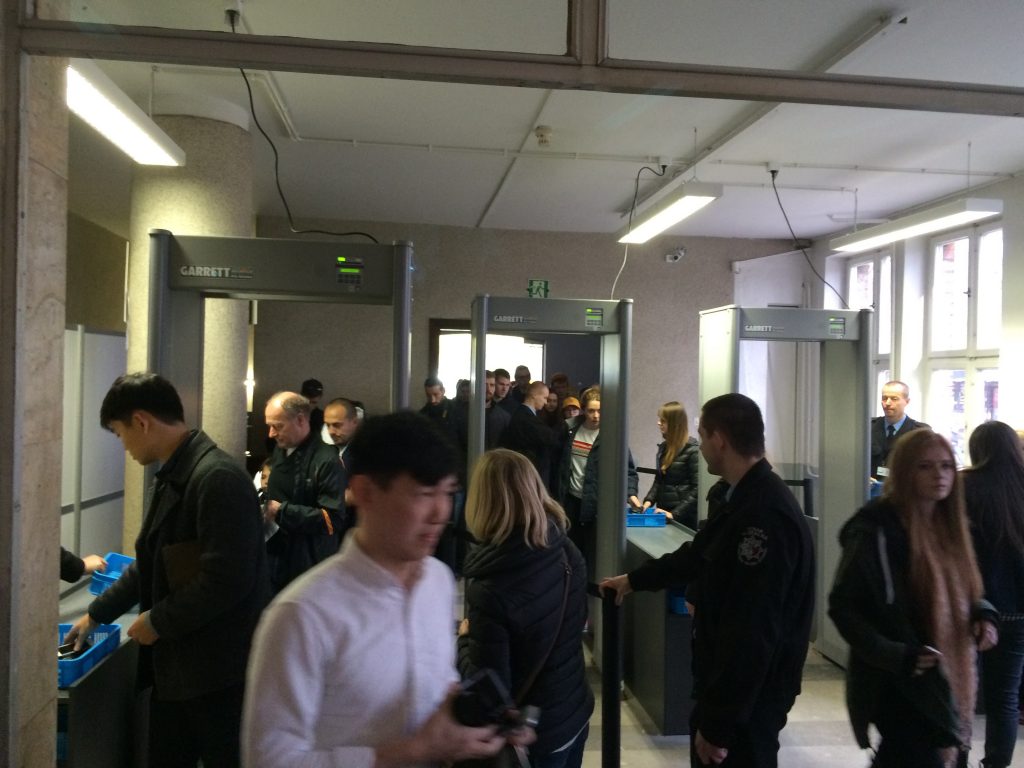 5.  Food is still not plentiful at Auschwitz. There is a snack shop about 50 meters from the entrance right where the buses park.  It has very basic cheese and tomato sandwiches as well as hot dogs and some other junk food.  Ice cream and other fast food is also sold in a small building by the tourist gift shop right by the entrance/exit.  Brining some snacks or food for a multiple hour / half day tour of the facility is a good idea.
6.  There is room for luggage storage, but it's a small building so plan ahead or get there early if you need that service.  I'm not sure, but I'm guessing by the size of the storage shop, it's possible they would run out of room to store all the visitors bags, especially during summer.  I would NOT want to haul around my suitcase into each building.  I'm guessing the camp has a Plan B for an influx of tourists such as during the summer season, but I did not enquire.
7.  When a person enters the camp, there is an iron gate at the entrance that reads "Arbeit Macht Frei" or "Work sets you free". The sign creates a somber and almost eery mood as you enter the facility.  But it's actually not a unique sign. The sign is displayed on other concentration camps in Europe.  Sadly though, the signs at Dachau and Auschwitz have both been stolen.  The entrance sign from Auschwitz was recovered in three pieces in Northern Poland in 2009 while the sign from Dachau was never found and still remains a mystery.
8.  On my most recent visit to the camp I saw several large Israeli groups touring the facility, each with male guards formerly with military backgrounds.  I talked with one of the Israeli guards and he said it was precaution because of the state of Jews in the world right now.  The Israeli tour buses were all gold color, pristine, and looked like something that the Rolling Stones would be touring in, not a random tour group to Auschwitz!  The visitors even wore white Israeli flags around themselves, almost like capes, so they were easy to spot.  I doubt that visitors from Israel would have needed that type of security during my first visit to the camps pre-9-11 in the summer of 2001.
How to get there
Most people stay in Krakow and depart from there.  Although Krakow is a town of considerable size (approximately 755,000), the central part or Old Town is quite small.  Krakow is beautiful, largely unscathed from WWII, and roughly an hour from Auschwitz.  You can walk to the bus station, buy a bus pass (one way or round trip) and tour by yourself without difficulty.  Private tours of the camps can also be arranged at your discretion in advance or at the camps (but depend on availability).  Some people stay closer to Auschwitz, either in Katowice or Oswiecim, but neither of those has anything memorable for tourists to see or do.
You can arrange a guided tour and get more information on the camp's website (http://auschwitz.org/en/visiting/).  I was not able to get a guided tour, as they were all booked when I arrived, but I was able to stroll through the grounds on my own, occasionally joining tour groups to get more information on an exhibit that I wanted to know more about.  As a tip for visitors, I would visit on a weekday, either early in the morning when the camp opens, or later in the afternoon.  Crowds can really swell in the later mornings and early afternoons.  In general, plan for 2-3 hours at the camp plus the time it takes to get there and back.
Flying into Warsaw is best, then take a high speed train to Krakow (approximately 2.5 hours).  Travelers can also fly into Berlin and take trains or buses from there into Poland, or overnight into Krakow by train from other cities in the region.
Conclusion
A tour of Auschwitz is very revealing and easy to create a range of emotions for those who visit.  You'll see many prisoner photos of men and women near starvation, hand written Natzi records, large collections of human teeth, glasses, and hair all collected by the Natzis often in order to be reused.  You can see a shower actual area where zyklon B poison gas was pumped through the wall fixers to kill prisoners. One of the four crematoriums still exists; the other three were destroyed in the war.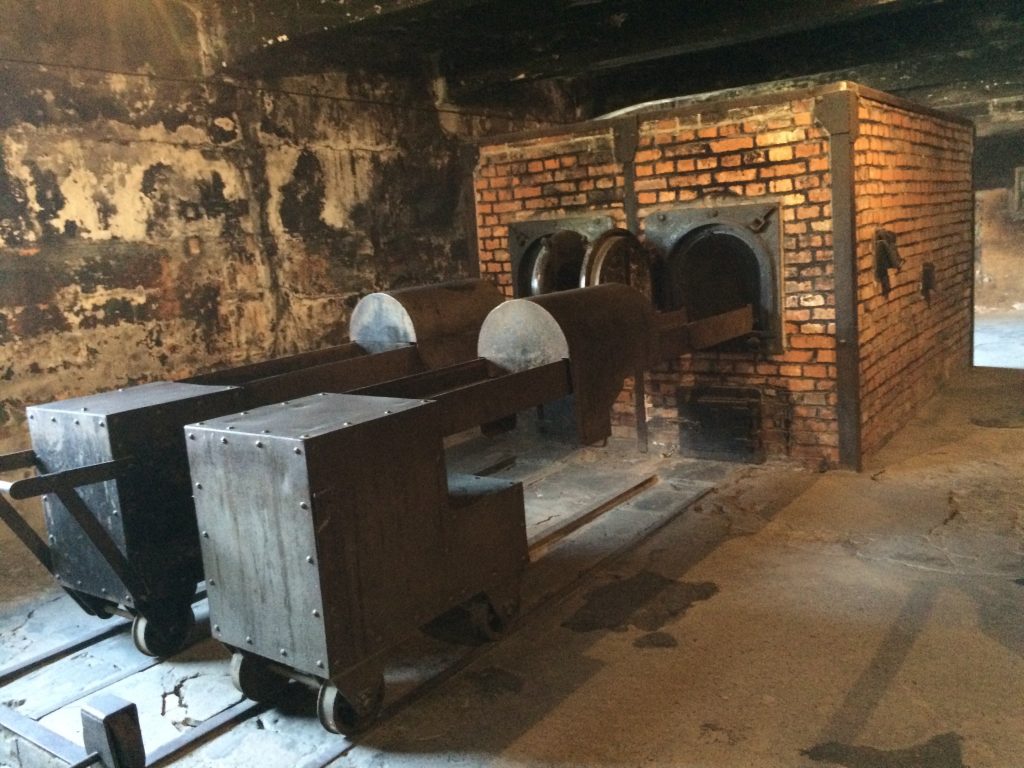 "Those who turn away from fighting evil need to be aware, that the notion of evil as dark is actually the opposite of the truth. Evil is so bright, that people can't stare at it with their eyes. It's blinding; so people look at other things." ― Dennis Prager

Through touring the facility, you'll see people with solemn faces and even people crying. But when I saw so many people emotionally breaking down, many if not most of whom I'm assuming had no family connection to what happened, it was a little difficult to comprehend.  I don't mean that it seemed odd in terms of having feeling for the atrocities that took place, because that is easy to empathize with.  I mean believing that the acts committed at the Auschwitz and Berkinau camps were some sort of outlier in human history.
"Those who can make you believe absurdities, can make you commit atrocities." – Voltaire
The events that took place at Auschwitz are not outliers, but close to the norm of what has taken place throughout human history.  Look at what is currently happening by Islamic radical groups in Sudan and the greater Middle East or mass killings and evil that pervaded former Soviet Union, China, Japan, Turkey, Congo, Cuba, Nigeria, Indonesia and Cambodia, North Korea, Mexico, Central America, Bosnia, South America, and many many more.  Are the beheadings, rapes, torture, and mass killings from ISIS any less evil than what the Nazis did during the Holocaust?  To me Auschwitz is just a larger, more organized, tourist friendly place that stands out to people.  It's the go to example in recent history for the media and  Hollywood, but other similar examples just doesn't get the notoriety that the Holocaust and Auschwitz does.
The bad or evil in people and in life in general doesn't surprise me much anymore, but the good does.  Whatever your beliefs about evil and how places like Auschwitz fit into that, I highly recommend a visit.