20 Jun. 2019
Straight Cash Homey
I just cashed out 1 million Ultimate Rewards (UR) into $10,000 in cash.  To some, alleviating a rewards account of a million Ultimate Rewards is blasphemous, and to some others it's a wise decision.  I don't really care about either take, as I have near-term financial goals and this cash-out brings me closer to meeting those.
In summary this is why I cashed out such a large amount of Ultimate Rewards:
Right now, the most attractive Chase transfer partner to me is Hyatt.  It's weird even thinking transferring points to a hotel chain has solid value, but at this stage, Hyatt definitely does, especially with status.  I don't have any Hyatt elite status, and booking upscale Hyatt properties likely won't come with upgrades, breakfast, and other perks.  I'm not interested in chasing Hyatt status by actually paying for Hyatt hotels (even with points), and can get free breakfast at Hyatt Place or House locations (such as this one in Downtown Nashville that I stayed at for 20,000 points recently that went for over $300 a night during my stay) without status.  For me, not having status with Hyatt doesn't create a value proposition that's desired, so the program doesn't completely align with what I'm hoping to get.
I've written in the past that I have a soft goal of achieving $100k in monies from reward points in the next year.  Having rewards is nice, but at a certain point, unless you're hoarding for future redemptions which may or may not happen, your opportunity cost (cash) is considerable.  At this point, I'm moving some accounts towards cash and getting closer to my soft goal with each passing day.
Those million Ultimate Rewards didn't cost me anything except for my time (in some cases, but not all).  The points were earned through credit card sign-up bonuses and spend on my credit cards.
Chase transfer partners are now behind American Express Membership Rewards (MR).  I've done well with MR's this past year too, and have also cashed out millions into a Schwab investment account.  Certainly there are still some transfer partners that have value; Singapore Airlines is still an attractive transfer option, as is British Airways and United.  However, I don't have an immediate need to redeem points for awards on those airlines.  When I actually do need to book a flight, those options may not be as attractive as they are now.  I'm not going to shake the dice and hope to get the same value in the future when I know I'll get immediate value from these points by converting to cash.  By the time I'd actually redeem points for one of those partners, hopefully my $10k will have grown into a larger sum of money.
I still have plenty of Ultimate Rewards.  In fact, I was considering cashing-out 2 million Ultimate Rewards instead of just a million.  That will still likely happen, as this is the first step in a move toward cash via Ultimate Rewards.
United's Excursionist Perk (stopover) opportunities are appealing to me, but only in a limited fashion, as I likely don't have the time to fully make use of multiple stops or lengthy trips with a full time job.
Even after using Chase points (or any transferrable points for that matter) for travel, you're incurring additional or extra costs by traveling.  Contrary to most points blogs, for almost everyone involved in the points and miles hobby, travel is not free, and still comes with additional costs.  By cashing-out, I'm eliminating those extra costs and time that needs to be allotted for future travel.
I've become very interested in the FIRE movement.  Here's a nice podcast episode that you might enjoy or download to learn more about FIRE.  I'm not putting into practice that many extreme measures to save more money and retire early, but the goal of financial independence has appeal and I've made some positive moves and changes to my situation to grow my pool of savings.  Cashing out portions of unused, stale stacks of points, is another tool in the kit to make FIRE happen more easily and readily.
On the negative side, sacrificing a million transferrable points of any kind is significant.  A million UR's could be used for a lot of trips in business class overseas for me and/or others.  The cash out rate of just 1% isn't great either.  It's better than redeeming points for merchandise, but it's also below what Amex offers via the Schwab Platinum card (at 1.25%).  However, I've earned all of my Chase points at a rate of at least 1.5x to 5x or more, so a lesser cash-out rate isn't terribly troubling.
Also, Chase allows customers 30 days after a shutdown to redeem points.  Other banks like Barclays and Bank of America, cut off access after a shutdown to rewards immediately and customers have to fight to get them back (often via by filing a CFPB or via legal action).  By having a month grace period, cashing-out points "prematurely" isn't really necessary.  In my case it's just done for a desired outcome.
Cashing Out
Many people that are fluent in all things Chase are familiar with how to redeem points for airline and hotel transfers, and to book travel.  Most people haven't actually cashed in points for statement credits or cash that's sent directly to a linked checking account.  In case you're curious about the steps, here's how it's done:

After logging into Chase, select the account that has the points you want to use. To the right of your balance, and credit limit information you'll see Ultimate Rewards displayed.  Click on "See Balance" and that will prompt the screen to change, show your points balance, and then select "Redeem".

That will take you to the options for points redemptions.  Select "Cash Back".

Once inside the Ultimate Rewards portion of the Chase website, select Cash Back as a redemption option.  A box will appear (below) asking either the dollar value you want as a cash outcome, or the points that you want to part ways with.  You can insert information into either box.  I chose to input information into the cash box.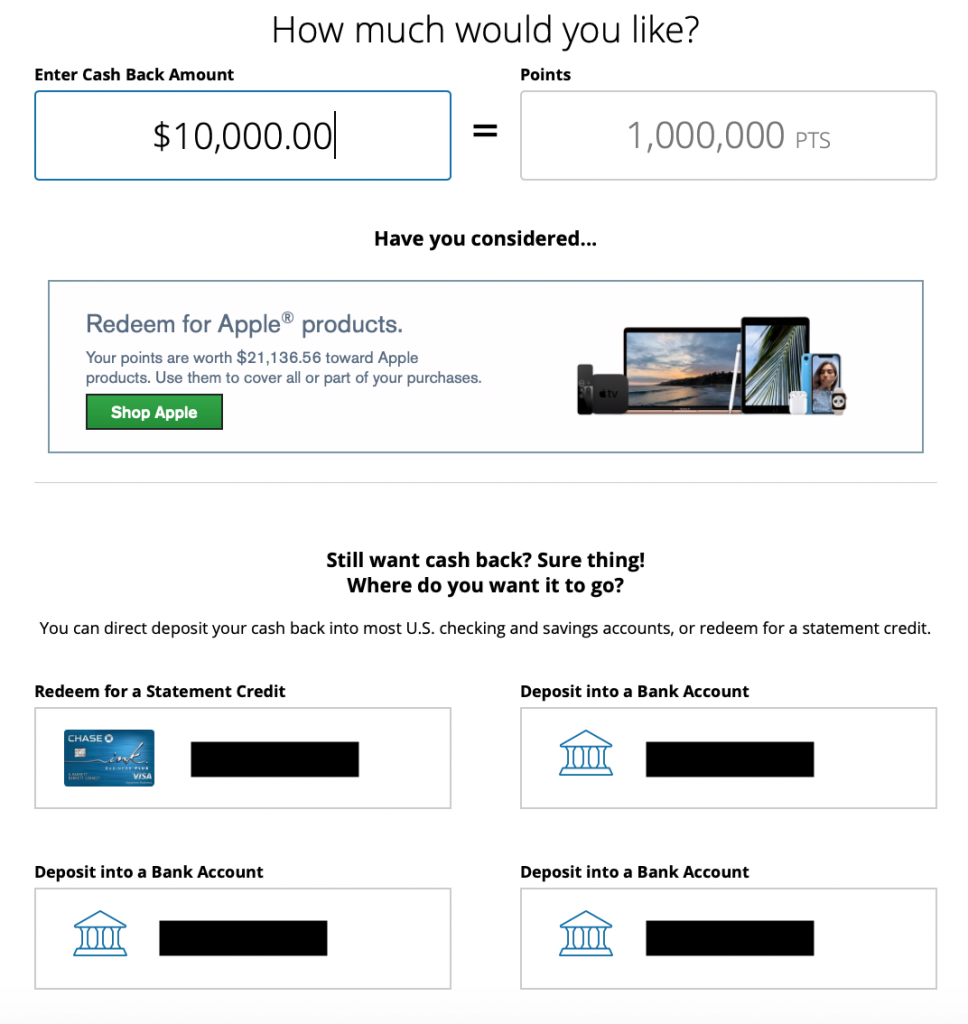 From there you can select where the money goes via any linked checking account for this card.  Transfers aren't immediate (as I checked my bank account right after the transfer), but I assume I'll see something next day.  Note that transfers are not reversible.  Once the button to transfer points to cash is submitted, it's a done deal.  So far, no buyer's remorse exists.
Summary
Chase's front end screen that displays all of the credit card accounts isn't my favorite, but the process of cashing out points is really simple and can easily be done in under a minute.  In this example, I made a choice for cash vs. future travel possibilities with a million Ultimate Rewards.  I'll likely do so again in the near future too.  I'm not diminishing the value of Ultimate Rewards, but I do think Chase's program is getting stale.  It needs a new transfer partner, higher points to cash-out rate option, or enhanced benefit that it's currently not offering.  Chase points are still quite easily and plentiful, and I'm confident that I'll get those million points back in a relatively short time.