12 Sep. 2017
The Real Jaws
I've had a fascination with sharks and ocean life ever since I was young, and much of that intrigue is still there.  The first time that I saw a 14 male great white swim past the cage, slowly peering at me as it glided past, was a thrill and one that I will continue to repeat.  There aren't many places around the world where you can actually view great white sharks, much less dive with them.  With that said, the best locations to cage dive with and see great whites are:
Country Location                                                         Peak Season
South Africa Seal Island in False Bay/Simon's Town                June – August
Australia Neptune Islands                                                           May – August
Mexico Guadalupe Island                                                            August – October
U.S.A Farallon Islands                                                                  September – November
Other Locations
Mosel Bay, South Africa                                                              June – August
Locations
You can sign up to see great white sharks in these locations almost any time of the year, but if off season months you're more likely to see smaller male sharks.  Females are the largest great whites, but smaller males are often more aggressive and quicker around the cages.  It's a good idea to find out how many people the boat can hold and how many people the cages can carry.  If a boat has 40+ people on deck and the cage only fits 4 people at at time, that won't give you much time to see sharks, and the odds are that you'll miss your chance when the time comes for you to get in.  For me the small the boat groups and cages the better.
Seal Island in False Bay just outside of Simon's Town, South Africa is still the most unique place to see great whites in the world.  To be able to see predations on seals, then see the sharks come up to the boats, and later view them from the surface cage, is really unique.  Seal Island is also pretty close to Simon's Town and you can do a half day trip and still have time left over for other things.  Diving with great whites in Australia though is at least a full day event, as it takes at least 2 hours to get out to the Neptune Islands, but up to 4.5 depending on the tour operator you go with, to get out to the Neptune Islands.
Cheap and Good Sharks
A hidden gem for great white shark diving is in Mossel Bay, South Africa.  It doesn't get near the shark tourists compared to False Bay or Gansbaii, it's very affordable, and the shark viewing can be spectacular.  The water there is also warmer than it is over in False Bay so during the off season months it's possible to dive without a wetsuit.  If I go to South Africa again, I'll definitely return to False Bay, but I'll also definitely go to Mossel Bay as well.  Cage diving in South Africa is the most affordable unique experience.
When To Go
The best time of year to see great white sharks is when the water is coldest, or during the winter months.  Remember that South Africa and Australia's winter is summer here in the US if you're planning a trip for cage diving.  You can find diving opportunities with bull and tiger sharks, which can also get well over 10 feet in size, in many warm water destinations around the world.  To see great white sharks though, you'll be diving in colder water almost exclusively and in tough conditions.  Unfortunately diving conditions for great whites generally isn't very comfortable at all, even in 5mm – 7mm thick neoprene wetsuits.
Certainly in places like South Africa and Australia, you'll have the best chance to see sharks in June and July (absolute peak season), but in other months boat operators going out to the Neptune Islands (south of Australia) have had more recent success seeing big females and other male sharks. Previous months that were once slow, like April and May, can now offer good shark sightings, but the reverse is also true. Rodney Fox's expedition crew (at the Neptune Islands) said that February used to be a good month for shark sightings, but in recent years there have been very few if any spotted at that time.  They said that a killer whale attacked a great white a couple of years ago, and the shark blood in the water kept other white sharks away from the area.  They didn't see a great white all of February and only once the following year during the same month.
Preparation for a Cage Dive
You're probably going to be out on the ocean miles away from shore, exposed to the wind and other elements, and often changing in and out of wetsuits; and the water temperature is frigid as well.  In other words, you'll be very cold.  Clothing that is warm but easy to slip on and off is important.  Those are exactly the clothes you'll want to bring.  Forget fashion on a great white shark diving boat, as most of the rigs are older and without extra frills; warmth and comfort are the keys to focus on.
Some things you'll want to bring with you and consider if you cage dive with great whites:
Sea sickness tablets.  Even if you're going out for a half day trip, the seas can be really rough.  I've seen several people suffer from sea sickness on my shark diving trips.  You don't want to spend ours sitting inside the cabin or worse while others see sharks.  Even if you think you'll be ok, you may not be.  Taking sea sickness tablets won't ensure you won't get sick, but it helps.
A jacket that either blocks wind or has good insulation.  Winter temperatures on shark boats can be in the 40's with wind and rain.  You'll often be damp and need to get warm fast.
A hat, warm socks, gloves or something to keep your head, hands, and feet warm.
At least 1 very warm sweater; also consider bringing rain or wind pants.  Clothing that's warm and easy to get in and out of is best.
An insulated top to go underneath the wetsuit might provide additional warmth.  If I dive in cold water again, I will definitely bring an insulated top to help with heat retention.
If you really wanted to stay as warm as possible, you could bring or possibly rent, a dry suit.  These aren't cheap, generally in the $1,500+ range to buy, but you'll be a lot warmer than with a wetsuit when you're in the water.  Out of the water though, you'll have similar issues to the others on deck, the cold elements on the boat.
A zoom camera lens is a must for good action shots.  For viewing shark predations at Seal Island in False Bay, South Africa a quality zoom lens is mandatory.  In False Bay you'll see sharks umping, attacking seals, and the action is very fast and sometimes far away.  For viewing sharks in Durban, Gansbaii, and at the Neptune Islands, any camera is fine because you most likely won't be viewing sharks attacking seals/predations.
Video recorder like a GoPro.  GoPro's aren't cheap but they are compact, easy to travel with and provide very nice underwater footage.  I've seen competitors to GoPro that have really nice footage and are cheaper.
Scuba Open Water certification.  If you dive with Rodney Fox Expeditions in South Australia at the Neptune Islands, you'll need to be scuba certified in order to get into the 65 ft – 70 ft cage.  Most shark diving tour operators have cages at or just under the ocean's surface and utilize breathe holding so scuba knowledge isn't necessary.  Therefore at most shark diving venues, it's not necessary to be scuba certified, but check with your tour operator to see what their requirements are.
Extra batteries for GoPro/video capture device and for your camera
Power adapter to fit your power charger into foreign electricity sockets
Consider a variety of colored dive lenses.  The deeper you go underwater the more color you loose with video so putting a maroon/light red filter on your GoPro or other video device is highly recommended.  It will add a ton of color to your still photos and underwater video.  But if you're surface cage diving, a filter is optional.
Extra food (you never know what kind of food or snacks will be made available)
Sandals (for walking around the ship and possible use in the showers)
A credit card or extra money for the gift shops after diving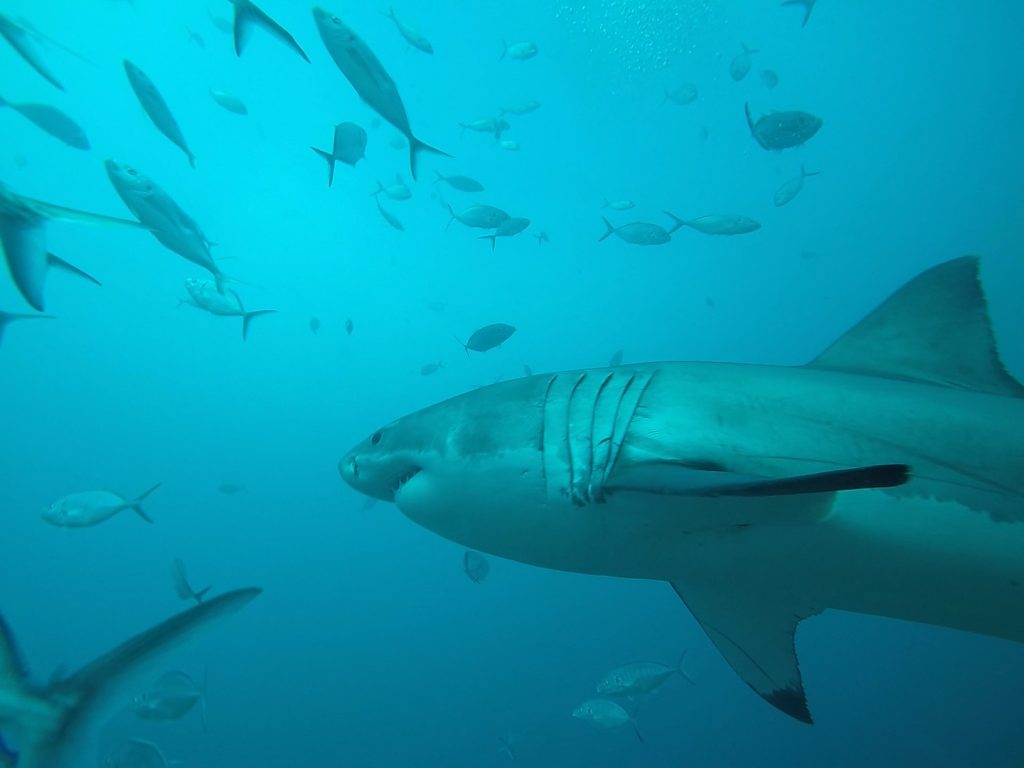 Summary
Seeing great white sharks is a thrill.  I have used points for flights, hotels, and cage diving experiences that eliminated most of the major trip costs which saved me roughly $30,000 in travel costs for both shark diving vacations.  If you're going to dive  with sharks that's great, but remember to use points to offset the financial impact.