13 May. 2018
Splash
Cashing in fancy award redemptions in up front cabin space seems like a right of passage within the travel hacking community.  Facebook posts, Instagram pics, major blogs posts, and articles in various magazines and other media sources and have an assortment of first class cabin selphies complete with champagne toasts while lounging luxurious electronically adjustable seats.  The splashy trips are akin to something right out of Lifestyles of the Rich and Famous.
My overseas travels started when I was in my 20's and as a backpacker.  I've stayed in well over a 100 hostels in various parts of the world and living on a tight travel budget was standard issue for me during life on the road.  Those early travel instincts are still there, but over the past year I've redeemed some pretty nice awards through accumulating a substantial amount of frequent flyer miles and other loyalty points.  Last week, I came back from a 2.5 week tour of a nice chunk of Eastern Europe.  As part of that return, I booked 2 one way first class flights for myself and my good buddy on Lufthansa's 747-8 Boeing from Frankfurt to Chicago.  Total cost for the award redemption was 170,000 Lufthansa miles and around $450 in taxes (or 85,000 miles and $225 in taxes per person).  Taxes were less going from Europe -> US vs. the other way around
Prepping
The return trip started in Krakow, Poland.  The first class flight from Poland to Germany was odd because the seats were like some domestic seats that I've been on before.  The day of departure also brought on a couple of issues:  First, I left my jacket at one of the security checkpoints in Krakow.  By the time I realized the error, the plane was set to leave the tarmac and there was nothing that could be done.  Then after getting a ride in the Mercedes AMG to the first class lounge, I left my passport in the car.  It was a hell of a morning, and much of my time in the lounge was spent making calls about my jacket and also trying for an upgraded final flight segment from Chicago to Minneapolis on United.  Neither call efforts were rewarded, but made me appreciate every minute I had in the lounge to relax.
The flight from Krakow was also first class and departed early (6:20 am).  We were only on about 2.5 hours of sleep as we went out in Krakow again the night before departing.  Upon arriving at the Frankfurt airport, I was so out of it that I forgot about the chauffeured car service that comes with Lufthansa first class tickets.  Passengers exited the plane to the tarmac bus, but my buddy and I were led over to a high end Mercedes AMG just outside the aircraft's steps.  We were then driven around the tarmac and dropped off outside Lufthansa's first class lounge.
When we checked into the first class lounge, I guest concierge said that she "would find us approximately 45 minutes before your flight was ready to depart".  Looking back, it's possible she said that we should be ready to leave 45 minutes before the plane was set to depart.  Around 45 minutes from departure, we approached the check in desk without being notified and were told that our car was ready.  If we hadn't kept track of time, I'm guessing we would could have missed our flight.  Unfortunately we only spent around 1.5 hours relaxing before our leaving for the flight back to the U.S.
First.Class
From 2 Barclays Lufthansa credit cards, I stockpiled over 200,000 Lufthansa miles.  Around 40 of those miles were set to expire in a few months, so I decided to use most of them, or 170,000, for this trip.  Other miles like 40,000 SPG transferred into 50,000 Asiana miles would trigger the same award, but since the miles were expiring, I figured they might as well be put to good use.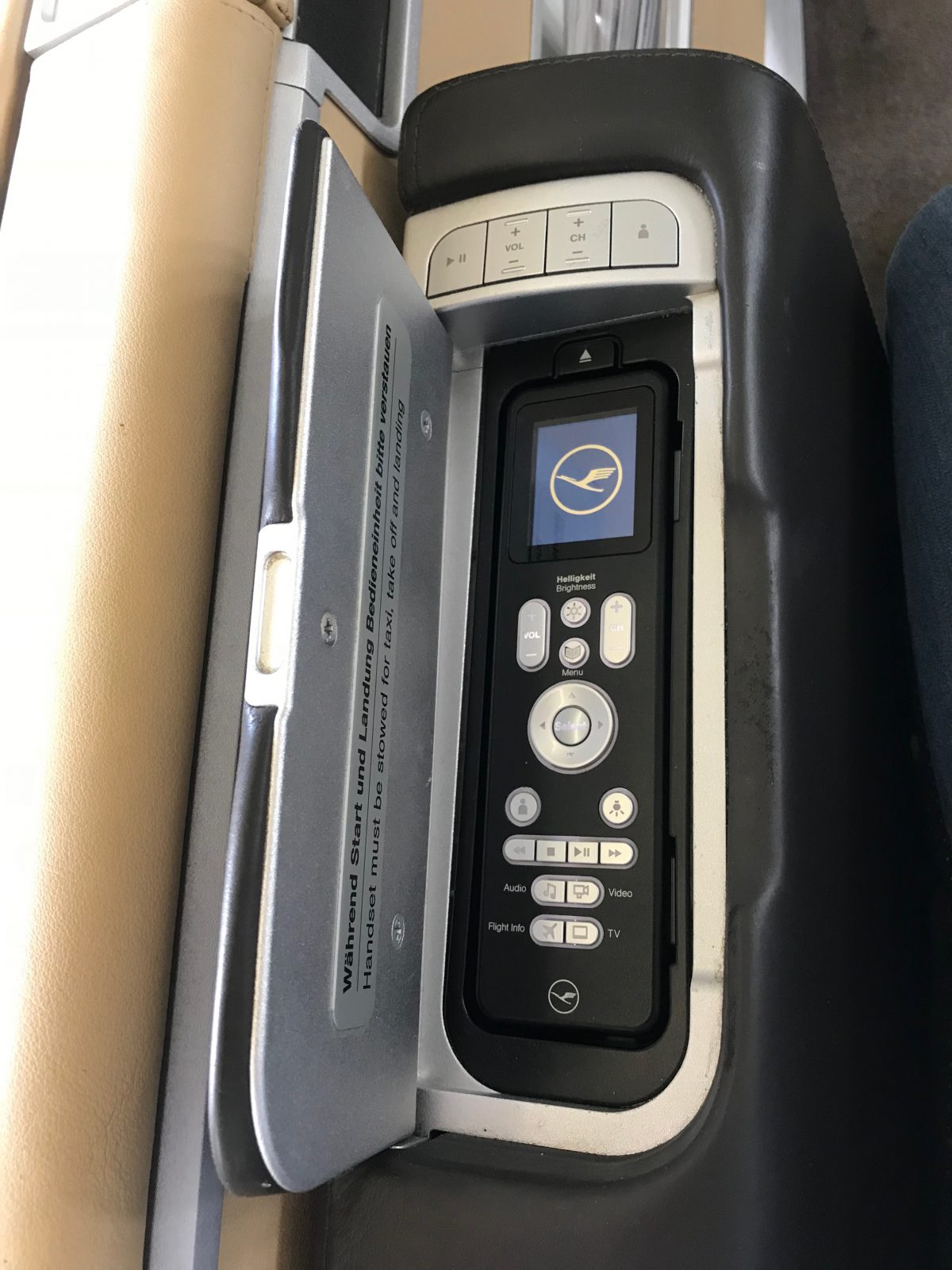 The menu was kind of fancified for me.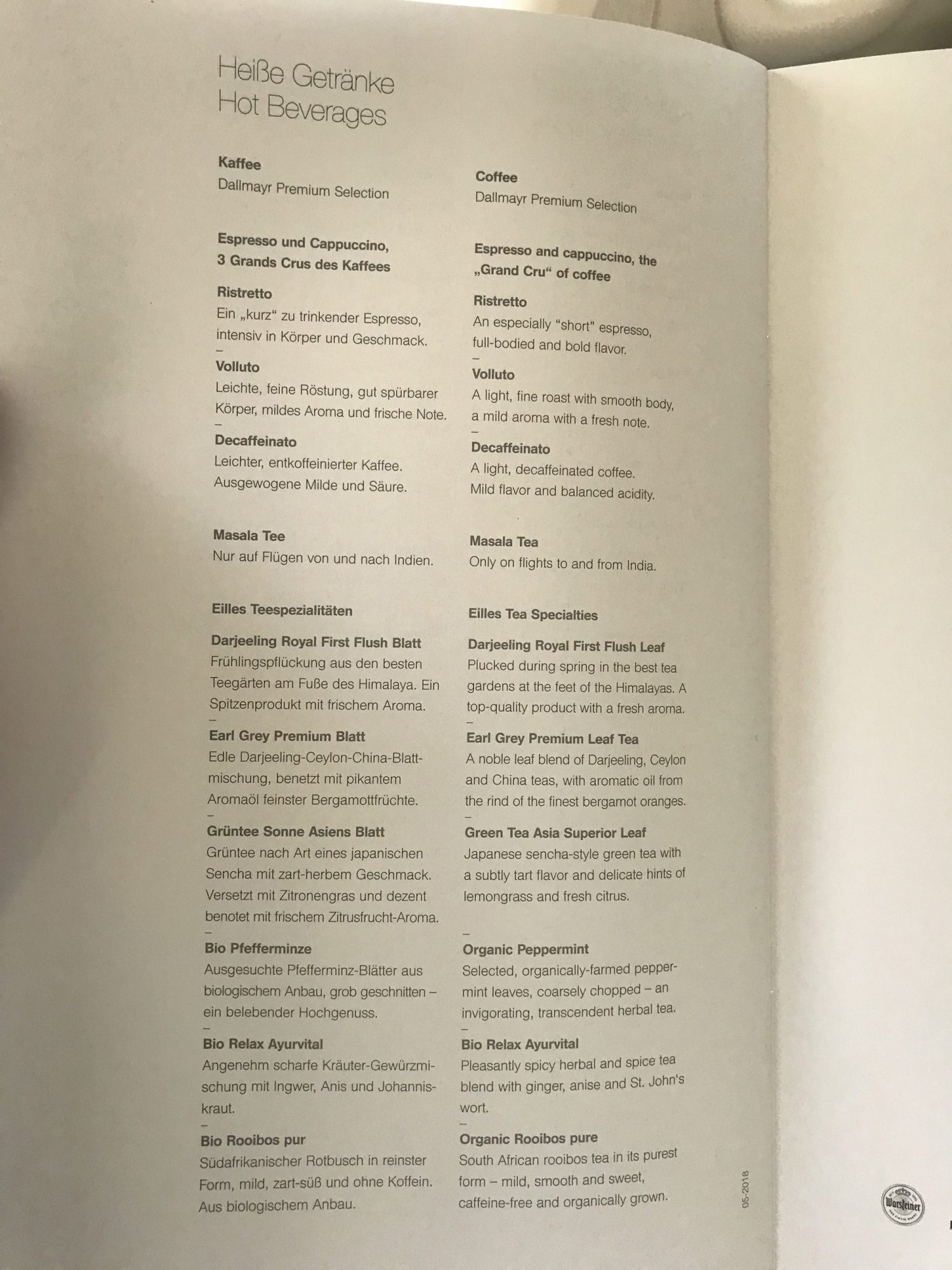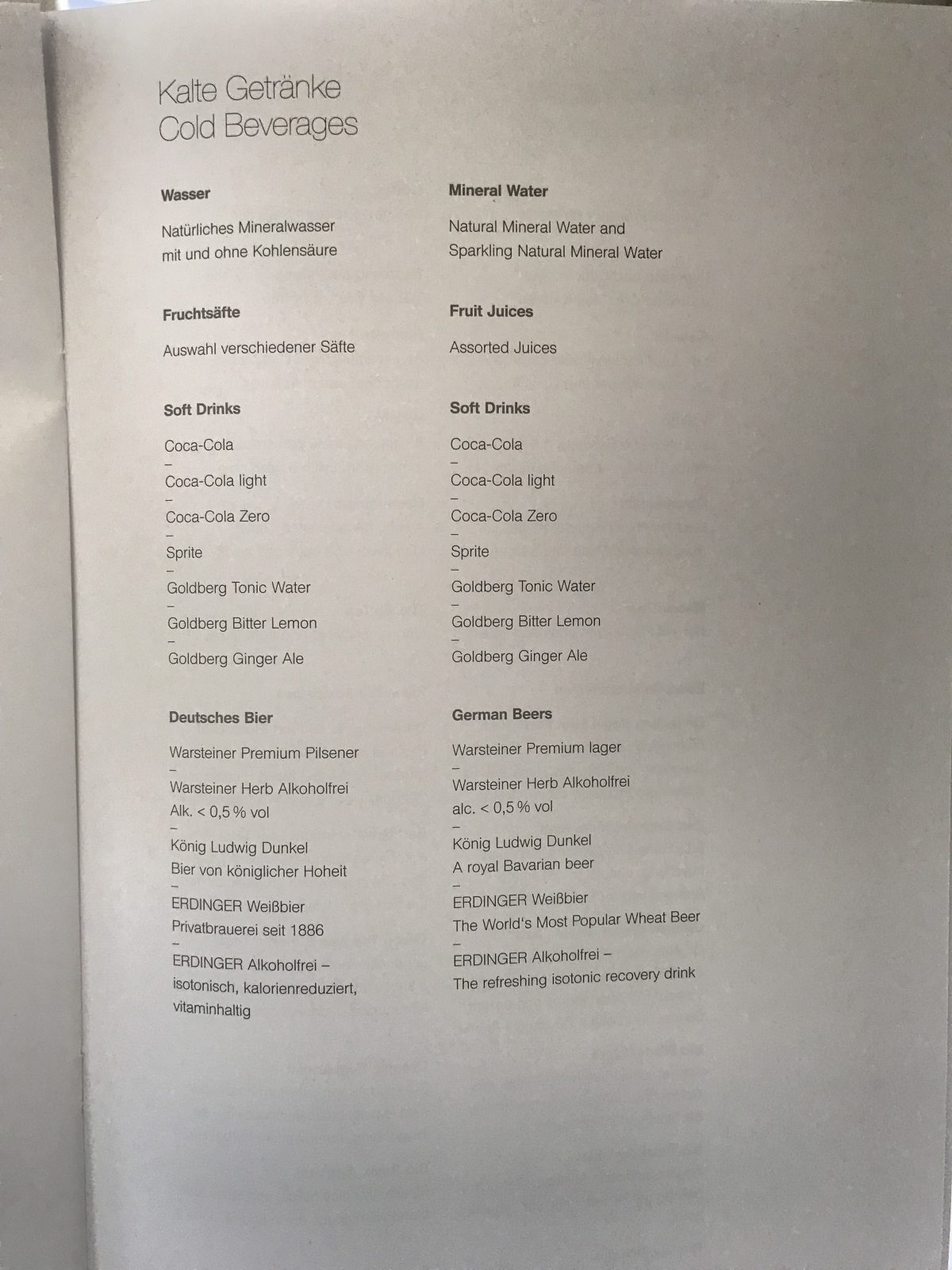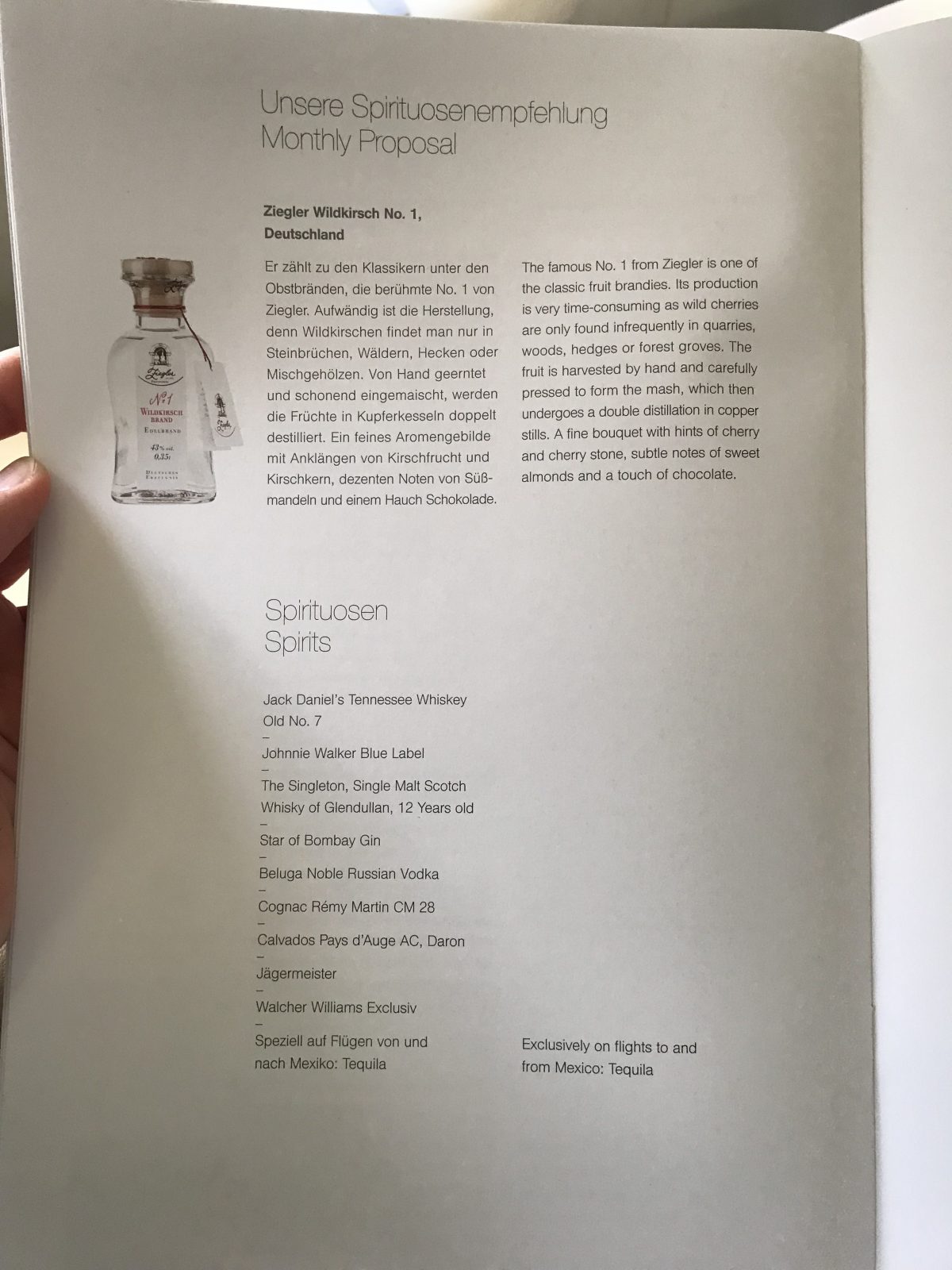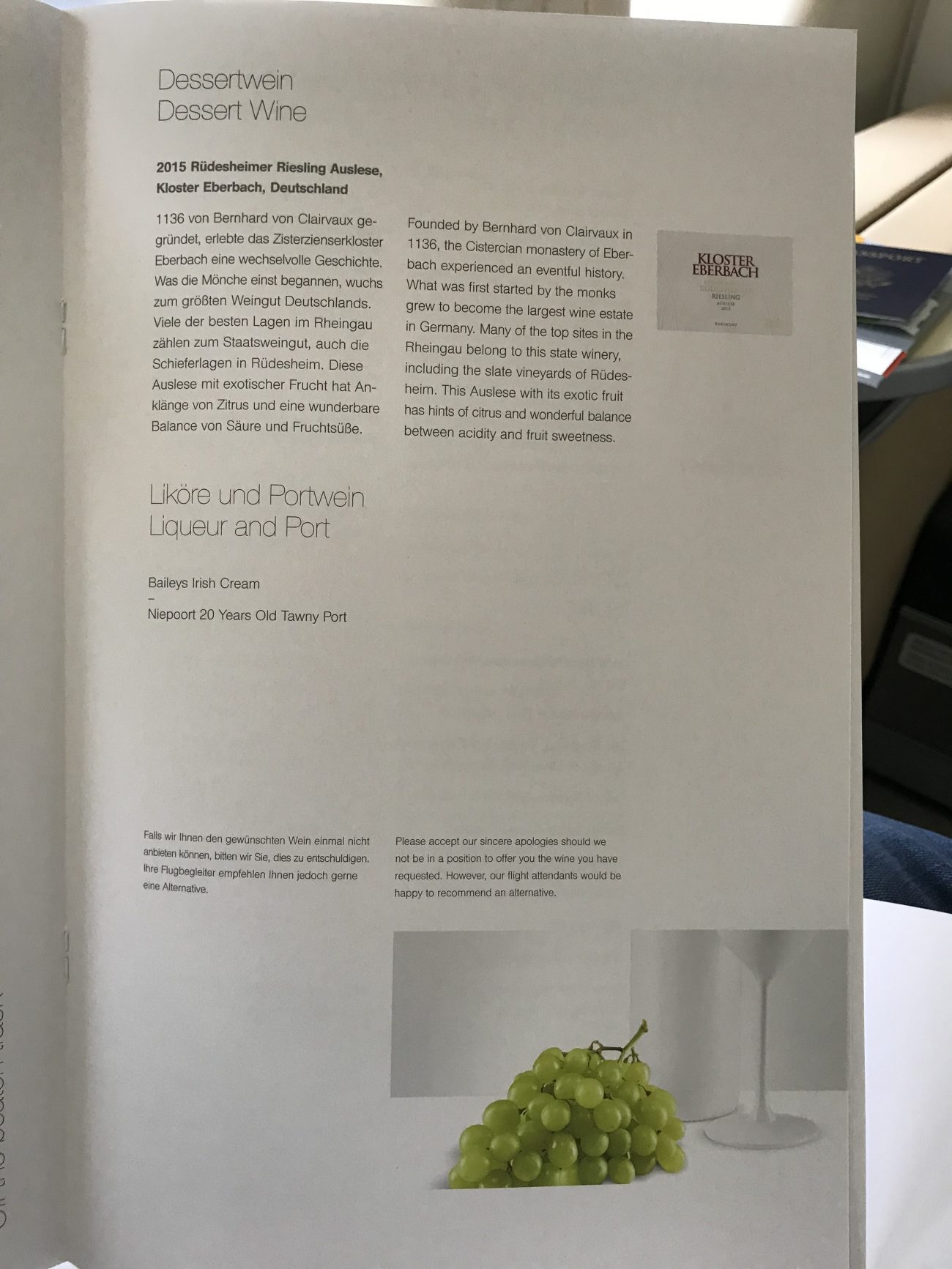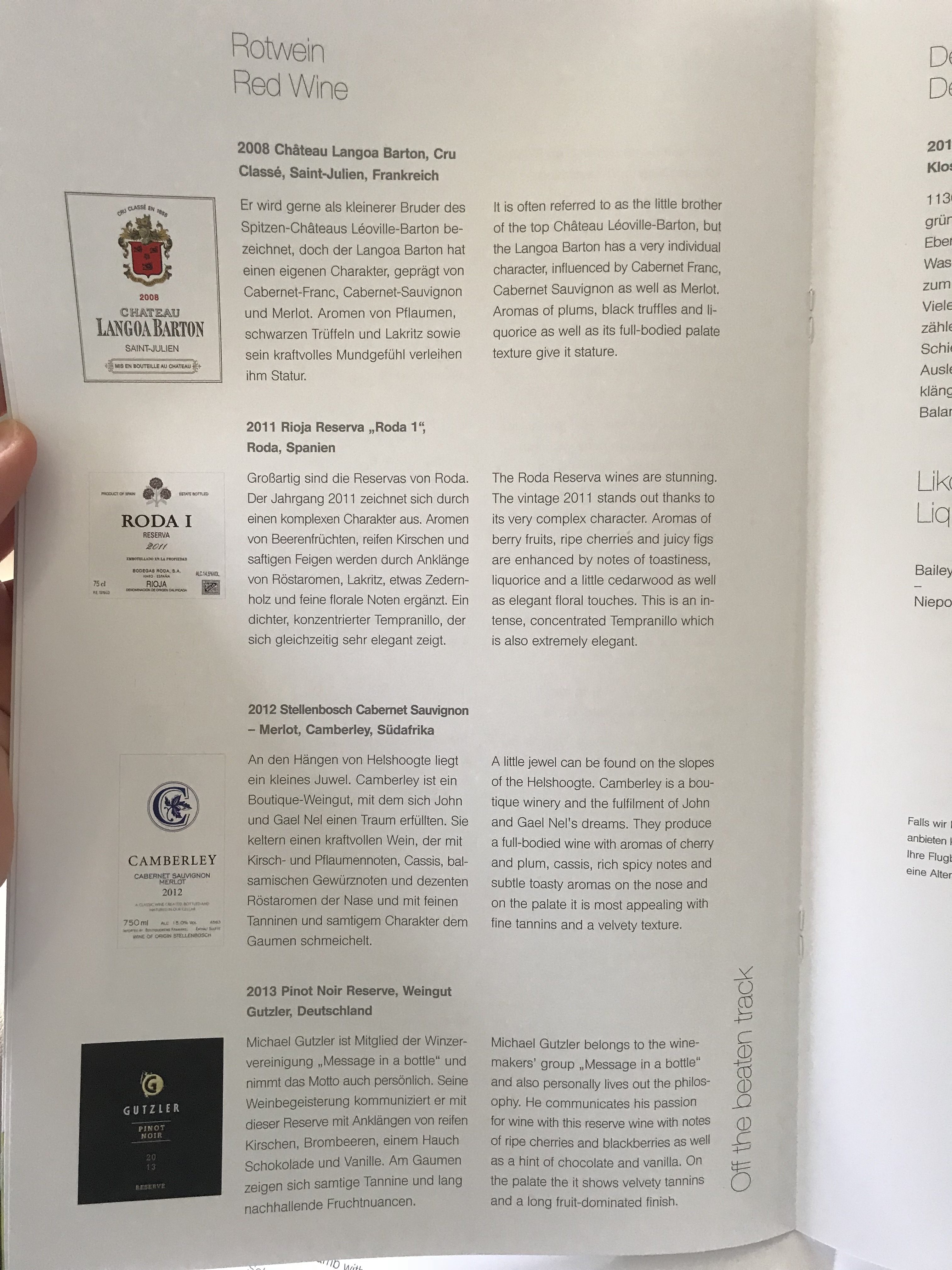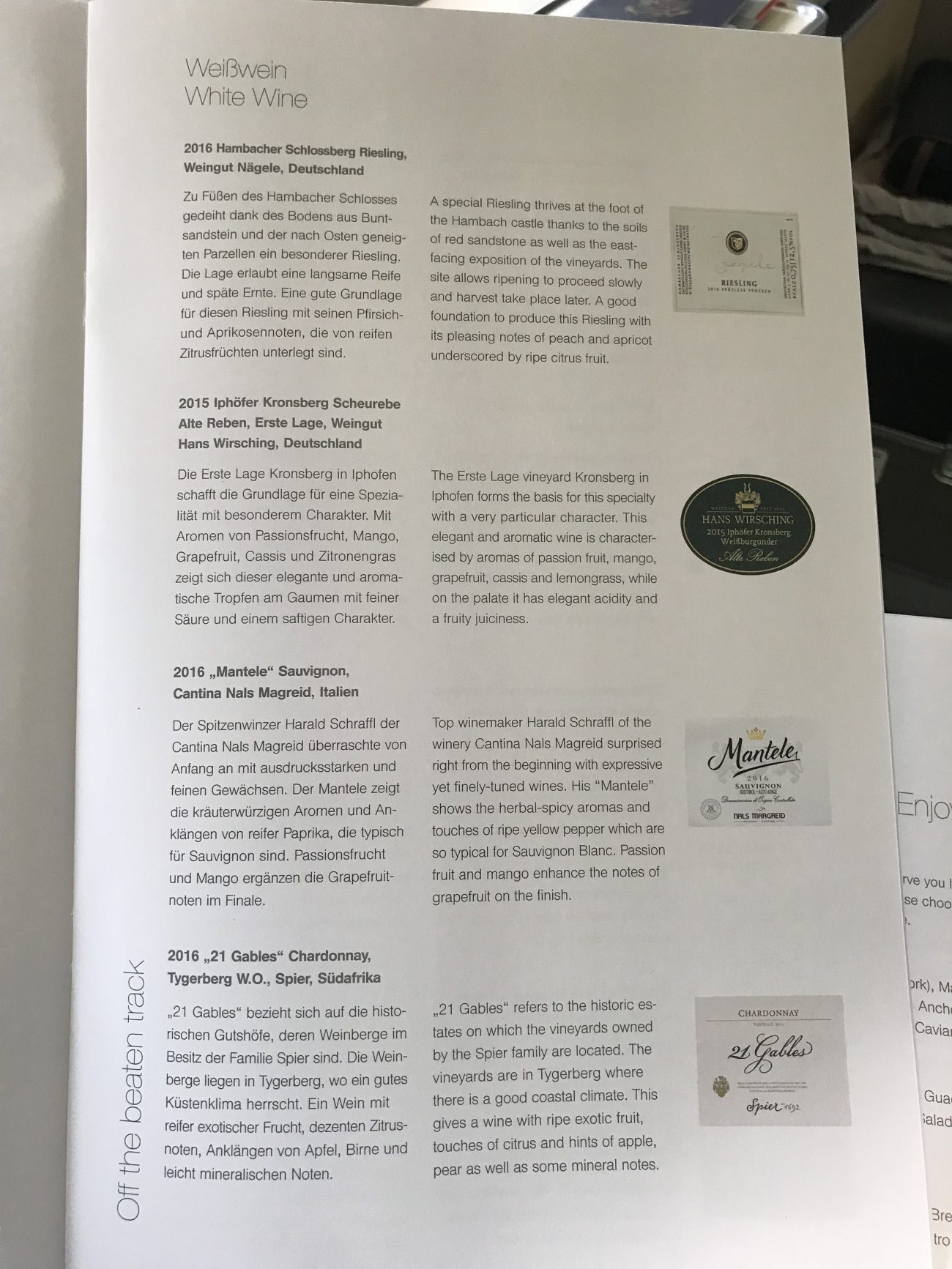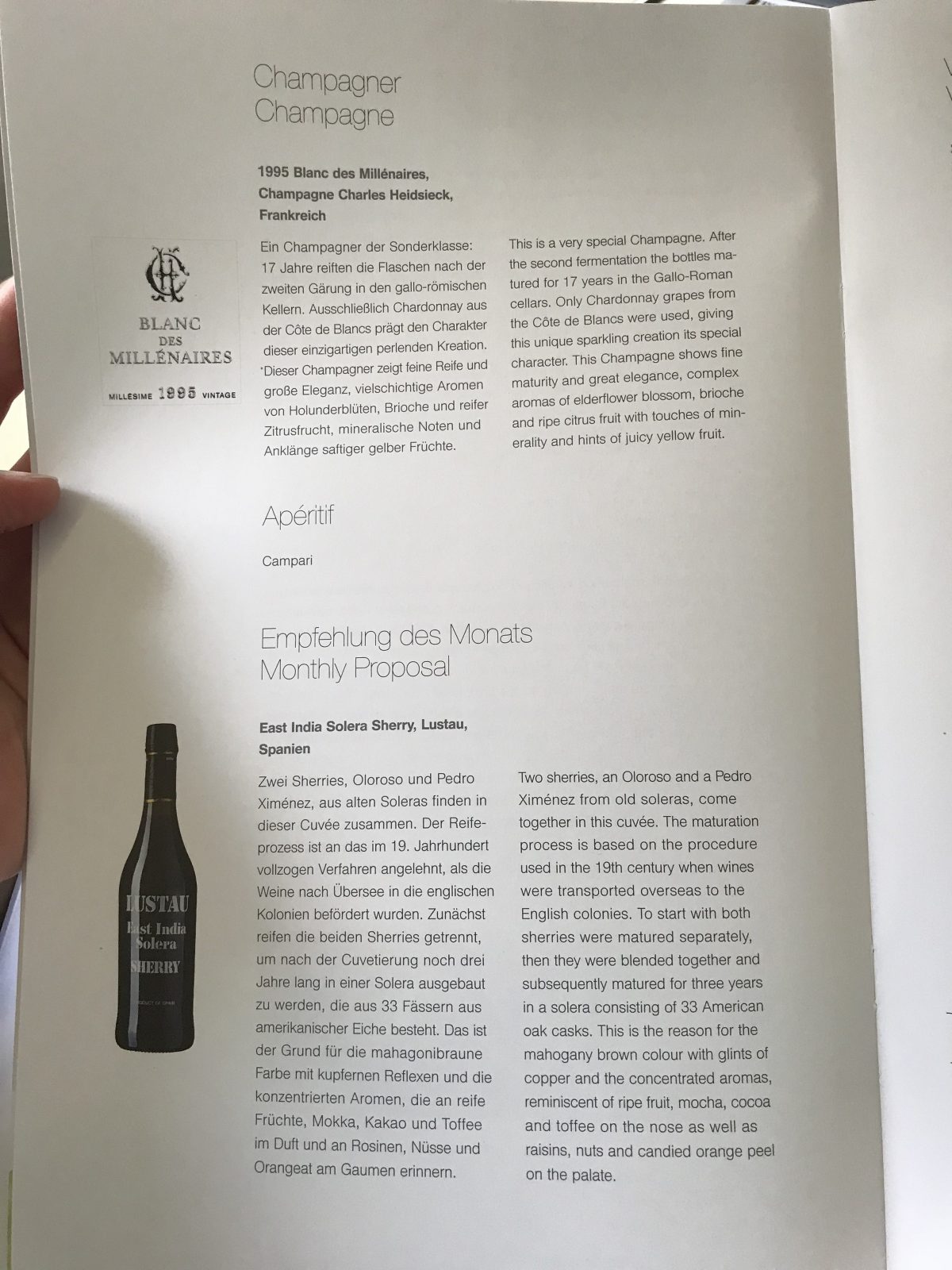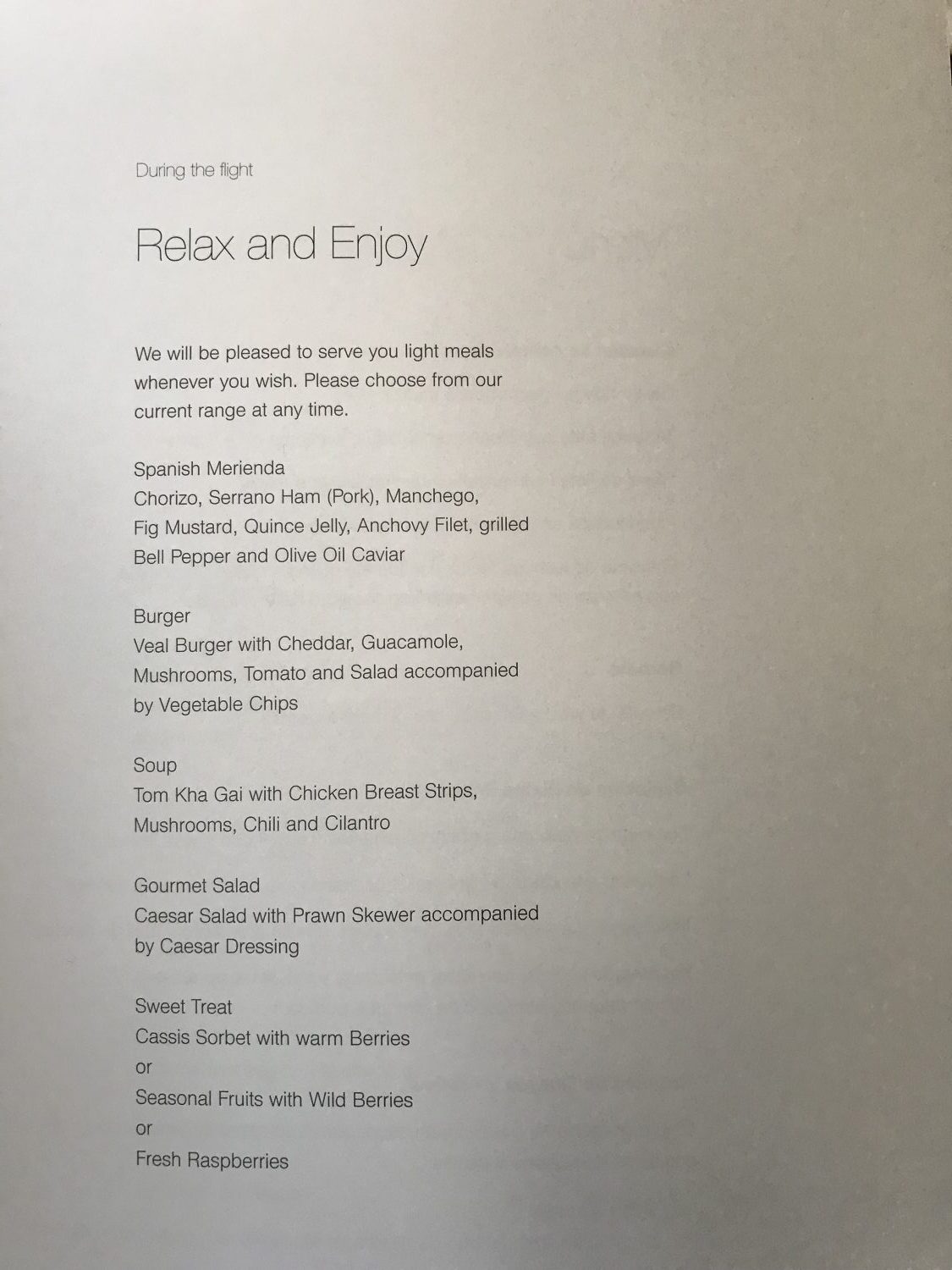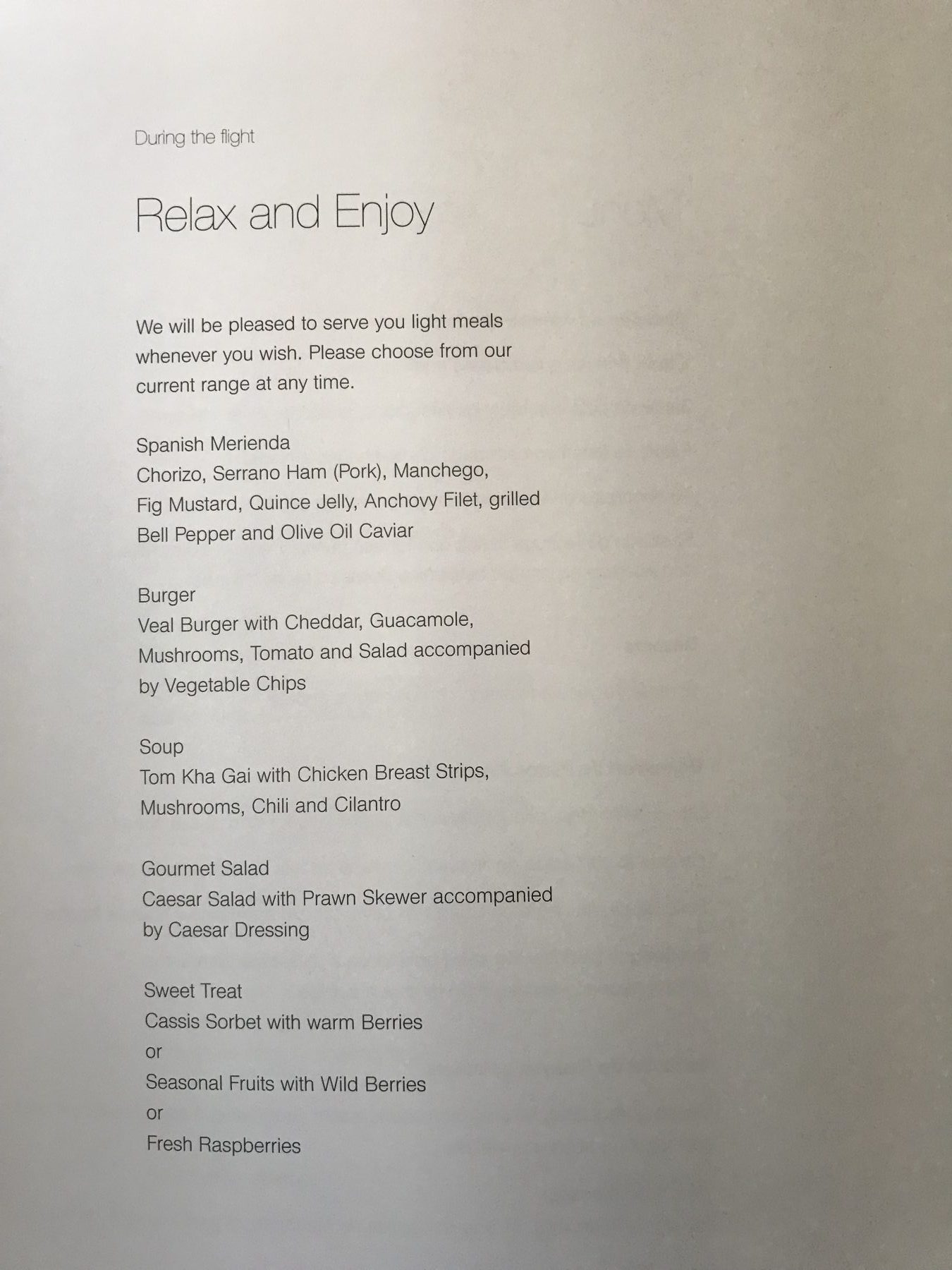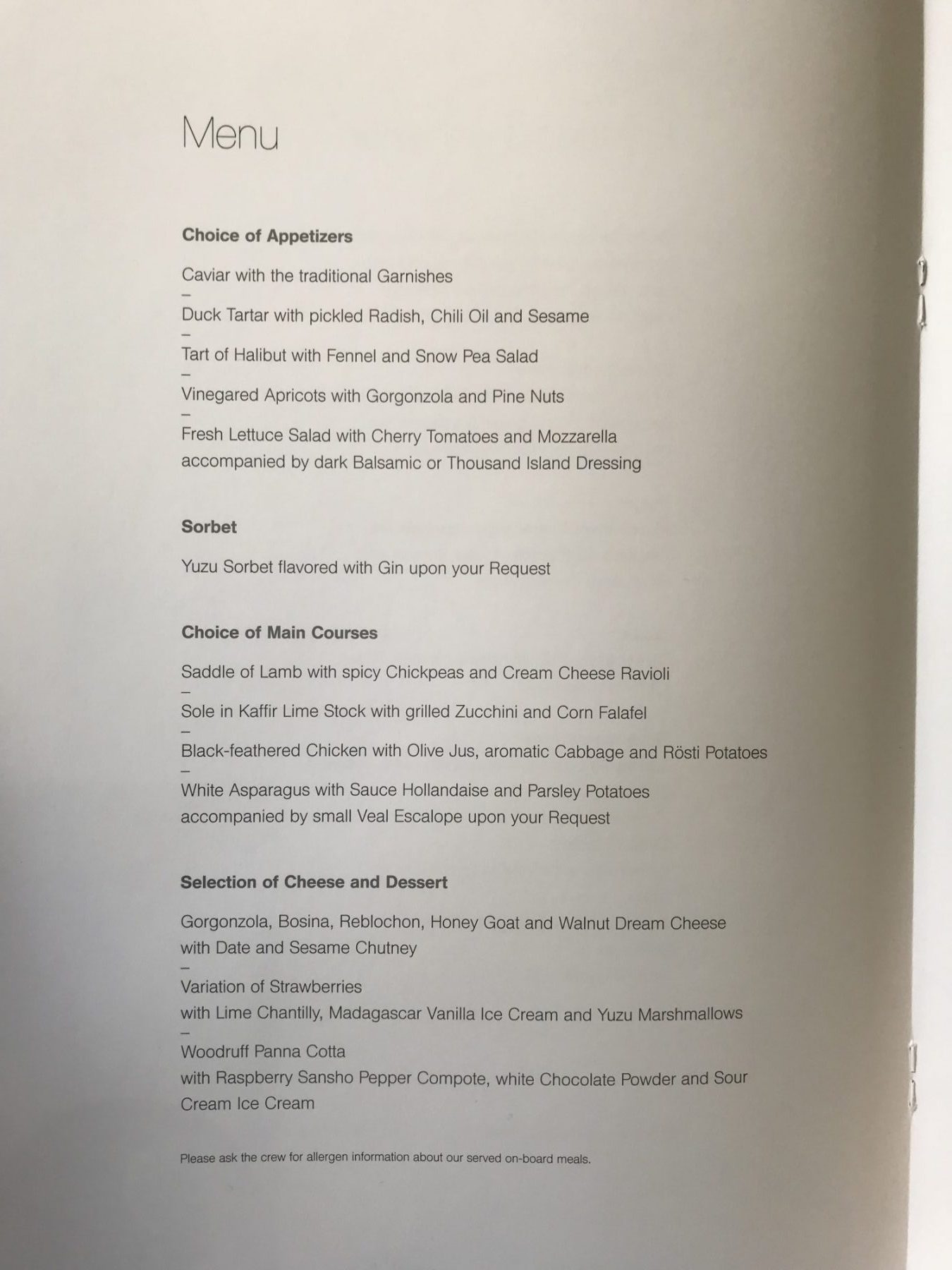 Since we had our fill of food in the first class lounge, I started with desert first, and the main course later in the flight.  The desert was the Variation of Strawberries with Lim Chantilly, Madagascar Vanilla Ice Cream, and Yuzu Marshmallows.  I can't remember the last time that I had wine that I didn't like, but on this flight, the first two samples weren't good.  Even the third wine wasn't great, but I wasn't going to keep opening new bottles,.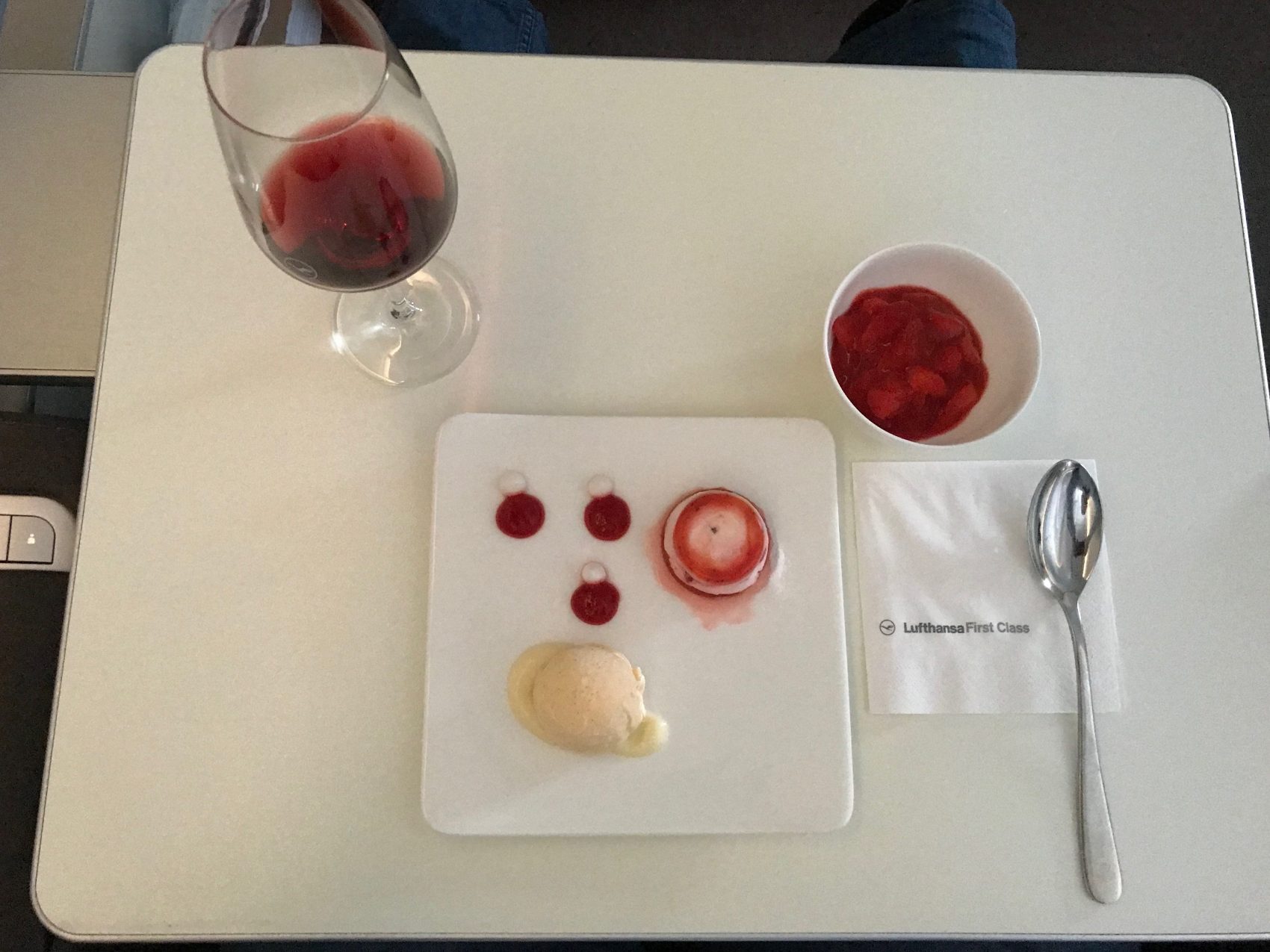 The chicken and potatoes main course was great.  It was cooked perfectly even though I had the meal hours after everyone else.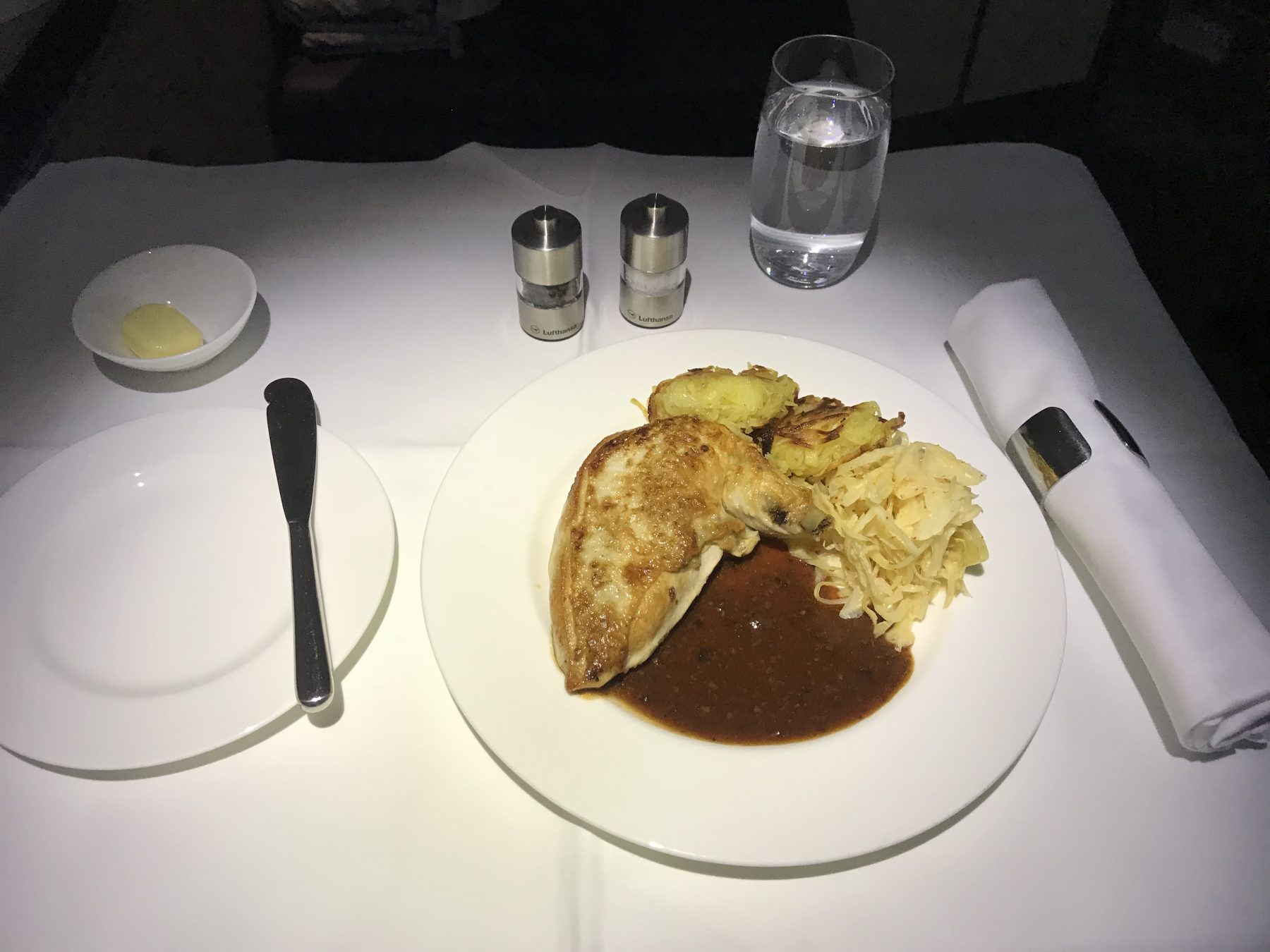 My buddy had to get the attention of a flight attendant to eat again.  He seemed to get less service than I did throughout the course of the flight, which was kind of annoying.  My service was fine.
Bed Time
I didn't fully recline the seat into the bed position, because I was worried about not sleeping after we returned to the U.S.  After watching a movie, I did recline back most of the way and manage a 1-2 hour nap, while my buddy used the bedding and reclined fully to sleep.  He said the bed was very comfortable, and enjoyed the rest.  We were both given pajamas for the flight too, but neither of us used them.  After the flight was over I took a peak at the pajamas, and I'm not sure I understand the hype.
Before our trip, I had heard some frequent flyers claim that the Lufthansa's first class pajamas were the best in the industry.  If they were the only pajamas handed out for first class flights for any airline, that might be true, but I wasn't impressed at all with these.  The cotton wasn't soft, and they had the texture of low end Chinese cotton, not soft Peruvian or Egyptian cotton.  The pants had a very similar feeling as scrubs that I've seen on hospital workers: synthetic, thin, harder-feeling cotton.  As you can probably tell, I wasn't terribly impressed.
Thoughts on Lufthansa's 747-8 First Class Experience
Flying first class and experiencing Lufthansa's elite level lounge in Frankfurt was a real treat, but I wasn't overwhelmed.  Being able to experience the high level of service, food options, chauffer driven excort cars on the tarmac was something that I won't forget anytime soon.
It's not that I didn't like the first class experience with Lufthansa, I just wasn't blown away.  These are all completely first world problems, but here's a shortlist of what left me melancholy about it all.  The Bose headphone were worn down with wear and scratches.  If you open the side compartment area  that houses the large pull out tray and look inside, it's full of junk.  When the tray is pulled out you can see all the way down the side of the airplane wall several feet to the ground.  There's plenty of room in there, and in this case (and I assume all of Lufthansa's first class planes with this setup) it's full of bits of trash, and other debris.  It's pretty nasty, and although I understand the area isn't designed to be cleaned easily, the sight of all the crap in there was just gross.
My buddy also was ignored for one of his meals and some parts of the flight.  I'm not sure what happened or why it did happen, but it was his first class experience.  He was a little intimidated at first to speak up for help, but later used the service button to bring back the flight attendant.  I was well attended to, but seeing him have to struggle a bit for service wasn't terribly comforting.
Finally, upon exiting plane we walked past business class.  It was great to get separate seating and so much room in first class, as walking into the business section actually seemed cramped.  There wasn't anything super fancy about business class, but I'm not sure the difference in miles between it and first was worth it.  I'd like to have another shot at Lufthansa first, but I'm not sure I'll go down that path again.  First class is nice, but business class might be more my speed.