3 May. 2018
Ooo-Kraine
In over 30 countries of travel throughout Europe, I had never been to Ukraine.  Even though I've been to other former Soviet block countries in the area, the violent conflicts with Russia over the past several years brought some big questions marks up for me.  Although I wasn't sure what to expect, I didn't have high expectations before traveling to Ukraine.  Almost all of the Russians and Ukrainians that I've met in the U.S. and elsewhere seem cold, not especially trustworthy, and I was expecting more variations of that.  To my pleasant surprise, that was largely not the case.
Kiev
Kiev is the capital of Ukraine.  It's in the north central part of the country, close to the border of Belarus.  I stayed in Belarus for 5 days and as a condition of that visa-free stay, I had to fly out of Minsk internationally.  No buses or trains out of Belarus are allowed, so I chose to fly to Kiev.  As a minor side note, the short flight form Minsk to Kiev was my first paid flight in the past 5 years.  All of my other flights have been paid for with points.
Places to Stay
A good buddy of mine has been on this trip with me, and I wanted to make our stays easy for my guest but also mix it up a little too and provide some variation in hotel locations.  For 4 nights in Kiev, stayed at the Fairmont, Hyatt Regency, and Radisson Blu (Podil).
Our stint in Kiev started with a stay at the Fairmont Grand Hotel Kiev.  Rates at the hotel look to be over $300 a night for standard rooms so that was a nice redemption.  The hotel also has an old time luxury vibe to it.  The hotel lobby isn't very big or impressive compared to other Fairmont properties that I've seen and stayed at, but the rooms, hallways, and other interior areas of the hotel are well kept and have an extremely high quality, luxurious look and feel.  As a high end indicator, there was a blue Bentley parked outside the hotel when we arrived.  The Fairmont's location is very good.  It's in the Podil section of Kiev, across the street from the Dnipro River that flows through the city.  Also across from the hotel is a large square a few restaurants and plenty of open space where people come to walk, relax, and take in some calming river views.


I used an upgrade certificate for the stay, and actually passed on a suite upgrade opportunity, as all suites are situated with just one king size bed.  Since my buddy and I were traveling together, an upgraded (larger than standard) room with 2 queen beds was a much better choice.
Chase used to have a Fairmont card product that I took full advantage of by accumulating 3 free nights from spend/card benefits plus an additional free night with a paid stay promotion (that I used Barclay Arrival points to pay for).  All in all, I've gotten over $2,500 in Fairmont stays for absolutely $0 out of pocket with the use of points.  This stay was only for 1 night and my remaining free night from the Chase Fairmont card.
The Hyatt Regency Kiev
The Hyatt is roughly ten years old, has a large glass exterior, and an excellent location.  The Hyatt, Radisson Blu and Fairmont are all walking distance to major attractions and landmarks.  Just a few minutes walk from the hotel is Saint-Sophia's Cathedral, and Saint-Michael's Monastery.  The Hyatt also boasts a wonderful pool and rooftop patio, as well as a private bar area beneath the ground floor reception.  The Hyatt Regency Kiev is 20,000 points a night for a standard room.  I don't have status with Hyatt, so breakfast isn't included in any stay.  Apparently the breakfast is great, but due to the early start of the various tours taken outside of Kiev, I didn't partake any food at the hotel.  It's not the best Hyatt that I've stayed at, but it's still very nice and an extremely high quality option in Kiev.
Radisson Blu Kyiv Podil
Radisson Blu's are nice but aren't on the same level as Hyatt and Fairmont.  It's kind of apples and oranges in most cases.  However, the Radisson Blu locations in Europe are often very centrally located, usually come with free breakfast (with status), and best of all – are free via some significant manufactured spend.
The Radisson Blu Kyiv Podil is just a few blocks from the Fairmont, and also close to the Dnipro River.  While not over the top, the breakfast at the hotel is plentiful, and definitely a nice (free with status) option.  In our 2 nights at the hotel, the front desk staff wasn't very friendly at all, and the service below par overall.  However when a stay is free, it's difficult to get too worked up over hotel stay imperfections.  There's also another Radisson Blu in Kiev (50,000 pts/night) not far from the Podil (44,000 pts/night) location, as well as a Park Inn option (44,000 pts/night).  All 3 Radisson properties are in good locations with interesting shops, nightlife, and other attractions close by.
The center of Kiev isn't huge compared to some cities of it's size so getting to locations either by foot, Uber or taxi is pretty simple.  I took a ton of Ubers in Kiev for around $2.00 per ride on average.  Uber costs in this part of Europe are amazingly inexpensive.
See And Do in Kiev
Missile Base Tour
Around 3 hours outside of Kiev is a strategic missile base from the Cold War that can be toured with a hired guide.  A few different tour groups are allowed to bring guests to the facility.  I went with SoloEast and would recommend them to others.  From the tour, one thing that I didn't realize is that The Soviet prime minister was able to launch 4 rockets from Moscow from a a single button.  That launch would then automatically fire all of the missiles from the entire Soviet Union to pre-set targets in US and Europe.  It was essentially a Doomsday Machine.
The missile base is the real deal.  Since Ukraine was the one of the Western most countries in the USSR, intercontinental ballistic missiles (ICBMs) that could reach The United States were located here as well as at several other bases in the countryside.  The country was a key strategic facility for the Soviet Union.  The facility has a museum inside he above ground headquarters building, as well as a number of retired Soviet missiles and military equipment.  During the tour you're given an initial overview of the missile base, the weapons it housed as well as the locations and role that Ukraine played in the Cold War.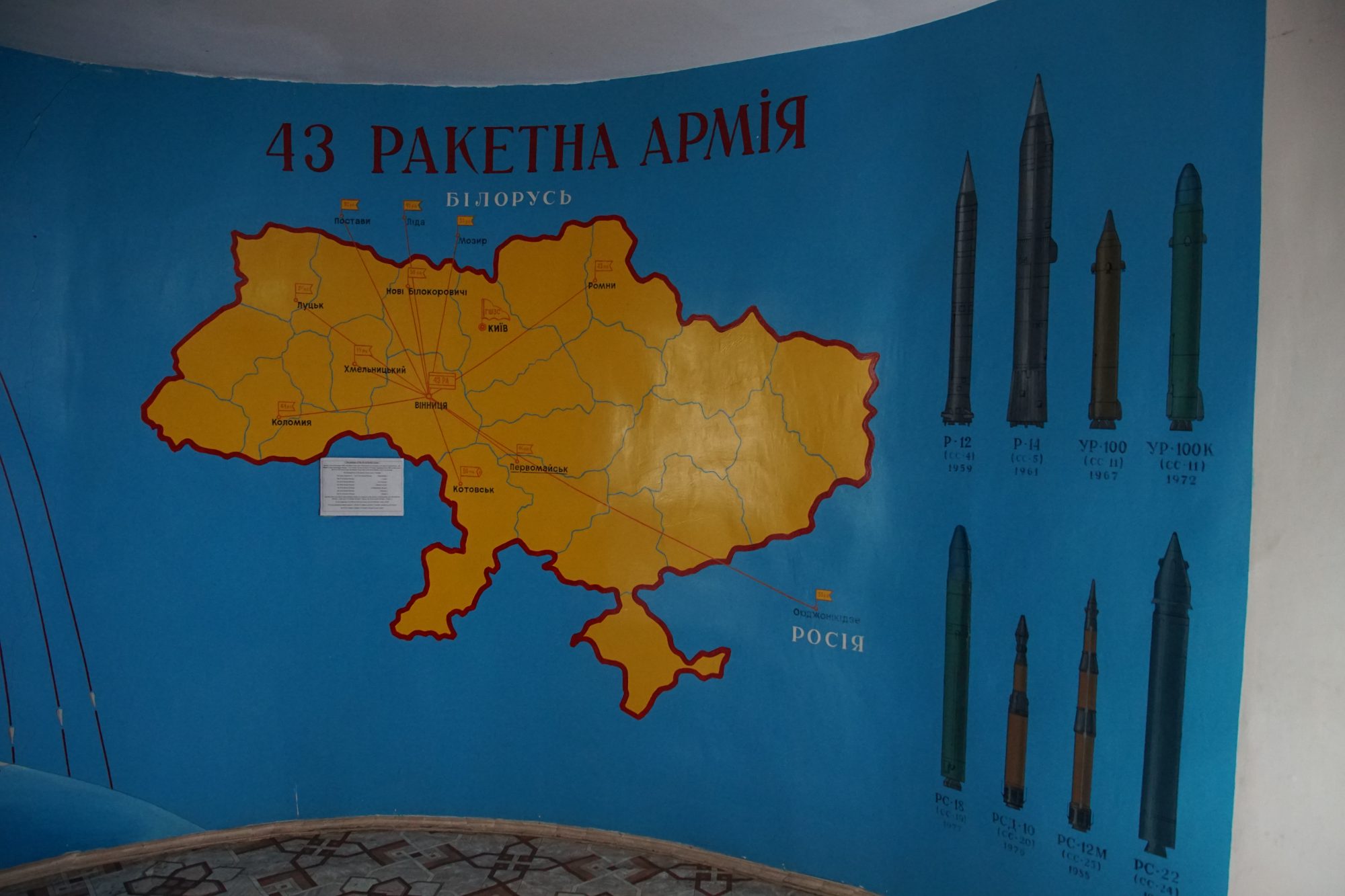 The tour brings you around 140 feet underground via a tiny elevator where you can view the tiny two rooms responsible for launching the missiles if given the order.  There is a single gray button that would launch the missiles that tour guests can press which activates an electronic and audio sequence in the same way that it would have if war broke out.  It's very interesting to experience the missile base, but a little horrifying thinking of all of the bases and people involved around the world that had (and do have) such power at their finger tips.
Chernobyl Tour
Before the trip, going to a nuclear site that had one of the most massive accidents and subsequent radiation fallout, I didn't have much of and interest visiting the site.  As I read up and spoke with some people who had visited Chernobyl before, I knew I had to go and see it for myself.  There are a variety of  tours (single and multiple day tours) and companies that offer them.  From all I know, all tours start at 8 am and depart from Maidan Nezalezhnosti, Kiev's central square.  We did a single day tour that lasted until 8:30 pm, or 12.5 hours total.  That includes a 3 hour drive to Chernobyl each way, so driving to and from takes up the bulk of the day.  We were shown a documentary about what happened at Chernobyl on the journey to the plant.  The film was excellent, and was one of the highlights of the trip.
Geiger counters are available to rent, and for $5, lunch is served in a Chernobyl cafeteria.  There are 1,500 workers still working in Chernobyl, most to decommission the plant, so the cafeteria and area does have residents and workers in spots.  Don't worry, food is brought in from outside the Chernobyl area.
The City
My friend in Kiev is a tour guide for Chernobyl.  She also does some DJing part time on the weekends, looks like an international model, and is very in touch with what's new and hip in Kiev.  As a single guy traveling, I must say Kiev may have the most beautiful women for any single city that I've visited in the world.  It's a genetic super power.
She compares the current state of Kiev to Berlin after the wall came down in 1989.  There is a vibrance and newness to the city now.  It's has tons of small, unique shops, restaurants and the architecture radiates European, not Soviet.  The cold Soviet feel that I thought I would see everywhere is barely noticeable in the city center area, but the large Cold War era apartment buildings on the outskirts of town are still there.
Summary
We spent 4 nights in Kiev and it wasn't enough, as 2 of those days were completely taken up with tours to the Missile Base and Chernobyl.  Adding another day or two would have been much better, but it's difficult to know how many days to spend in a city before getting there.  Kiev has a lot to offer tourists, and much more than I had originally thought.  I never thought I'd say it, but I enjoyed Ukraine and would love to return.