21 Aug. 2019
Bakers Dozen
The Discover It Miles credit card is often billed as a 3% cash back (CB) rewards card, all with no annual fee.  That part is true, but with a small twist.  Discover gives cardholders 1.5 miles for each purchase, and after 12 months of usage, all of the miles earned are eligible to be doubled, making the 1.5x rate 3x.  The miles don't physically get doubled though until the day after the 13th month of account opening, as there's another month of waiting until you have access to your enhanced (3x) earnings.
No Expiration
It's kind of odd, but Discover miles apparently have no expiration.  Most bank points/miles expire if you don't keep the credit card open that earned those rewards.  Discover states that "rewards have no expiration. We will credit your account with your rewards balance if your account is closed or if you have not yet used it within 18 months."  It's a convenient benefit, but it won't save you if your account is shutdown.  You'll loose your miles if you're shutdown.
Redeem
When it comes time to redeem, Discover "miles" are worth 1 cent per point, and can be used for a variety of redemption options such as:
Travel purchase credit – per Discover, "on your statement or get cash as a direct deposit to your bank account. Travel Purchases include a purchase made within the last 180 days on commercial airline tickets; hotel rooms; car rentals; cruises; tour operators; vacation packages purchased through airlines, travel agents, online travel sites; local and suburban commuter transportation, including ferries; passenger railways; taxicabs and limousines; and charter/tour bus lines. Purchases made using Near Field Communication (NFC), virtual wallets or similar technology may not be eligible."
Cash back – all "miles" can be converted to cash at a 1 cent a piece (or 1,000 miles = $10).
Amazon purchases – users can link their Discover card directly to their Amazon account and use miles on the (Amazon) checkout page at 1 cent each.
Basically no matter which redemption option that is chosen, Discover's "miles" all have the same redemption rate of 1 cent each.  In that way, cashing out the miles and having the money e-deposited into a checking account seems the most logical and efficient option.
Cash Out
Discover makes cashing out miles for money simple.  After the 3x is applied to your miles, you log in to your account where you'll see your mileage balance as "Miles Available".  Below that balance you'll see "Ways to Redeem".  Click on that to proceed to the 3 redemption options mentioned above.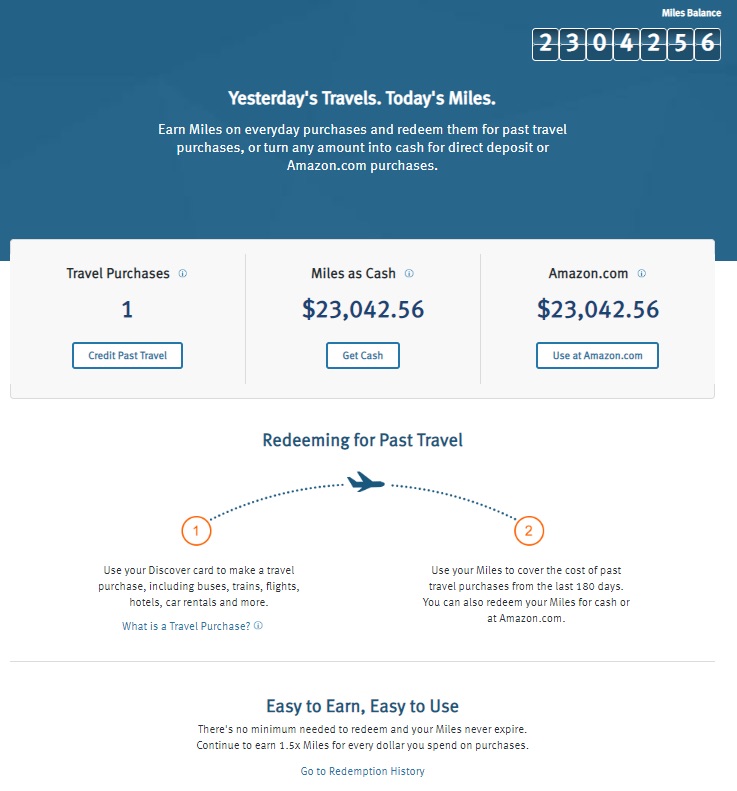 From there select "Miles As Cash".  From there Discover calculates how much your miles are worth in cash.  You also have the option to redeem a portion of the miles as cash back too.  The cash redemption will be sent to any linked bank account that you've paid your account from in the past.  You have the option of adding another bank account too.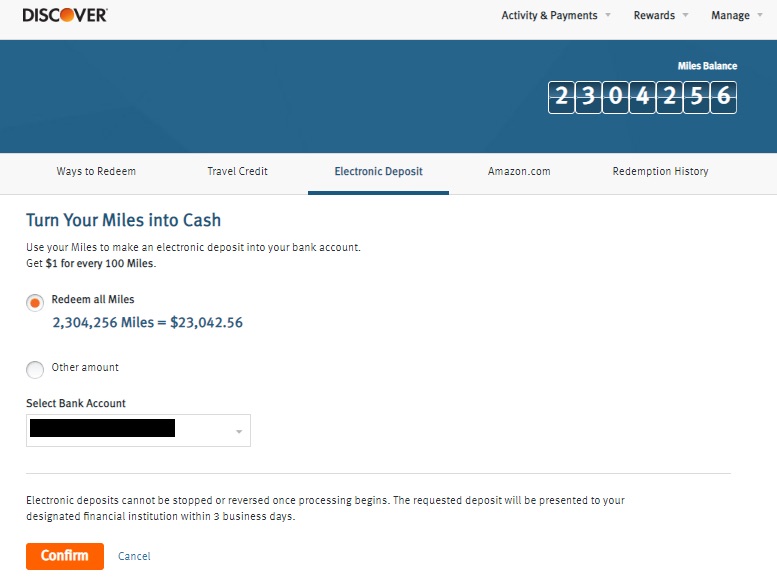 Then simply hit "Confirm" to finalize the transaction.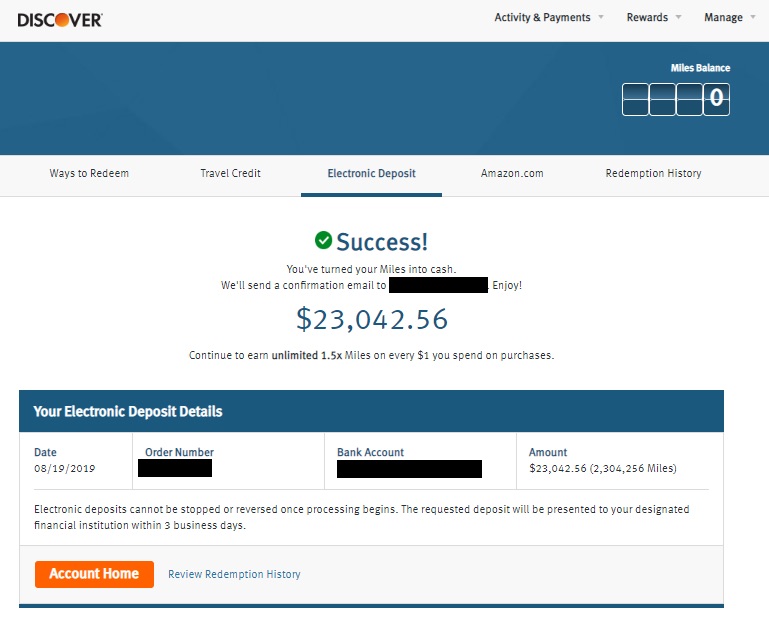 The cash transfer to a selected bank is quick.  My transfer arrived next day.