30 Oct. 2019
Hit List
For a person that does higher manufactured spend volume, my list of bank shutdowns isn't that bad.  I've been shutdown by Bank of America, Citibank, and Barclays.  To some that list of closures seems severe, but I'm actually quite fortunate it's not much more inclusive.  I'm guessing that Barclays was inevitable but the other two were avoidable, at least in my mind.  I just got greedy and ran a little loose.  It's tough not to get greedy in this hobby, but I went against my better judgment with bill pays and ended up getting the axe on a couple of valuable accounts.
Those accounts aren't the end all to be all though, as I'm still pumping out points, but have put myself on another bank radar:  Navy Federal Credit Union.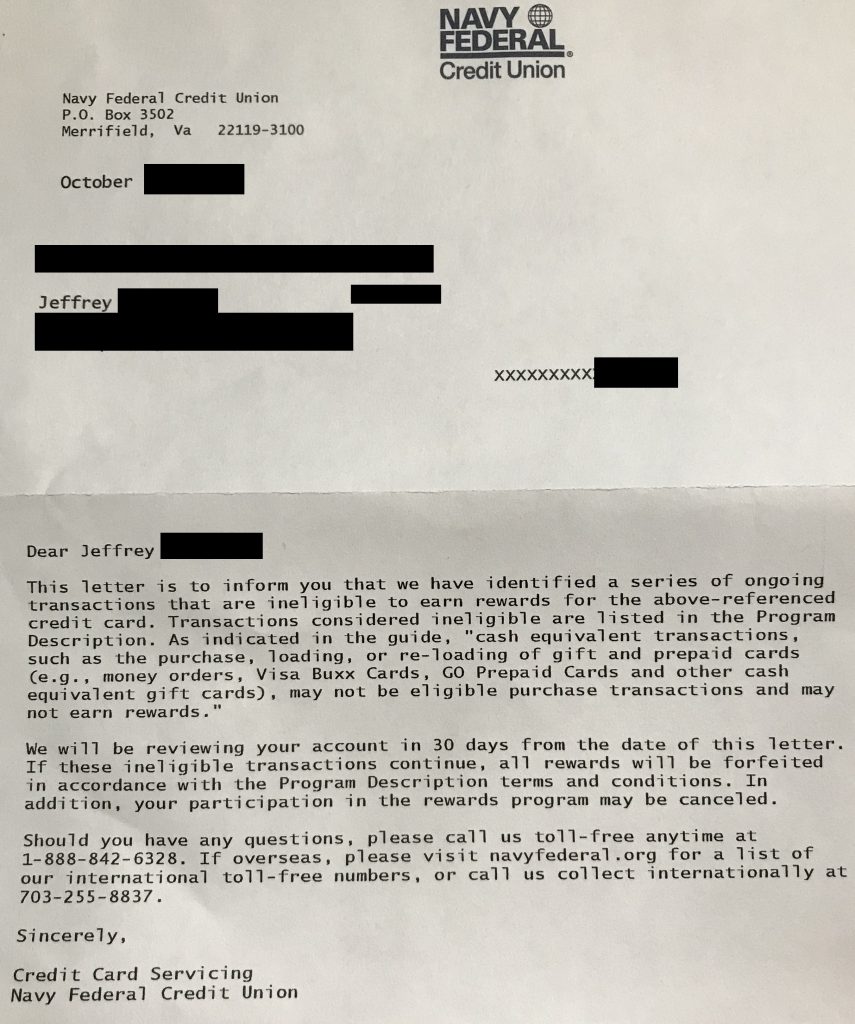 Push It
My Navy Federal account is only a few months old and already I'm on the shutdown watch list.  The Visa Signature is a travel rewards card that I use as a 2% cash back option.  I'd basically max out my credit line, pay it off as soon as the bill comes due, then rerun that scenario.  I had though that only bill payers were getting shutdown and in trouble with Navy Federal, but that's not so.  I stayed completely away from bill pay and still got a nasty gram from them.
There's currently a 50,000 point sign-up bonus that's available for the Visa Signature if you meet the $4,000 in 90 days spend requirement.  The card also has a $100 statement credit for TSA PreCheck or Global Entry, all for a $0 annual fee in the first year ($49 per year after year 1).  You do have to have a qualifying connection to the military in order to qualify for the card (and membership with Navy Federal), which not everyone has.  Also, a downside with the Visa Signature's plentiful sign-up bonus, which is the equivalent of $500, is that it's not paid until after the account has been open for at least 90 days.  Basically they want to make sure you're the kind of customer they want before dishing out a $500 reward.  I'm now very much in jeopardy of not qualifying for that $500 sign up bonus, and also being shutdown.  As a result, I've stopped MSing on the card, replacing it with organic spend (at least for now) and am plotting a path forward (if I do survive the cut).
The card isn't really that important to me, and losing it isn't life or death.  Getting the warning letter is also kind of odd because I know others who use the Navy Federal program differently and more aggressively than I do, yet they still are operating without any negative notice.  Navy Federal enforces long payment holds (7+ business days) that makes it difficult to get much MS use from the card to begin with.
With the rumored changes to Moneygram possibly taking effect very soon, it may not be a card that gets much use in the future (or stays in my wallet) even if I survive a shutdown.