15 Nov. 2019
Another One Bites the Dust
Having different sources to buy debit/gift cards for manufactured spend is always a plus, but it looks like one of them is toast.  It's not a secret you can buy gift cards at Simon Malls, but Simon also has had two online sites to buy cards.  One of them is a person site (below), and the other is a corporate (volume), site.  The corporate site no longer earns American Express Membership Rewards so this site has been appealing to some depending on their rewards goals and needs.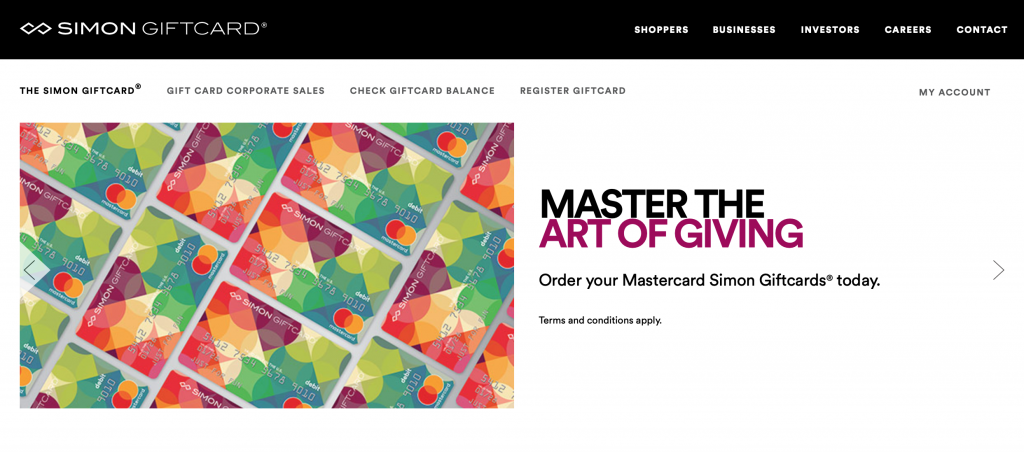 Same landing page as before….

Giftcard buying options appear to be the same too.  The site used to offer $500 Visa gift cards for a $3.95 fee.  A big downside of the site is that there isn't a cash back play that can be used to bring down order costs.  A typical $5k order looked something like this:
SUB TOTAL:
$5,000
PURCHASE FEES:
$39.50
SHIPPING:
$6.70
TAX:
CREDITS/GC/PROMO:
TOTAL: $5,046.20

Then the order screen appears for a second or two, then jumps to this message (which is new).  In the end, it looks like Simon is trying to allow people to buy cards at their malls (in person), and online via their corporate volume program.  This wasn't a great cost per point option, but for those wanting to reach certain goals such as spend for a free hotel night, etc. this wasn't bad.  Most of all, it still earned Amex Membership Rewards and all other points too.  I put in an email to Simon corporate about this, but this particular party looks to be over.