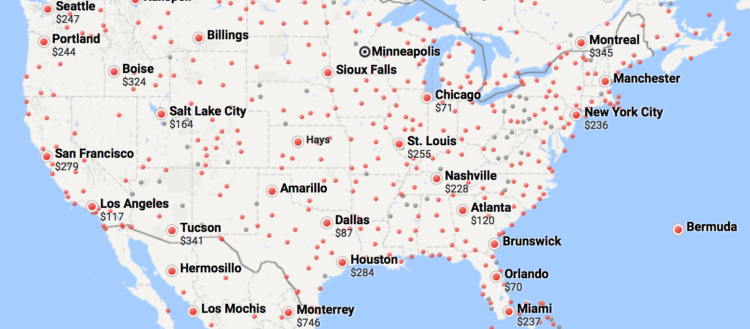 30 Oct. 2017
Think you miss out on deals that others get?  Want to find cheap flights for your next trip?  The internet is full of various websites that list prices for flights, but it's hard to compare and keep track of all the options. Here's a list of the best websites to find cheap flights and airfare for your next trip.  Enjoy!
The Best Websites for Cheap Flights
Million Mile Guy – pardon the self promotion, but my website pulls in some of the best airfare deals on the internet from a variety of the top airfare websites in the world.  I'm not getting paid to promote any of the websites, but provide links to other websites because they do great work and offer the best deals.  A sample listing of the flights are shown on the homepage, but if you click on the "Show Flights" button, or on the Flights tab in the header area, a full list of cheap flight deals is viewable.  Once on the Flights page, readers can search airfare by city for free using either the airport code or city name.  Many websites charge a fee for searching for cheap airfare by city but most don't offer the capability at all.
Secret Flying – an absolutely great resource for cheap airfares and hotels from basically any part of the world.  My friends in Eastern Europe alerted me to the website when it started operating, and I've followed it ever since.  After you select the world region that you're interested in, a list of cheap flights is displayed.  The flights aren't organized by city, so it can take some effort to find a specific city and deal that you're interested in.  There also isn't an email alert feature, but you can subscribe to the Facebook and Twitter feeds to get more timely flight alerts.  There is even a Fuel Dumping (FD) Tool!  Now THAT is something you don't see everyday!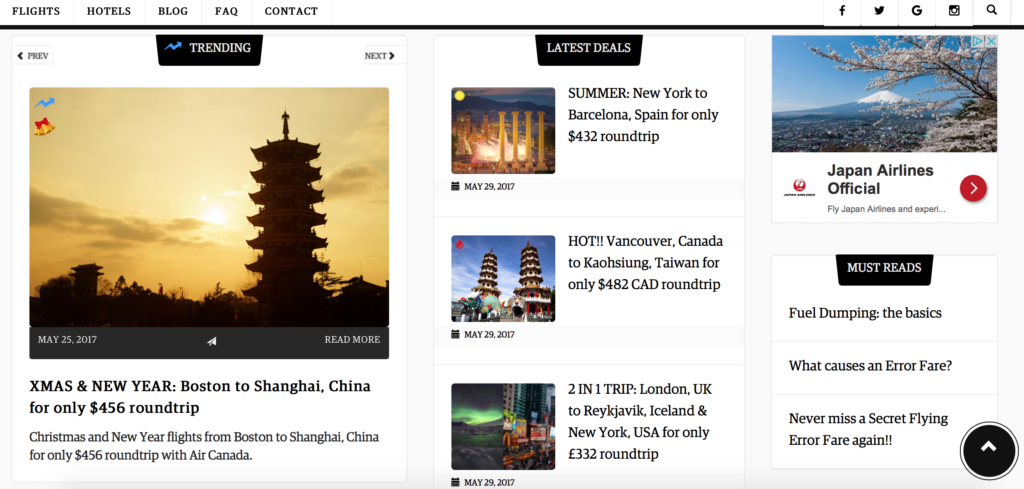 The Flight Deal – if you fly out of one of the major cities listed on this site, it's probably the best, most consistent website for finding cheap flights for residents of the U.S.  One reason why the flight deals are so consistently low, is that the website only post flights that are are under 6 cents a mile.  If you don't know what that means it's ok, just know that the deals are solid.  Possible and suggested flight departure time frames and other important details are posted with each new deal.  You don't  book flights directly on the website; bookings are encouraged on partner websites like Orbitz.  Daily email alerts for favorite cities are available.  Link with Twitter for instant deal alerts.
Fare Deal Alert – a sister website of The Flight Deal, the site posts similar deals from other major cities in the U.S.  Again, the site only post flights that are are under 6 cents a mile.  Deal time frames and important flight details are again noted inside each flight deal.  Airfare is not booked directly on the website but through one of the partner websites.  Daily email alerts available.  Link with Twitter for instant deal alerts.
Fly4Free –  One of the most comprehensive travel deal websites in the world that covers flights, hotels, and rental cars.  Not the prettiest airfare site out there, there are some absolutely smoking deals on this website.  Cheap fares focus on Europe, USA, Asia, and Australia and then lists major cities and areas from there.  I've seen more incredible flight deals on this website than any other, but some major cities aren't specifically singled out so individual city searches may be necessary.  Flights can't be booked on the website, but users are encouraged to user partner websites.  Connecting via Facebook and Twitter allow users to get deals more quickly.
Thrifty Traveler – a young, tech savy, fellow points and miles enthusiast who made the website in his spare time has created an airfare gem.  The website lists an assortment of cheap domestic and international flights from various cities.  A paid subscription now exists so that users can get cheap flights for specific destinations. Certain cities are mentioned for free more than others so the free version may be enough for some.
Thrifty Traveler (Premium) – same great search site as Thrifty Traveler, but the paid version allows users to get custom alerts to cities of their choice.  Memberships offered are $15 per quarter (or $45 a year), $30 for the year, or $20 bi-annually or $10 quarterly.  If you like to travel and buy your tickets directly, adding a few extra dollars to focus on great deals from your city of choice is definitely worth it.
Scotts Cheap Flights – similar to Thrifty Traveler, a great but lesser know and underutilized tool for finding cheap airfare.  There is also a premium/paid version available that targets flights in the cities of your choice.
Google Flights Explore – a site so secret that you can't even Google it and find it, you just have to know that it exists.  It's different than Google Flights and can search entire continents or geographic regions for various time periods.  You can't book flights directly on the website, but once you find a date that looks good, the site opens a new window to Google Flights where you're able to see times and bookable pricing.  Want to find the cheapest fare to anywhere in SE Asia or all of Africa 8 months from now?  The site has you covered.  It's fantastic.  Try it and you'll see what I mean.
Hopper Flight Feed – A new website and app that's similar to Google Flights Explore that allows flight searches by city, country or even region of the world.  The site (and app) shows you a calendar with price breakdowns for round trip flights on different dates.  You select the round trip flight that you want, and you're given the option to either book now or watch the trip.  Users can choose to watch the trip of interest, and Hopper sends an alert when the price is about to drop and lets you know the date you should book by before the price goes up.  Some limitations include a lack of integration with frequent flier programs and flight options, like seat selection and upgrades.  The Hopper app is free to download and use, but a $5 commission goes to the company is worked in on the flights you book through the app.  Wonderful resource.
Hopper Flights from Map – Open to traveling to a variety of places but don't know how to find the best prices?  This page on the Hopper website is pretty amazing because it lets you type in a single airport and every destination fare in the world is displayed, making it easy to see what destinations are cheapest.  Zoom in and scroll around to find the best fares in the area you want to travel.
Kayak Explore – A simple website that shows a map of the lowest fares for a specific city to "everywhere else", essentially showing you the cheapest routes from where you are flying to or from.  Select your home city and see the lowest fares anywhere.  Note that Kayak only shows roundtrip results, and omits fares from many low cost air carriers in the US and abroad (and doesn't search as many discount airlines as SkyScanner or Momondo), but still a very worthwhile tool.
Exit Fares – If you like the The Flight Deal, then you might love Exit Fares.  It aggregates all the best airline deals from sites like The Flight Deal, Airfare Watch Dog, and many smaller sites.  It posts flash sales, promo codes, and mistake fares.  Email alerts are available but a bit slow; I find that the deals are often gone by the time they reach my inbox.  Best to link with Twitter for faster deal alerts.  I find it more useful to note the websites that this site pulls deals from and track those websites individually.
Honorable Mention
ITA Matrix – Still one of the best, if not the best, tools out there but be wary as it's not user friendly right out of the box if you're a beginning points and miles enthusiasts.  If you don't know how to use it adequately, won't harness it's power adequately.  You can sort by cost per mile, search multiple destinations and open-jaws, flexible dates, and it gives a visual time comparison of flights.  What sets it apart is its ability to customize by clicking options like "advance routing codes" where you can specify the airline, fare class, city connections, and even search multiple airport combinations.  If you like having control over many variable options and seeing a specific fare breakdown of your ticket, you'll love ITA Matrix.
Momondo – similar to other sites that can search by world region, Momondo is a great too and especially useful for flights inside Europe.  When you think Momondo, think European flights.  One advantage for the site over others is that it searches more discount airliners.  Like other sites, you can search by continent or leave the search box set to "anywhere", and you can search by specific month or leave that "anytime".  A downside though is the limitation of starting/departure cities.
Skiplagged – an airfare search engine that differentiates itself by utilizing hidden city ticketing to find low fares.  Hidden City tickets often schedule more flights in a trip than is needed, which changes the price of the flight.  Essentially passengers want to go from city A to city B, but SkipLagged tacks on an extra leg (city A to city B to city C).  So if a passenger booked that type of flight, they simply don't get on the last leg (or in the above example, just go from city A to city B).  If you do end up purchasing a hidden city ticket an getting off before you reach the suggested destination, don't check luggage or register for frequent flyer miles for the flight, as doing so may get your mileage account locked up and your bags sent to a different city than you hop off at.  SkipLagged was sued by the airline industry over its use of hidden city ticketing, but so far so good, as the website still alive.
Hipmunk – showing you the best airfares and hotel rooms (as well as car rentals and package deals, but I haven't used those options).  One reason that Hipmunk has become popular is that it shows the shortest schedules.  Similar to ITA Matrix, you can't book flights directly on Hipmunk.  The site has a variety of ways to search (and now you can even search by theme such as "beach" destinations for example), and you can also set up email alerts when prices drop.  A nice versatile tool for flights and more.
Travel Free (info) –  a great site for Europeans that offers cheap Flights, Hotels, Buses, and even Cruises.  You can sign up for emails and follow via Facebook and Twitter, but it doesn't appear that you can isolate deals for a specific city, so often more work for users to find the fares they want.  Even with a few missing features, it's a nice resource for European travelers.
Skyscanner – this site has a been a points and miles favorite for years.  It's a multi-lingual (30 languages) travel search engine that can view travel between specific cities or for entire regions (like Asia or Europe for example).  Also has car rentals and hotel pricing, but is best known for flight deals.  Similar to Hopper and Google Flights Explore, Skyscanner can also show you the cheapest fares over the course of a month or even a whole year.  Website does not sell flights directly.  Nice app too.
Vandrouki – Although the website is in Russian, you could use a translate tool to see the English version, but this site is huge in Eastern Europe.  Super cheap transportation options for those in and around Europe.  It's a real gem for great deals, but most people in the U.S. haven't heard of this resource.