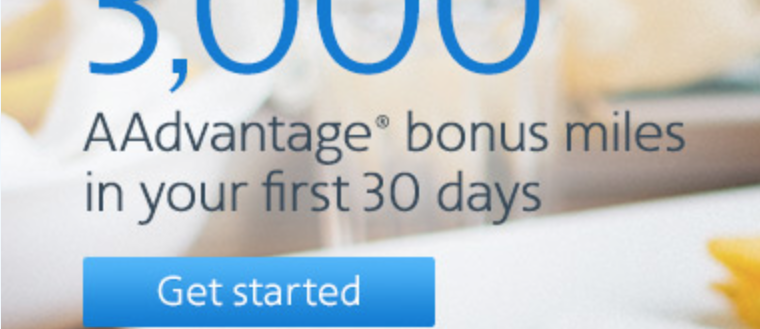 6 Dec. 2017
It's a lengthy list, but here are some examples of how you may be able to accumulate more award points and miles.
Ways to Accumulate Award Points and Miles
The following is an except taken from my forthcoming book "Travel for Free:  The Million Mile Guide to Travel Rewards, Loyalty Points, and Travel Hacking" which is planned for release sometime in 2018.
1.  Personal credit card sign up bonuses – for most people, this is the easiest and most efficient way to earn large amounts of points and miles.  It's becoming more difficult to earn points and miles through credit card sign ups because banks continually change rules and issue new restrictions, but opportunities are still there, especially for people with few (recent) credit cards.
2.  Business credit card sign up bonuses – often overlooked for newbies in the points hobby because 1) they don't realize that business credit cards also are connected to rewards programs 2) business cards offer large sign up bonuses 3) they actually can qualify for a business card (despite not having a "registered" business).  Business credit cards can sometimes be more advantageous than personal cards because most of them don't report to credit reporting agencies (unless you miss your payments).  Some also aren't included in credit card applications counts.
3.  Shopping portal bonuses – Another important and very lucrative way to earn additional points, miles (and cash back!) for everyday purchases is through online shopping portals.  Most airlines and some hotels have shopping portals with many hundreds of stores to choose some.  Normally you'd earn 1-2 points/miles per dollar buying something on a rewards card directly, but online shopping portals can multiply those earnings making it possible earning many thousands of extra miles and points per year with purchases that you'd make anyway.  Great resources to find out what bonus offers the various portals are offering are www.cashbackmonitor.com and www.evreward.com.
4.  Maximizing category bonus spend – credit cards often have spending bonuses (2x, 3x, or 5x) for certain categories of purchases.  So some earn better rewards for groceries, gas, office supplies, internet advertising, Apple Pay, Amazon, and many more.  Using the right card for the right purchase i6.  s important and can comfortably earn you thousands of extra points each year.
5.  Manufacture Spend – For some this (MS) is a huge points earner, for others not at all.  Generally it involves purchasing various forms of cash equivalents (usually Mastercard and VISA debit cards) for a small fee from a variety of stores or online, then turned back into cash to ultimately pay off the charge that was incurred, giving you lots of points for a small fee.  The key in manufactured spending is liquidating methods and locations, because you don't want to get stuck with hundreds or thousands of dollars worth of cards!  There can be hours of legwork, lines at stores, problems with cards, and major issues with accounts that all make MS both exotic and toxic to earning points and miles.  It's not for everyone, but for some it's an extremely significant way to earn miles and points.
6.  Stop using Bank Debit cards and Cash – Just don't do it.  Leave your debit card at home.  Every day I see people pay with cash and debit cards in stores.  Use cash for emergencies, cash only options or possibly for very small purchases and tips.  Bank debit cards and cash are good for banks and retailers, but they don't earn you rewards.  Don't reward banks for your purchases; instead be rewarded for your spending; use reward credit cards and pay them off every month or early.  No balances, no interest fees, no late payments.  But most of all, stop using the debit cards and cash.  They are literally a waste of money.
7.  Dining Reward Programs – the major airlines and some hotel programs in the U.S. all have dining programs that can earn you extra points.
Orbitz also has a dining program.  Often when you sign up for the dining programs large 1k-3k point bonuses are available after your first dining experience and up to 5x points for each dining experience.  People that dine out a lot can earn multiples on the dollars spent at participating restaurants.  If you love to eat out, joining dining programs and linking them to your rewards cards can mean thousands of extra miles per year.  Generally up to 5 cards can be registered per rewards programs, but the same card can't be used in multiple dining programs.
8.  Credit card retention bonuses – Banks sometimes offer a bonus of some sort for keeping your credit card and account open with them.  Citibank has offered strong retention offers over the past 5 years or so, but bonuses with other banks are possible too.  You can earn thousands of points each y10.  ear with retention offers and/or hundreds in waived or reduced annual fees.  Before canceling a card or just paying the annual fee, call in to negotiate and speak with a manager or retention specialist to ask about offers that will help you keep the card.
9.  Travel – It almost goes without saying, but you can obviously earn points and miles by flying, staying at hotels, renting cards, using trains, etc.  Often this isn't the cheapest  or most efficient way to earn points and miles, but there are positives from doing so like earning elite status and and other related benefits with those companies that you travel with the most.  More travel companies are moving to revenue based award programs so spending is becoming more important for earning status.  Those perks might not sound like much but if you go on a big trip to multiple countries and stay at a single hotel company, those upgrades can really add memories and reduce costs.
10.  Partner promotions – Need a new home security system?  Getting a new phone, cable or i11nternet service?  Well banks that issue rewards cards are tied in with a multitude of other companies that would love your business.  And doing business with them through your award card will earn some nice bonuses too.  I don't seek out new promotions with other companies, but if I'm in the market for something, I check my online account and see what targeted offers there are for extra points.   in 2017 Direct TV offered a 50,000 American and 25,00 United mileage bonus for new customers.  Aeroplan has offered extra points for Esso gas too.
11.  Purchase miles – All airlines and major hotels allow you to purchase their miles, and sometimes at a discount.  It might cost you10-20 cents to buy a paid ticket somewhere domestically, but if you buy miles from the airline directly you might pay 2-4 cents per mile, which is a decrease in cost from actually flying, but still pretty expensive compared to other methods of obtaining points.  A general rule of thumb to abide by is that it doesn't pay to buy miles from an airline/hotel unless you need to top off your mileage balance for an upcoming trip.  Earn miles through other ways, it's usually cheaper, but don't forget this option exists if you're in a crunch.
12.  Special Promotions – sometimes you may not even need to have a rewards credit card to earn miles and points.  For example, in late 2015, IHG in partnership with MasterCard ran a promotion in which you could mail in entries and win at least 500 IHG hotel points for each entry.  Essentially, if you maxed out the offer it would cost you roughly $50, several hours of your time for writing out many 3×5 index cards for the deal, and in return you're guaranteed at least 47,000 IHG points, which could get you at least one night free in one of the companies nicest hotels anywhere in the world.  Or if you prefer, multiple nights in a lower category location.  I did the deal, and it was a pain in the ass.  My fingers were sore from writing so on many cards for the promotion, but in the end I stayed free at some really great, centrally IHG hotels in Africa and Europe.
13.  Not letting miles expire – I know people that have let many thousands of award points and miles expire.  I've let some expire by mistake too.  Sometimes customers are allowed to pay a fee to get expired points back, but it can be fairly expensive, and sometimes defeats the purpose of getting them back.  Some points can't be returned.  If you earn points and miles into an account, make note of when they will expire and lock that into an electronic/online calendar that sends automated alerts before you loose those points.  I prefer keeping my own balances, but there are also services like Award Wallet (www.awardwallet.com) and www.points.com that can help you keep track of your points balances for free.  They'll also send you alerts when your miles/points may expire, but they aren't foolproof.  I track my own points balances daily in a spreadsheet.
14.  Open Investment /brokerage account  – Companies like Schwaab, TD Ameritrade, Santander, Fidelity and more offer bonuses for new investment accounts, sometimes that are very lucrative and in the tens of thousands of miles depending on how much money you give them.  Often the bonus accounts are geared towards wealth management type clients and money, but offers appear on occasion that can be used by nearly anyone for additional points.
15.  Use Points – in a rare exception, some points can be used to actually earn more points.  Using Flexperks, Discover miles, or Capital One Venture miles to purchase a paid ticket will earn flyers extra miles and status.  These points generally work best with domestic and economy ticket purchases due to the cost of premium cabin space.
16.  Open Checking/Savings account – sometimes opening a new checking or savings account will generate thousands of frequent flyer miles.  A few years ago, Citibank offered 50,000 American Airlines miles for new Citigold accounts.  BankDirect also has a long running AA promotion for new business.  UFB has also been known to offer mileage bonus promotions too.
17.  Fund new checking/savings/investment account – when opening up a new type of financial account, you may have the option funding the account with a credit card.  Some credit card companies treat this as a cash advance, so make sure to have your card's cash advance set to $0 or as low possible to avoid that.  That way, if funding via a credit card is treated as a cash advance, your transaction will just be declined.  Citibank ran a checking promotion that allowed customers to fund new accounts up to $20k with a credit card, plus earn 50k miles for the new account.  While the deal was alive, it was magical.
18.  Share, transfer Points/Miles with others – some award accounts lets you share points and miles with friends or family members.  American, and Alaska Airlines are just a couple of examples of programs that let you share frequent flyer miles.  There are more stipulations for sharing points now than ever before, such as sharing the same address.  Sometimes there are costs to sharing/transferring points to others so be aware of that before doing so.
19.  Reimbursable Expenses – paying for things having a business pay you back is a massive perk that few have access to.  See if there are any opportunities within your business or company to get reimbursed for expenses relating to your job?  Can you pay for taking college courses and get reimbursed?  What about dining with clients, golf outings, supplies, flights, hotels, or other costs?
20.  Reselling gift cards – involves buying popular merchant gift cards, often on sale, and then reselling those online to various merchants like The Plastic Merchant (TPM), Raise, Gift Card Zen and SaveYa.  Add in category bonuses or stack deals for extra cash back or points and this can be a great tool for earning tens or even hundreds of thousands of extra points a year.  Online merchants are making it easier to keep track of selling gift cards and breaking even or making small profits is generally the goal – not losing money.  Just getting into merchants like TPM is the biggest issue for most.
21.  Reselling merchandise – selling merchandise has big upsides and downsides.  The practice sometimes involves holding inventory, dealing with shipping and returns, invoices, competition squeezing prices, and fees to online merchants just to name a few.  By reselling the right products and having the right system (for example, using category bonuses to purchase gift cards then using those gift cards to buy merchandise and resell), some people are able earn massive rewards.  But if it was easy to resell merchandise, everyone would be doing it.
22.  Time sensitive spending bonuses – occasionally banks, airlines, hotels and other travel companies will put out time restricted bonuses that offer points for a particular amount of spend, stays, flights, or general business.  These are extra points that are generally quite easy to achieve but that most people aren't aware of.  Offers are generally available through the mail, email, or by logging into your online account and looking at a Promotions, Deals, or Offers area on your account's page.  Sometimes, as with Flexperks, promotions are on a totally separate page than your regular account.  Sometimes calling in and asking about available promotions for your account also works.
23.  Test drive a car – A few years ago, I earned 7,500 American Airline miles by test driving a new Cadillac.  It was great.  I got to drive the Cadillac's new electric car and earned a nice chunk of miles towards a free flight by doing so.  The whole process took under 30 minutes and was stress free, interesting, and actually fun.  If a mileage promo for tests drives isn't there, often cash offers do.  This past year alone I've earned $250 from vehicle test drives.
24.  Social Media promotions – Sometimes liking things on Facebook, sending out Tweets for a contest, or participating in other social media promotions can land you thousands extra points and miles.  I've only done this a few times as the offers don't seem to come around that often, but it's just another tool in the box for your next free travel experience.
25.  Phone App downloads – recently the ETA app offered 10,000 UnitedPerks points when you download their app along with a free year of using the product.  No purchases necessary, and an interesting look at a new travel app.
26.  Refer friends – some credit card companies offer lucrative bonuses for referring new business to them such as 5,000 SPG or 10,000 Ultimate rewards per referral.  Usually there's a cap on the number of rewards you can earn from the referrals and time frame limit, but it's a great source of free points if you know people in the market for a new rewards card.
27.  Blog contests – major points and miles blogs almost weekly have contests for giving away points and miles.  Drop a simple comment on the blog's comment section an you're entered.  For more entries they might have you visit their Facebook page, Tweet something, or share the context with others.  I've earned event tickets, gift certificates and miles through blog contests, and I'm no social media genius!
28.  Transferring miles – SPG still offers a fantastic 25% bonus for transfers to any of it's partners for every 20,000 points.  So transfer 80,000 points in increments of 20k and you'll receive 20,000 bonus points.  There are other promotions that surface occasionally that can increase transfer rates to 50% – 60% or more.
29.  Pay rent or mortgage– paying your rent via your credit card for a 2.5% – 2.99% fee seems to come and go with different companies.  Originally it was easy to do via Amex Bluebird, then WilliamPaid, Android Pay and others.  In 2016, Android Pay even offered no fee payments for a time, but that option died quickly.  Howerver it's still possible make rent and mortgage payments with a credit card via Plastiq, Rentler, Cozy, Radpad, RentMoola and others.  Unfortunately Plastiq's bill pay service no longer earns 3X for rent and mortgage payments on the Citibank AT&T card.
30.  Surveys – Have a little time and need a few extra miles?  Websites like e-Miles, e-Rewards, MyPoints, and Swagbucks allow customers to earn points for free on a variety of airline partners, hotel partners or get gift cards for merchants like Amazon or Starbucks.  You accumulate points and transfer them at your leisure.  Most surveys are under 20 minutes, but e-Rewards has some that are longer.  Not all the survey companies have the same rewards set ups and transfer partners and options.  Also, there are airline specific surveys like United's Opinion Miles Club, JetBlue's Points for Surveys, and Spirit's Miles for Thoughts that offer additional opportunity.  Lufthansa offered bonus miles for a survey in German once that I completed, and I don't speak German = anything is possible!
31.  Golf – Use the website www.golfmiles.com and earn miles for booking tee times.  Kind of a trend for businesses to give miles for using their services, and golf is one of the latest to do so.
32.  Hotel booking portal sites – websites like RocketMiles and Pointshound offer reward bonuses for hotel stays through their portals.  The bonuses are generally often in the thousands of miles for each stay.  These websites can offer competitive rates vs. other websites, but it's worth comparing prices before you book.  The websites are definitely worth trying to get the extra first use bonus and especially if you get your hotels reimbursed!
33.  Airline miles for Hotel Stays – many people don't realize that you can earn airline miles for hotel stays.  Marriot and other hotels offer the option of earning airline miles instead of hotel points, although the transfer rates are pretty poor generally.  Other companies like Preferred Hotels, PointsHound, and Rocketmiles also offer additional and sometimes lucrative possibilities.
34.  Airline miles for Car Rentals – if you're like me and don't rent cars that often, getting airline miles for your rental is probably a better choice.  Recently I rented a car from National (great experience) but opted to get Alaska miles for my rental vs. points with the car company that would probably expire before my next rental with them.  Hertz, Avis, Dollar, Alamo, Budget, and Sixt also offers mileage earning opportunities.
35.  Host a meeting/event – Weddings, receptions, meetings, and other hosted events can often earn points at an enhanced rate.  For example, at Starwood Hotels Preferred Members earn one point per $3 spent and one point per $2 for booking events/weddings if you have Gold or Platinum status.  A Free wedding night room is also available within the SPG program.  Hyatt offers 1 point per $1 spent on a qualifying meeting or event.
36.  Points + Cash – hotels and airlines generally allow people to pay with cash, points, or points + cash.  If you pay with points, you don't accrue new miles/points, but if you pay with cash or cash+points, you will earn new points for your hotel stay or flight.  Often the cash+miles can be compelling if not advantageous, especially with cards that have a high earning rate for paid flights/hotel stays.  For example the Hilton Surpass card earns 10x points on Hilton stays so choosing a points + cash redemption might make sense in some cases.
37.  Trade, Buy or Exchange points – Some people trade, buy or exchange points with others on websites like FlightNuts, PointsPost, The Mileage Club, and points.com.  Keep in mind that you may be violating the airline's rules and restrictions for their frequent flyer program, and if you're caught doing so, you may have your account shut down.
38.  Stacking deals – Points pros often use combinations of deals like cash back, gift cards, shopping portals, and promotional offers to double and triple dip points.  Sears, Kmart, 1-800 Flowers, and others have all had deals that have been possible to earn 20-50 points per dollar (or more) spent.  Manufactured spending also uses stacking techniques on some deals.  Frequent Miler maintains a page devoted to stacking deals.
39.  Donate to charity – Many charities allow people to pay with credit card for donations.  Some cards offer increased rewards for charity donations like the U.S. Bank Flexperks (3x until 12/31/2017 and 2x starting January 1, 2018).  Examples include Susan G. Komen, National Foundation for Cancer Research, United Service Organizations and others.  Its' a great way to do good and be rewarded in more than one way.
40.  Purchase Insurance or get a quote – sometimes just for getting a quote with an insurance company, you an earn extra points and miles.  Several years ago, companies like Farmers Insurance and 21st Century Auto Insurance have ran promotions giving miles for basic quotes.  I haven't seen opportunity here lately, but it doesn't mean something won't pop up again.
41.  Pay Taxes – it's possible to pay your taxes with a credit card.  It's also possible to overpay your taxes via credit card and get a refund.  I don't do it, but I know others who actively use this method.  There's nothing illegal about it.  Go to the IRS website for more information.  Some other websites that may help you do this are https://www.pay1040.com, https://payusatax.com, and https://www.officialpayments.com/fed/index.jsp.
42.  Microlending – you can lend money to people and entrepreneurs trying to start small businesses around the world and hopefully be repaid.  I know some major points bloggers who utilize websites like Kiva to lend out thousands worth of their own money, earn points and miles, and do some good in the process.  But micro-lending has risks as it is lending, and if you lend out enough money or enough times, some loans wont be repaid, but most are.  Kiva is nice because you can specifically filter on the type of loans that you're looking for, thus controlling your risk as much as possible.  People utilizing micro lending services like Kiva often say that their default rate is under 1%.
43.  Home Energy Services – companies like DirectTV, Everything Energy, Reliant, NRG Home Solar either do or have offer miles for products and services.
44.  Pay someone else's bills – my buddy is building a cabin in the woods far from the city we both live in.  It's not going to be a huge place, but he needs a lot of lumber and building materials for it, and he's offered for me buy the lumber and other building materials, earn the rewards, and he'll pay me back.  If it happens, it may be possible to go through shopping portals, or buy gift cards at office supply stores where I can get at least 5x points for every $1 spent which will could mean 100k worth of points to help out a buddy.  Or just stick with simple things like picking up a dinner tab with a group, earn a category bonus for the dining experience, and have them pay you back in cash.
45.  Buying Groceries – getting category bonus points for supermarkets is pretty common with rewards cards, but you can also earn extra points for partner tie-ins like with Safeway and Alaska Airlines.
46.  Eletronic payments and transfers – payment systems like Venmo, and Amazon Payments used to let you send money to other people and earn points for it.  Venmo was before my time, but Amazon Payments was really great, allowing you to send $1,000 per month to someone with no fees.  It was free points.  Current opportunities may be permafrosted right now but things change.  I listed it here just so you're aware that the possibility existed in the past, and may be viable in some form in the future.
47.  Moving – some companies like AmericanHomeMiles offer generous bonuses for state to state moves with Allied, North American or Global Van Lines.
48.  Mortage – finance your mortgage through some companies listed through American Home Miles and receive bonus miles.  You could also use a mileage earning credit card and pay your mortgage via Tio, Plastiq, Radpad, and others.
49.  Buy or Sell a Home – making large purchases or sales of different kinds can often generate big bonus miles.  Example include AmericanHomeMiles and MilesfromHome.
50.  Finance a Home – companies like Chase have been offering up to 100,000 miles for financing a home through their home lending offices.  Expect to pay higher fees or rates vs. a local bank or credit union to compensate for the bonus, but it's another option that may work for some.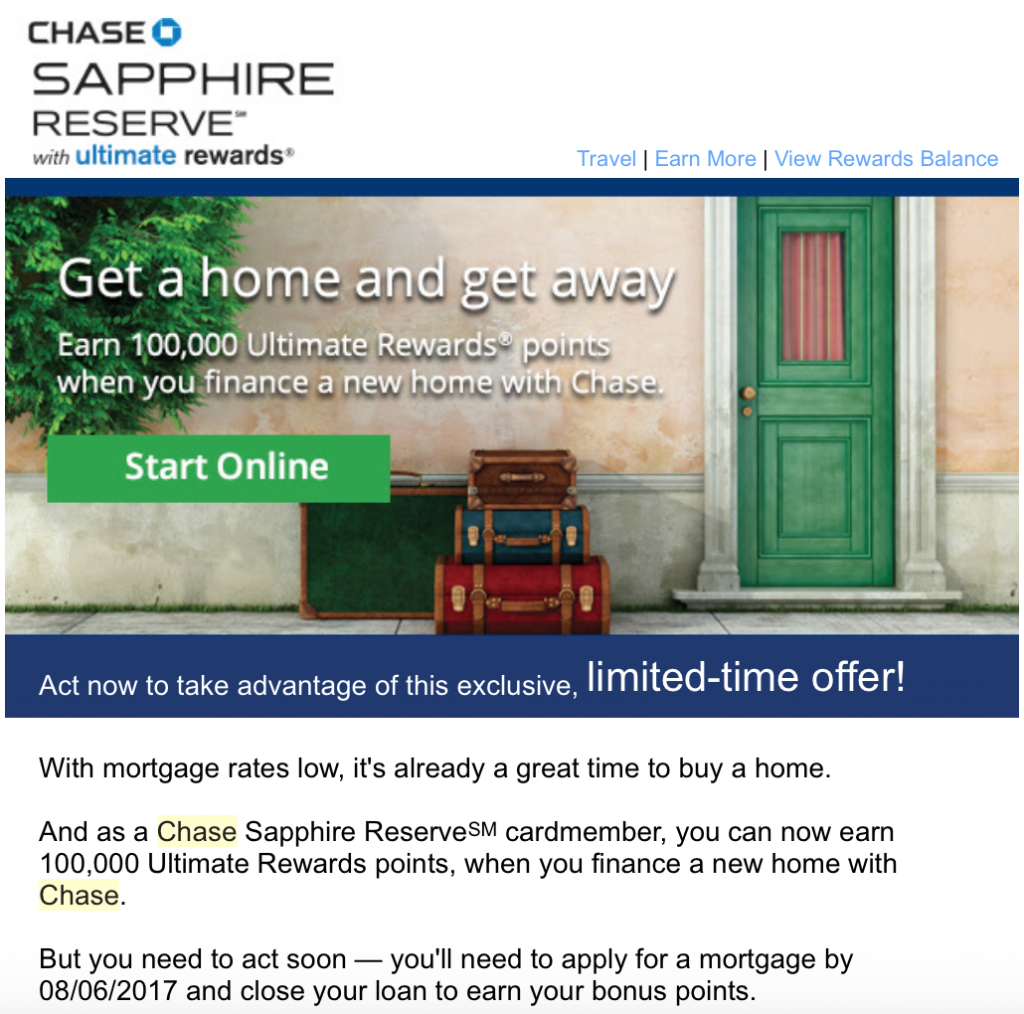 51.  Company newsletter – some airlines or hotels will offer bonus miles for signing up for their email newsletter.  It may only be 500 to 1,000 bonus points for signing up, but those are miles you didn't have before plus you get free and timely updates on deals and information.
52.  Complaints – trouble with an seat on a flight that didn't recline?  Did you get food poisoning from a meal on the airline?  Did your hotel lose your reservation and then sell your room to another party?  All of these gripes can be put into phone calls, emails, Facebook posts, and Tweets that ultimately land you extra bonus points for your issues.
53.  Travel Documents – VisaCentral claims it can get you travel documents more quickly and securely while earning extra miles in the process.
54.  Special Partnerships – Although this example ended at the end of 2016, others like it pop up from time to time.  But for a few years, SPG points could be earned through stays at Caesars hotels.  What was great is that the Starpoints were earned in addition to reward credits earned through Caesars' Total Rewards program.  A current example would be earning SPG points when flying Emirates.  Those points are in also in addition to Emirates awards that you'll earn and can be found here.
55.  Status Match – having your elite status matched from one hotel or airline to another is a big perk that is consistently offered by various airlines and hotel companies.  Having a status match can lead to extra benefits and bonus points for stays, flights and car rentals that would otherwise not exist.
56.  Gift cards for more than 1x points – earning 3x to 5x points and miles should be the goal for most of your transactions.  For example, you can get 2x to 5x points on Airbnb, Hyatt, Delta, Southwest, and Whole Foods at grocery, drug, and office supply stores via in store and online gift cards and by using the right credit card with a category bonus.  I can get 5x for a Hyatt stay by purchasing gift cards at Staples which, even beats using the Hyatt credit card while staying at Hyatt properties!
57.  Concert/Performances – SPG has offered 2,500 points through its Audience Rewards in the past, and American Airlines also has a similar program.
58.  Ridesharing (Uber & Lyft) – Chase and SPG have had tie ins with ride sharing companies like Uber to earn extra points.  Those offers from card companies are bound to grow in the future as these services become more popular and widespread.  Uber also has its own credit card that earns multiple levels of points worth cash back.
59.  Frequent Flyer account sign up – similar to newsletter sign ups, sometimes travel companies offer miles or points for singing up for their frequent flyer or reward accounts.
60.  Points break promotions – some airlines and hotels often have special times where they discount the amount of points or miles that it takes for certain awards or flights.  For example United Airlines often discounts award flights to Europe as much as 20%, so instead of 60,000 miles roundtrip in economy you may pay only 48,000 miles.  IHG offers yearly points breaks for some of its hotels around the world too.  Those points saved count too!
61.  Get bumped/downgraded on oversold flights – airlines often oversell routes to ensure full flights.  If they do that, people usually get "bumped" or moved off the flight for a different flight and often accrue rewards in the form of free booking on another flight, free hotel, transportation between the airport to the hotel, airline voucher or cash.  Sometimes you may be able to request miles back from getting bumped or downgraded.  And although you may not directly get miles directly from getting bumped, getting an airline voucher or cash can lead you to a future flight where you can accrue more miles.
62.  Gifting – instead of giving cash at graduations or other celebrations, consider gift cards or VISA, MasterCard, or Amex debit cards that you've purchased with a credit card.  Better yet, if you buy gift cards as gifts in place of cash you may be able to purchase them at a place that gives you a category bonus (at least 2x to 5x) for the purchase like a supermarket or office supply store.
63.  Time Share Presentations – some companies offer points or miles simply for attending a time share presentation.  For example in the summer of 2016, Hyatt offered 10,000 bonus Hyatt Gold Passport Points for people who attended the Hyatt Wild Oak Ranch talk.
64.  Profile & Security settings – in 2015, Starwood members could earn 150 Starpoints simply by completing their account security questions.
65.  Cruises – I'm not a cruise person, but if you are, some airlines like American and United offers up to 50,000 bonus miles for cruise purchases.  Some offers can be found here and here.
66.  Secure your information – Lifelock often runs miles promotions (generally 5k-10k worth) to keep your finances, and personal information secured.
67.  Personal Loans – Lending Club (via United Airlines) recently sent me a letter that offered 1 mile per dollar borrowed, up to $40,000 for an unsecured personal loan.  Qantas still has a program through Leveraged Equities where customers can earn Qantas Points based on either the loan amount or daily loan balance.
68.  Buy a website/use tech services – companies like Network Solutions often offer a bonus for various tech related purchase and services.
69.  Magazines and media subscriptions – sure you can redeem miles for magazines, but you can in the past it's been possible to actually earn them too by utilizing websites like Global Traveler for subscriptions.  Airline shopping portals like AA's program still give away bonus points for media purchases.
70.  Personal debit cards that earn points – I don't advocate using personal debit cards to earn miles because the rates have basically collapsed, but there are still a few debit cards that can earn you miles and points.  In the past it's been possible to earn 1% cash back on paying rent with RadPad.  RadPad points options are becoming increasingly scarce now though.  Until recently, the UFB Direct Airline Rewards Debit Card earned 1 American Airlines mile for every $3 spent for a maximum of 120,000 miles per year.  Basically debit cards that earn extra miles is dead, and its future is bleak.
71.  Medical bills reimbursement – depending on your employment and healthcare insurance, if you enroll in an HSA you should have the option of paying your medical bills with a credit card and later getting reimbursed via your healthcare savings account (HSA).  This could means thousands of extra points for some, and less for others.
72.  Link accounts – some awards programs are joining together.  Plenti points are linked with many companies that will allow you to not only earn money with one, but earn Plenti points from the purchase too that you can use for gas or any of their participating stores.  Plenti seems to be suffering setbacks as some significant merchants are leaving the program.
73.  Swagbucks – a virtual currency that's earned for buying items, redeeming coupons, watching promotional videos, referrals, playing games, answering surveys and polls, and using their search engine (easiest method).  Swagbucks earns money from Google advertisements and passes on some of their earnings to members.  You can redeem these points for Paypal gift cards, and Swagstakes entries that give you the chance to earn bigger prizes.   Also, referrals give you 10% of the Swagbucks your friends earn, for as long as they remain active.
74.  Using Apps – the United MileagePlus X App gives extra points for some stores and services (like Airbnb).  Stack with gift cards at office supply stores for greater rewards.
75.  Authorized User – getting an additional credit card for a friend or relative can grant access to more points potential.  Most credit card companies give authorized user (personal) cards out without credit pulls or social security numbers.  The points from the authorized user card are issued to your account, but you're also responsible for any transaction from that extra card.  With that said, make solid decisions on who may get an extra card that's linked to you.
75.  Joining Sam's Club – the store chain has been offering some nice AA mileage bonuses for joining its membership.
76.  Buying Wine – Laithwaitewine offers 2,000 Southwest Rapids Rewards miles. Vinesse has a bunch of point bonus offerings with airlines and hotels. Other rewards offers from Vinesse include Delta, Amtrak, Hawiian, Spirit, Best Western, Hilton, Choice Privelages, and Club Carlson.
77.  Pool family miles – if you take a trip with your kids, don't forget they are earning frequent flyer miles for their flights.  There are some frequent-flyer programs like JetBlue and British Airways that allow families to pool their miles at no cost.  And those extra miles might help you to qualify for elite status with the airline.
78.  Other products – Webflyer maintains a list of current promotions for anything from flowers to jeans and hardware.  Amex and Chase also have promotions on everyday products and services after logging into your online accounts.
79.  Dating – eHarmony and match.com occasionally offer mileage bonuses for joining their dating websites.
80.  eBay Bucks – a program that's been on and off, has given a percentage back of the buying and selling on the website that can be redeemed for gift cards, which can then in turn purchase airline and hotel gift cards from the website, often at a discount.
81.  Buy a car – earn 25,000 United miles for the purchase of a new Mercedes.
82.  Thanks Again Points – use a phone app to make purchases and collect points that can later be used to purchase a variety of points related options.  Simply register an Amex, MasterCard, or Visa credit, debit or prepaid card, make purchases using the app, then redeem your Thanks Again points for cash back, airline miles, hotel points, TSA Precheck, and other airport perks.
83.  iBotta– after a purchase at a participating store, take a photo of your receipt which is then matched to promotions linked with certain products.  Those promotions earn you cash back rewards (after $20 in accumulation) which can be transferred to PayPal or Venmo or redeemed for gift cards.
84.  Flight segment, stays and other travel promotions– Frequent Flyer Bonuses has compiled list of promotions that earn extra miles for certain flight routes, hotel stays and much more to fit a variety of travel needs.
85.  Play Games – FreeSpiritPlay offers free Spirit miles just for playing games online.
86.  Pay for Student Loans – GiftofCollege gift cards have been selling in Babies R Us and Toys R Us, each of which can sometimes earn category bonuses for extra points/miles.
87.  Refinancing student loans – in the past there was an offer from Credible for up to 20,000 United miles for refinancing your student loans with them.  In June 2017, Jet Blue also offered up to 50,000 miles for refinancing student loans through Sofi which is still an active deal.
88.  Buy Bitcoin or other cryptocurrencies – investment vehicles like Bitcoin can be purchased with credit card.  These purchases from websites like Coinbase, CoinMama, BitPanda, and others usually incur a 3% to 4% fee and the currencies are incredibly volatile, but the credit card option may be a useful option for some.
Summary
If I really got specific there are well over 100 ways to earn reward points and miles, this is a good start.  As point programs grow and are spread out across more aspects of every day life and business, I expect this list to grow over time.