10 Apr. 2019
To the Point
There are more loyalty rewards programs linked with travel, finance and general consumption emerging every year, however many opportunities to earn rewards go without notice.  Although I've listed many ways to earn loyalty based rewards in this post, I know there are other ways that are not on this list.
Ways to Earn Travel Reward Points & Miles
1. Personal credit card sign-up bonuses – for most people, this is the easiest and most efficient way to earn large amounts of travel reward points and miles.  It's becoming more difficult to earn points and miles through credit card sign-ups because banks continue to impose and change rules and restrictions, such as churning bonuses more than once.  However, opportunities for new and significant sign-up bonuses are still there, especially for people with few (recent) credit card approvals. 
2. Business credit card sign-up bonuses – often overlooked source of rewards because 1) many people don't realize that business credit cards also earn substantial rewards 2) some business cards offer large sign-up bonuses 3) people may qualify for business rewards cards despite not having a formally registered business.  Business credit cards can often be more advantageous than personal cards because the vast majority don't report balances and related information monthly credit bureaus (unless payments are missed or delinquent).  Perhaps most importantly, most business credit card approvals also don't count towards Chase Bank's 5/24 rule.  Getting business credit cards is also becoming more difficult, as some banks are asking for documentation like tax returns before approvals are granted, but they are still an amazing source of rewards.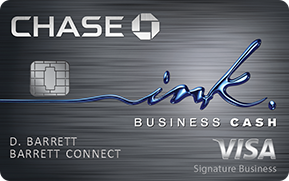 3. Shopping portal bonuses – most airlines and some hotel shopping portals have many hundreds of stores to earn additional rewards on everyday purchases.  For most things that you buy online, you can and should get extra cash back or points for the purchase.  Online shopping portals are websites that partner with an array of stores to offer customers incentives to shop.  Online shopping portals make money from directing consumers to stores and businesses, businesses get increased traffic in return, and consumers receive incentives in the form of points, miles, or cash back for doing so.  Ebates has a current promotion that offers new customers the opportunity to earn American Express Membership Rewards in place of cash back.  Anytime you make a purchase online, start by going to www.cashbackmonitor.com to see current portal reward rates.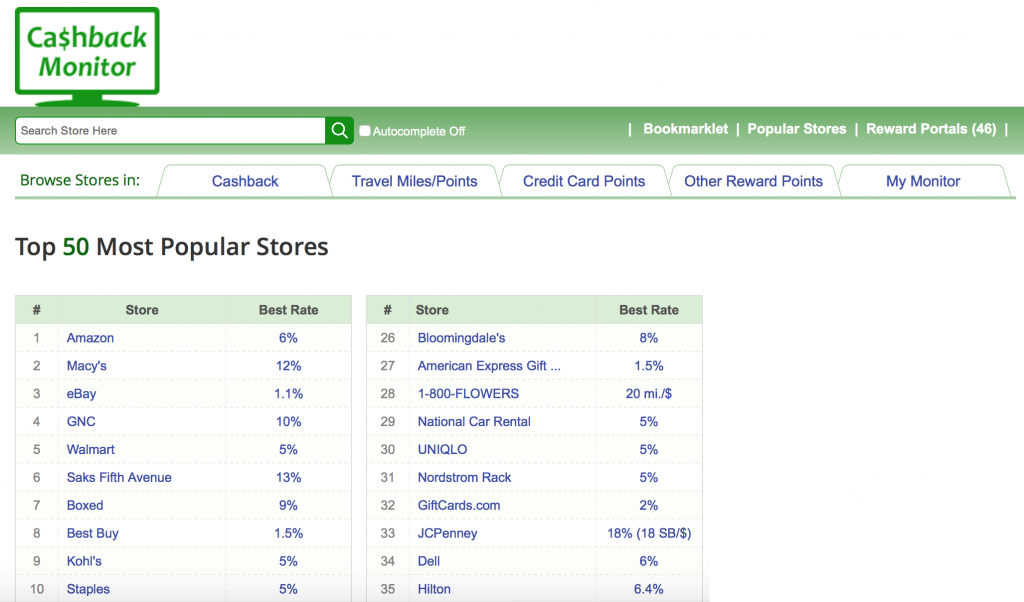 4.  Category bonus spend – at the most basic level with rewards credit cards, it's common for banks to set up a basic rewards scenario:   Spend $1 on the credit card = Receive 1 point.  That point might be a mile, bank point, or cash back percent depending on the credit card.  Some rewards credit cards give you fixed earn rates (generally 1x, 1.5x, or 2x) on everything that you purchase, while others give you variable rates based on different factors such as the merchant categories (groceries, gas, office supplies, internet advertising, Apple Pay, Amazon) that a purchase codes at.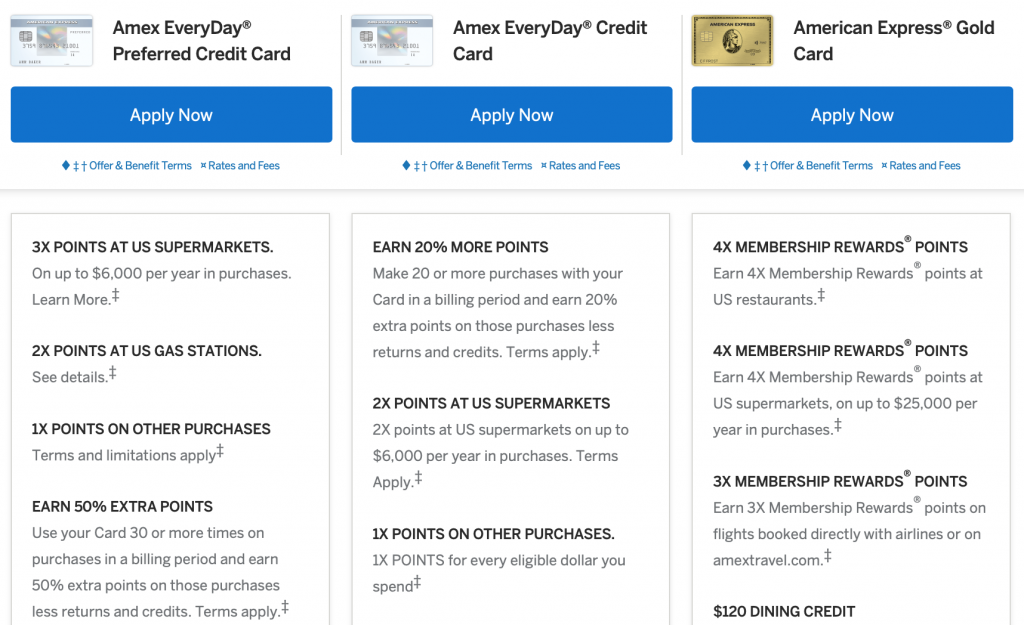 5.  Manufacture spend (MS) – for most people using this method to earn rewards, manufactured spend involves purchasing various forms of cash equivalents (usually Mastercard and Visa PIN based debit/gift) cards for a relatively small fee and from a variety of physical or online stores.  Those cards are often turned back into cash and/or used to ultimately pay off all, or nearly all of, the original charge that was incurred – thus returning large amounts of points for relatively small costs.  Manufactured spend can be time consuming and ultimately expensive, sometimes involving hours of legwork, driving, lines at stores, problems with gift cards, and bank shutdown issues that all make it both exotic and toxic to earning points and miles.  MS is definitely not for everyone, but for some, it's an extremely significant way to earn miles and points.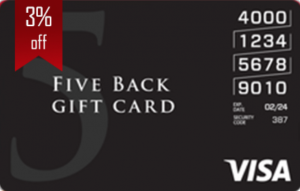 6.  Stop using bank debit cards and cash – use cash for emergencies, cash only purchases, very small purchases and tips.  Bank debit cards and cash are good for banks and retailers, but almost none earn rewards of any substantial amount.  Don't reward banks for purchases; instead be rewarded for your spend.  Use reward credit cards instead and pay them off every month or early.  Don't carry credit card balances, avoid interest fees, and never incur late payments.  Most of all though, stop using the debit cards and cash.  They are literally a waste of money and lost rewards. 
7.  Dining Reward Programs – most airlines and some hotel programs have dining programs that can earn extra points.  Some notable dining rewards programs:
Alaska Airlines Mileage Dining Plan
American Airlines AAdvantage Dining
Delta SkyMiles Dining
Hawaiian Airlines Dining Rewards
JetBlue TrueBlue Dining
Spirit Airlines Free Spirit Dining
United MileagePlus Dining
Virgin America Dining Rewards
Hilton Honors Dining
IHG Rewards Club Dining 
Often sign-up bonuses of 1,000 to 3,000 points are available after registering for a dining program and making the first dining purchase.  After that, additional points for each dining experience are possible depending on the program and level of participation.  Generally up to 5 cards can be registered per dining program, but the same card can't be used in multiple programs.  Orbitz also has a dining program.  If you eat out frequently or in a corporate setting, joining dining programs and linking them to your rewards cards can result in thousands of extra miles earned per year.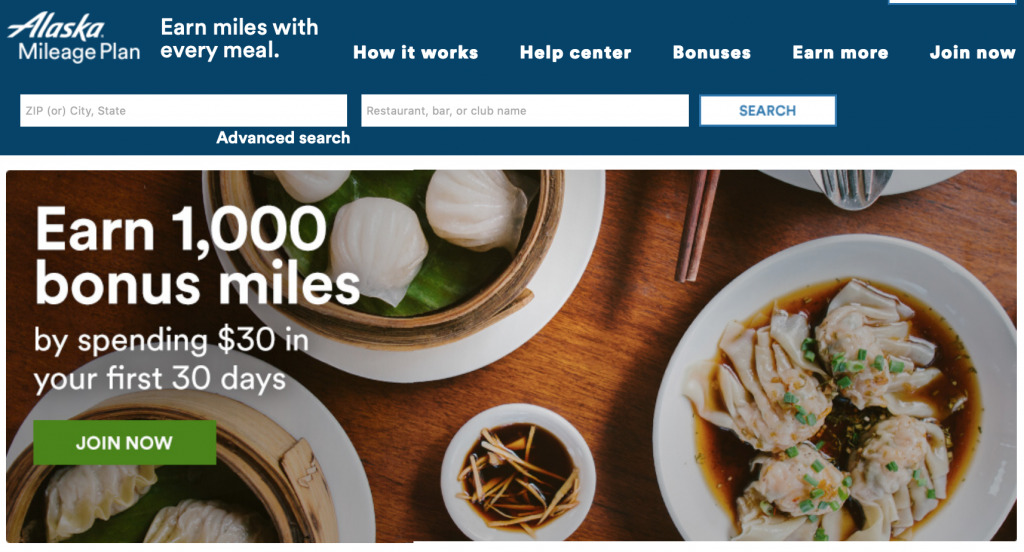 8.  Credit card retention bonuses – banks sometimes offer a bonus for keeping your credit card account open (and not closing it).  Depending on the bank and credit card, it's possible to earn thousands of points each year through retention offers and/or hundreds of dollars in reversed, credited, or reduced annual fees.  Before canceling a card or paying the annual fee, call the bank and negotiate.  In general, inquire with a manager or retention specialist about offers that will help you keep the card and continue the relationship with the bank.  It's cheaper for a bank to retain a current customer than it is to find new ones, so retention offers are more prevalent than many people think.  
9.  Travel – obviously you can earn points and miles by flying, staying at hotels, renting cars, using trains, and more, however, paid travel isn't normally the cheapest or most efficient way to earn rewards.  However, there are significant positives from doing so like earning (elite) status and and other benefits.  More travel companies are focusing on revenue (or paid) tickets and stays to earn elite status and enhanced recognition.  Credit cards are adding more "free" perks to cards attached to airlines, hotels, and other companies, but paid travel will continue to become more important for elite status and benefits.
10.  Preferred partner promotions – banks and travel companies are tied in with a multitude of other companies that would love your business.  Examples could include switching phone service, or getting a new energy provider and much more.  Current airline preferred partner programs include Alaska Airlines Mileage Plan Everyday Partners, American AAdvantage Financial and Business Partners, Delta SkyMiles Everyday Partners, Southwest Airlines Home and Lifestyle Partners, and United MileagePlus Everyday Earnings Partners.  I don't seek out new partner promotions for extra rewards, but if I'm in the market for a product or service, I check my online accounts and emails to see what targeted offers I may have.  I also get occasional partner offers through the mail.  Some targeted offers and codes for others can also be used by others/more than once.  As an example, in 2017 Direct TV offered 50,000 and 25,000 American and United Airlines promotions for new customers.  American recently offered an extra 5,000 miles for purchasing a SimpliSafe security system.  Aeroplan has offered extra points for Esso gas too.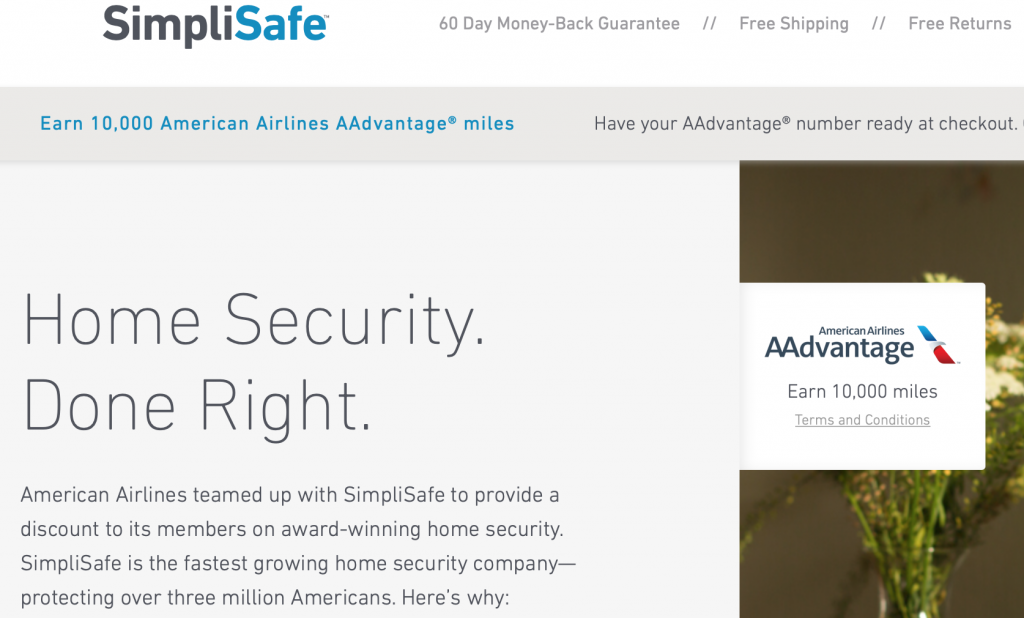 11.  Purchase miles – All airlines and major hotels allow you to purchase their rewards points, sometimes at a discount.  If you buy miles from an airline directly you may pay 2-4 cents per mile, and a sale (or mileage purchase bonus) could cut that cost in half or more.  While that is definitely a decrease in cost from actually flying, it's still pretty expensive compared to other methods of obtaining rewards.  Generally it doesn't pay to buy miles from an airline/hotel unless you need to top off your mileage/points balance for an upcoming trip or stay or keep your rewards from expiring.  Earning miles through other methods is usually cheaper, however don't forget this option exists if you're in a crunch.  Purchasing miles/points with the matching hotel/airline rewards card will earn even more rewards.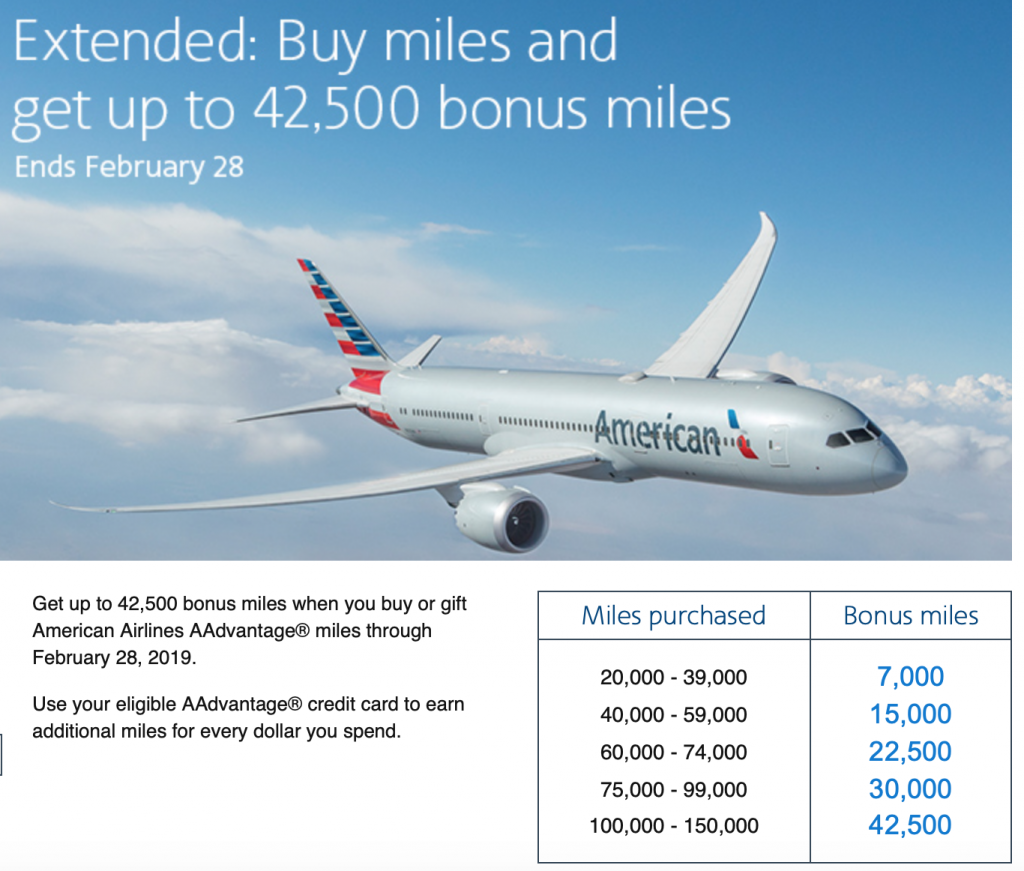 12.  Special Promotions – sometimes you may not even need to have a rewards credit card to earn miles and points.  For example, in late 2015, IHG partnered with MasterCard in a mail in promotion.  Each mail in entry earned at least 500 IHG hotel points (or at least 47,000 IHG points total).  The downside was the roughly $50 out of pocket cost for the letters, stamps and materials, and at least several hours of time hand writing out dozens of 3×5 index cards.  
13.  Not letting miles expire – I know people that have let many thousands of award points and miles expire.  I'm not immune, as I've let tens of thousands expire too for various reasons, and those lost miles/points have financial value.  Sometimes customers are allowed to pay a fee to get expired points back, but that path can often be costly, and sometimes defeat the purpose of getting back lost rewards.  Some points and miles (like Etihad miles) have a hard expiration date and can't be returned at all.  If you earn points and miles into an account, consider making note of when they will expire and add that information into an electronic/online calendar (that sends automated alerts) before you loose those points.  Online services like Award Wallet (www.awardwallet.com) can aid with keeping track of points balances and expiration dates, but don't link with all airline and hotel programs.  You're also entering a lot of sensitive information about your accounts into a central source which if hacked, could create major issues with your rewards accounts.  I prefer keeping my own account balances and expiration dates in a spreadsheet that is consistently updated.
14.  Open investment /brokerage account  – Companies like Schwaab, TD Ameritrade, Santander, Fidelity and more often offer bonuses for new investment accounts.  These bonuses are sometimes very generous (tens of thousands of miles) depending on how much money is invested.  Often the bonuses are geared towards wealth management clients and higher investment levels, but occasionally generous offers for lower investment amounts appear.
15.  Open checking/savings account – sometimes opening a new checking or savings account will generate thousands of extra frequent flyer miles.  Several years ago, Citibank offered 50,000 American Airlines miles for new Citigold account openings.  There's a current Citi promo too.  BankDirect also has a long running AA promotion for new clients.  UFB has also been known to offer mileage bonus promotions as well.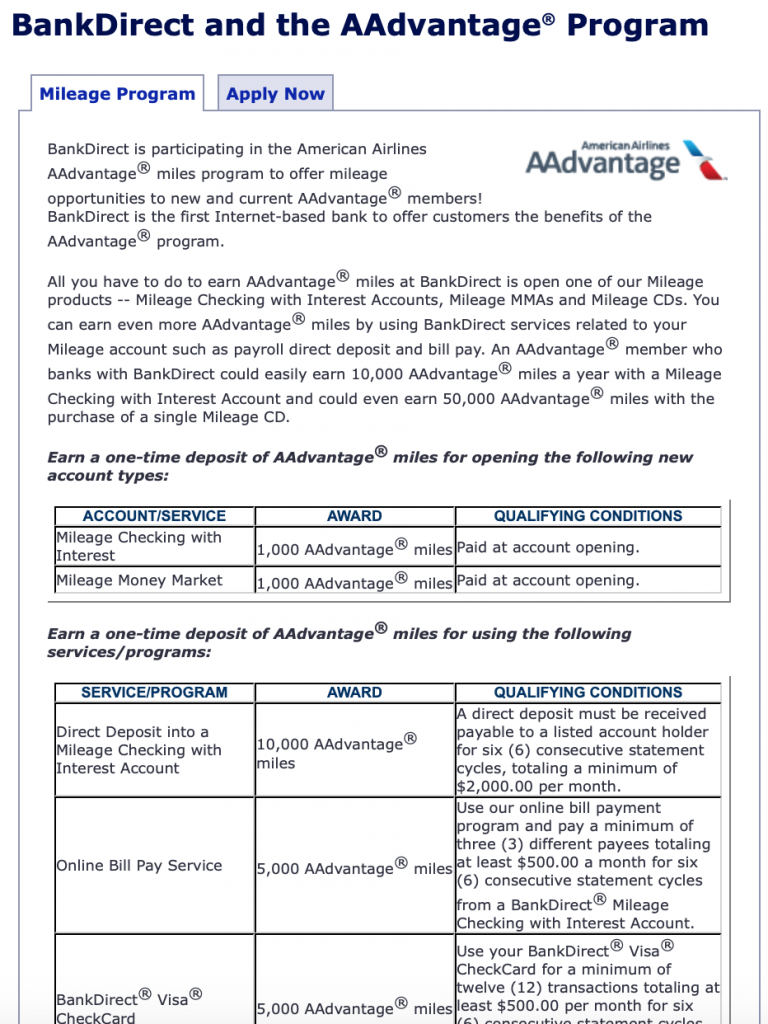 16.  Fund new checking/savings/investment account with credit card – when opening up a new type of financial account, you may have the option funding the account with a credit card.  Some credit card companies treat this as a cash advance, so make sure to have the (funding) credit card's cash advance set to $0 or as low possible.  By doing this, the transaction will simply be declined if the bank treats a credit card payment as a cash advance.  Citibank ran a checking promotion several years ago that allowed checking account funding of up to $20,000 with a credit card, plus 50,000 bonus miles for the new account.  There were no extra costs or fees.  While the deal was alive, it was magical.
17.  Share, transfer, or pool points/miles with others – some award accounts lets you share points and miles with friends or family members.  American, Frontier, and Alaska Airlines are just a couple of examples of programs that let you share frequent flyer miles.  Hilton and Capital One also let's people pool and transfer points to anyone.  Know that sometimes there are costs to sharing/transferring points to others.  In December 2017, Alaska Alaska Mileage Plan extended a promotion to their elite members (MVP, MVP Gold, and MVP Gold 75K members) to transfer miles to friends or family at no charge.  The promotion lasted about 10 days, and waived the normal transfer costs of $10.00 per 1,000 miles, plus a fee of $25.00 per transfer.  A maximum of three transfers were allowed for a total of 40,000 miles.  Frontier now allows pooling of miles too.  There can also be restrictions for sharing and pooling points (such as residing at the same address).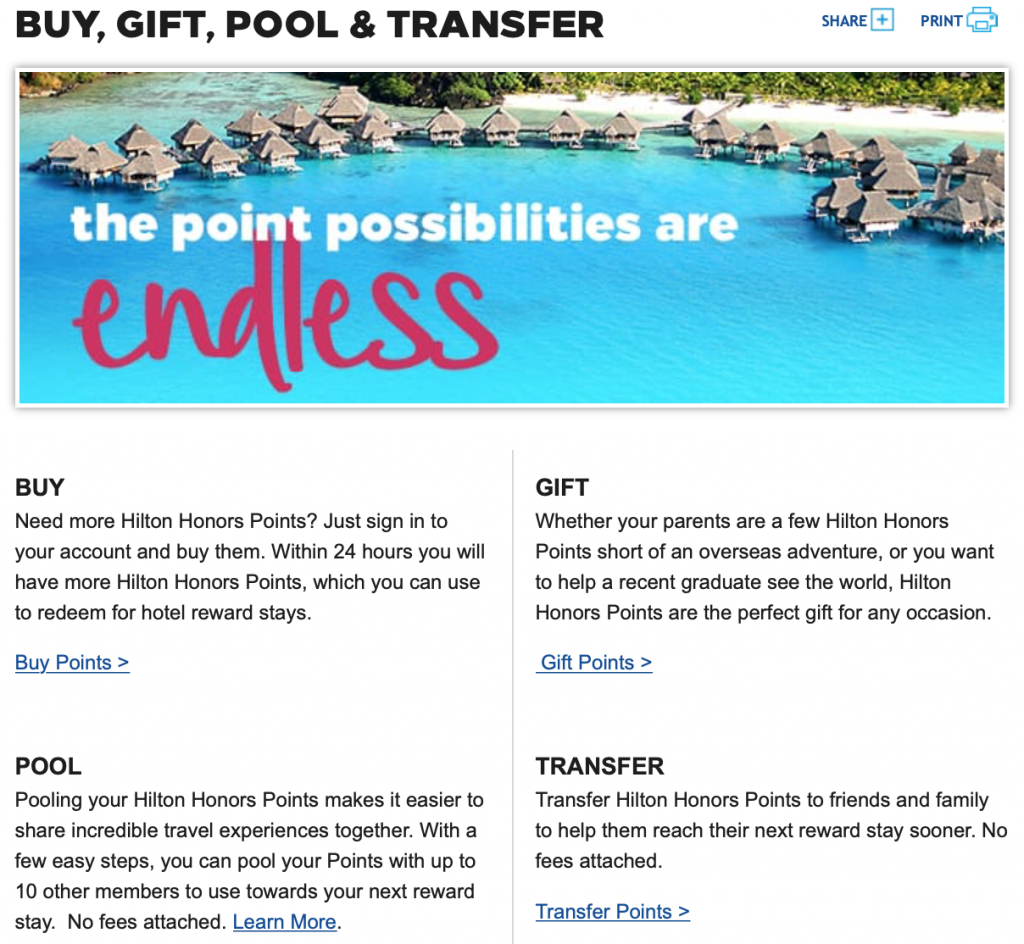 18.  Reimbursable expenses – paying for things and having a business pay you back is a massive perk that few people have access to.  See if there are any opportunities within your business or company to get reimbursed for expenses relating to your job.  Can you pay for ongoing learning or training courses and get reimbursed?  What about reimbursement for dining out with clients, golf outings, supplies, flights, hotels, healthcare, or other transactions? 
19.  Reselling gift cards – involves buying popular merchant gift cards, often on sale, and then reselling those online to various merchants like Raise, Gift Card Zen and SaveYa.  The Plastic Merchant was a large gift card reselling resource, but quickly and mysteriously went out of business in 2018.  Resellers often add in category bonuses and/or stack promotions when buying gift cards for extra cash back or points.  Online merchants are making it easier to keep track of selling gift cards too.   Breaking even or making a small profit is very attainable depending on the deal and promotion.  However, reselling can take time and involve decent amounts of organization at higher levels, along with longer financial float times.  Reselling remains a common, and generally simple way to earn lots of additional points with low risk.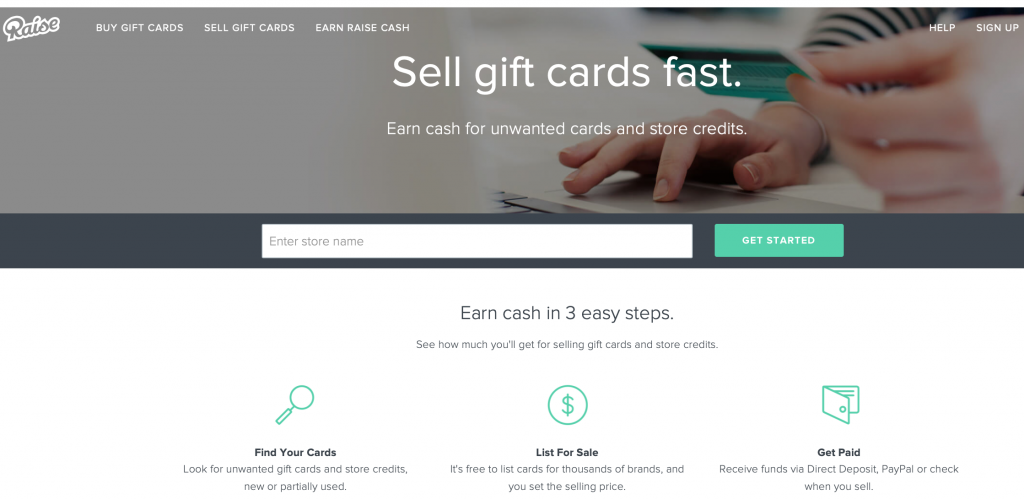 20.  Reselling merchandise – also called retail arbitrage, involves buying then reselling merchandise mostly towards a goal of earning rewards.  An example of a reselling pathway be purchasing a discounted (10%-20%) store gift card with a points earning credit card, then stacking that gift card discount by buying merchandise through a cash back shopping portal and possibly applying a discount coupon or code on top of it.  After those discounts (and possibly more), the product can be resold, hopefully at break even or for a profit.  Reselling merchandise can be tedious and may involve significant issues like holding inventory, dealing with shipping and returns, invoices, a long financial float, price competition, and fees to online merchants.  
21.  Buying Groups – similar concept to reselling merchandise except the responsibilities to sell products are transferred to a central source.  Buying groups like Pointsmaker (www.pointsmaker.com), MYS Buying Group (www.mysbuyinggroup.com), Buy for Me Retail (www.buyformeretail.com)  advertise and communicate with buyers for items they have a market for to resell.  In general, buyers club members purchase in demand products, ship them to a buying club location, and get paid for the item.  Sometimes buying clubs may add on a commission too.  Some downsides are that shipments could get lost, damaged, or a buying club could go out of business and you could be out money. 
22.  Time sensitive spending bonuses – occasionally banks, airlines, hotels and other travel companies offer time sensitive bonuses that offer points for a particular amount of spend, stays, flights, or new business.  These are extra points that are generally quite easy to achieve but that many customers aren't aware of.  Promotions are generally available through the mail, email, or by logging in online.  In June 2018, Iberia Airlines offered 9,000 points per paid flight for a maximum amount of 90,000 miles.  The deal worked out so that $200-$300 in paid Iberia flights, people could receive enough miles to fly roundtrip from the U.S. to Europe in business class.  Sometimes, such as with Flexperks, promotions are on a totally separate page from your regular credit card account webpage.   
23.  Test drive a car – several years ago, Cadillac offered 7,500 American Airline miles for test driving one of their vehicles.  I got to drive the Cadillac's newly released electric car and earned a nice chunk of miles towards a free flight in the process.  Since I like automotive technology, I may have done a test drive without the incentive.  Besides mileage linked test drive promotions, other enticing promotions such as (Visa), Target, or Amazon gift cards are offered at select dealerships regularly.
24.  Phone App downloads – companies like ETA have offered 10,000 UnitedPerks points and 3,000 United miles when you download their app, and/or make a flight purchase.  Inviting others to get the app earned more miles.  The Prosper app offered a similar bonus of 1,000 United Airlines miles for downloading its credit score and spend tracking app.  Lufthansa has also offered 500 miles on different occasions for downloading its phone app. 
25.  Refer friends – some credit card companies offer lucrative bonuses for referring new customers.  Chase routinely offers 5,000 to 10,000 Ultimate rewards per referral for certain cards.  American Express has similar offers with self-referral bonuses also being possible.  Usually there's a limit on the number of referral points that can be earned in a certain time frame, but it's a great source of free points if you, or others you know, are in the market for a new rewards card.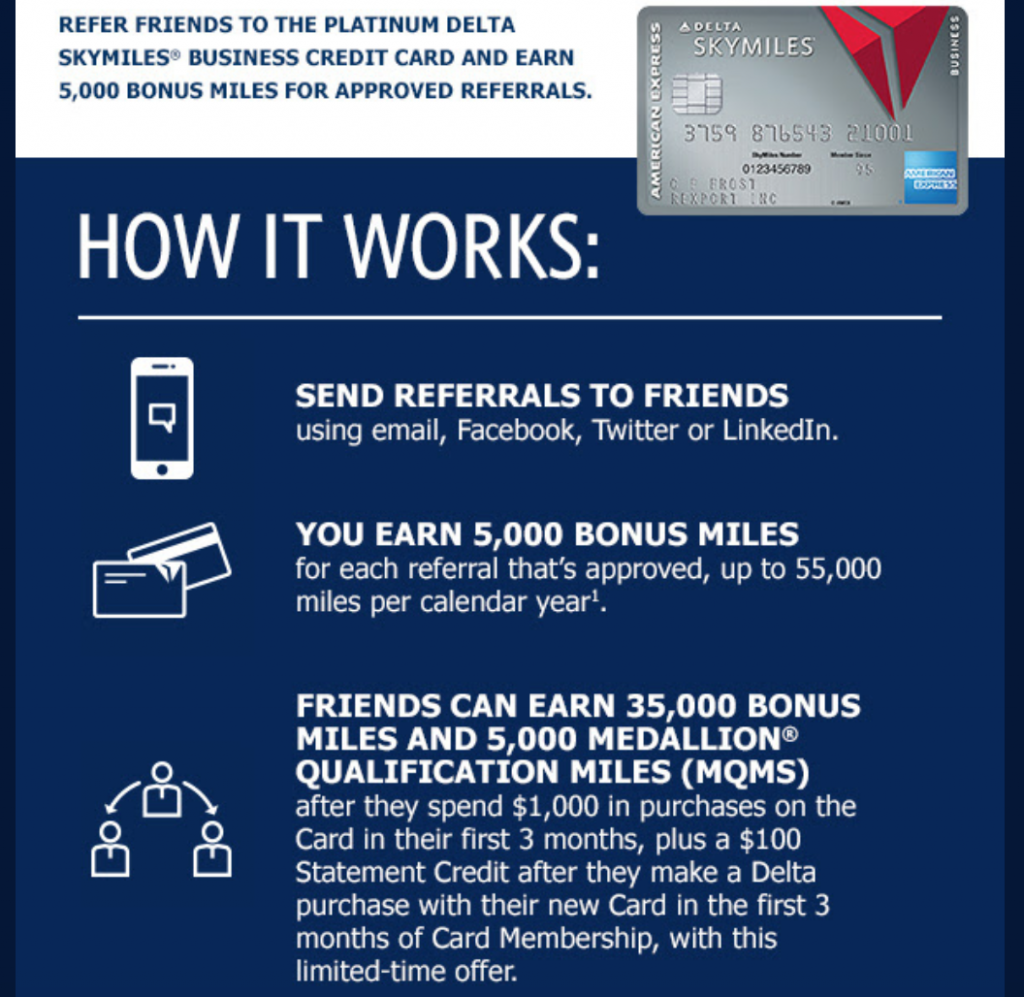 26.  Blog contests – major points and miles blogs on a near weekly basis have contests that often give away travel rewards or gift cards as prizes.  Airlines and hotels offer some blogs large chunks of points to be given away in promotions and contests.  Promotions often entail a social media commitment like leaving a comment on a blog post's comment section, initiating a like on Facebook, or sharing a Tweet.  Past contest prizes have included event tickets, gift certificates as well as many thousands of points and miles.
27.  Transfer bonuses to other programs– many programs such as Citibank and SPG have routinely offered bonuses for transferring points into various airline or hotel programs.  Marriott has had a long standing partnership that gives increased rates for United Mileage transfers.  Some programs, like the American Express Schwaab Platinum card, offer bonus cash (1.25x) as an enticement for turning points into (Schwab) money.  Sign up for email newsletters and notifications from loyalty programs to ensure you are aware of similar transfer related promotions.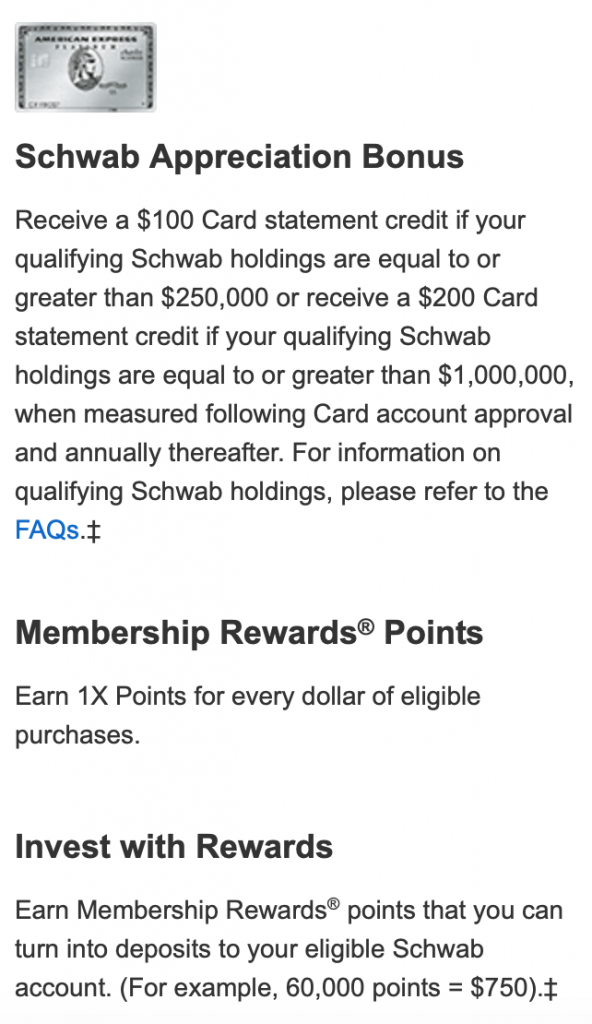 28.  Pay rent – Venmo, Plastiq, Rentler, Cozy, Radpad, RentMoola, RentTrack, PlacePay, and Rentshare offer options to pay rent indirectly via a credit card.   Roomipay died as a credit card option for rent in late 2018.  Plastiq is the most widely used service and has a 2.5% fee for paying rent via credit card.  With Plastiq, landlords don't to have an account, and either a paper check can be mailed or an electronic deposit can be chosen.  Outside of Platiq, most of the other services have around a 3% fee.  Venmo requires both landlords and tenants to register in order to use the service.  Rentshare requires landlords to accept direct deposit.  Keep in mind that paying 3% is a costly way to earn reward points, but if you can use the service to meet minimum spend requirements for sign up bonuses or earn more than 1x for the transaction, then it makes more sense.  
29.  Pay mortgage – very similar to paying rent via a credit card, accompanies this method for indirectly earning miles.  The same companies like Venmo, Plastiq, Rentler, Cozy, Radpad, RentMoola, RentTrack, PlacePay, and Rentshare facilitate payments with a 2.5% to 3% fee.  Other services similar to these have come and gone.  In 2016, Android Pay even offered no fee payments for a time, but that option died quickly.  Plastiq has offered similar referral fee waived promotions.  If you plan or are thinking of using Plastiq to pay rent or a mortgage, it's advisable to sign up their email list.  Unfortunately Plastiq's bill pay service no longer earns 3X for rent and mortgage payments on the Citibank AT&T card.
30.  Bill Pays – some bills are difficult to pay via credit card but Plastiq and other similar companies.  Melio is a new service that is poised to compete with Plastiq (charging a 2.5% fee for business credit card transactions).  Plastiq charges a 1% fee, but Melio charges no fee for debit card payments.  Melio also offers a fee-free option of paying via a bank account.  Plastiq does accept American Express for some transactions, while Melio does not accept American Express cards (only Discover, Visa, and Mastercard). Melio is a new product though and could easily modify/expand its credit card funding options.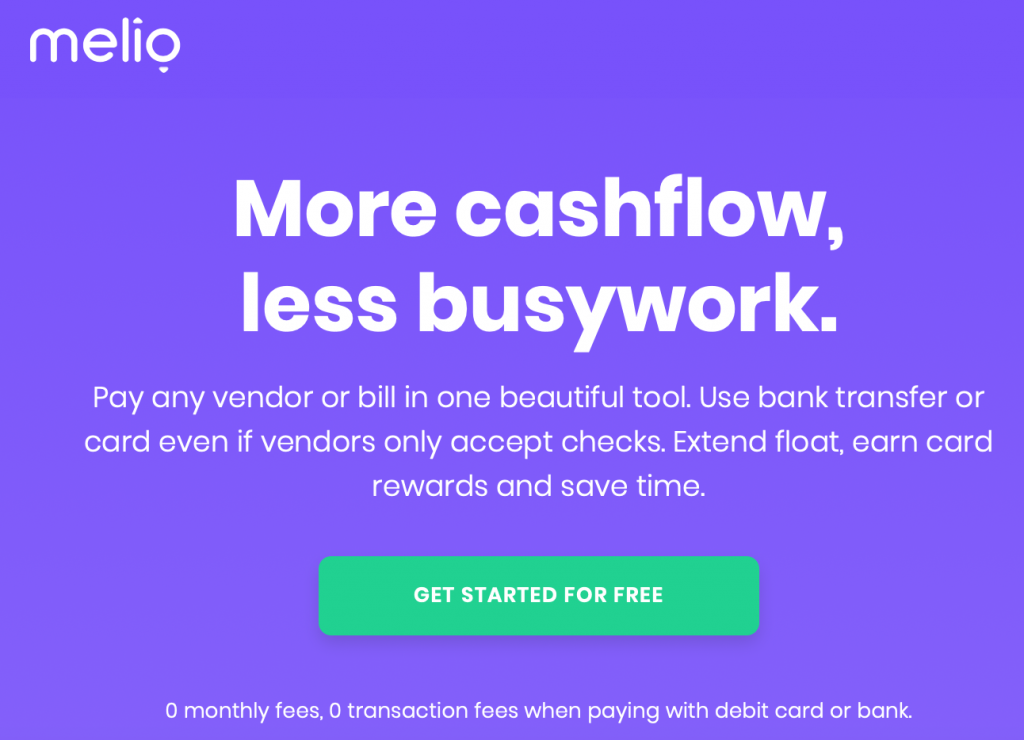 31.  Run a marathon – for each of the past few years, Aegean Airlines has offered a promotion for its loyalty club members to earn miles for completing running races.  To earn the miles, you need to be an Aegean Air Miles + Bonus member and finish the race that you sign-up for.  Last year, finishing a 5k race would get you 500 miles, half-marathon 2,100 miles, and completing a full marathon brings in 4,200 miles.  Aegean miles can also be combined into any account (friends, family, etc.) and is a Star Alliance member airline.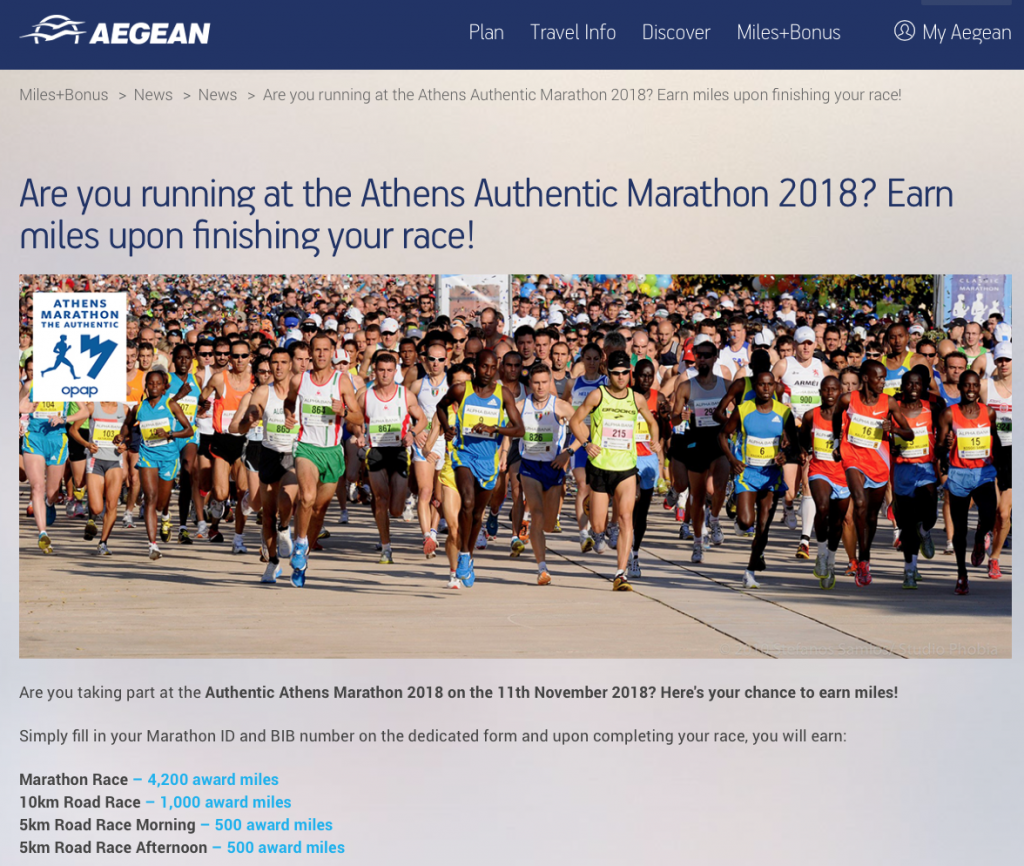 32.  Surveys – Have a little time and need a few extra miles?  Survey websites like e-Miles, e-Rewards, MyPoints, and Swagbucks allow customers to earn points for free on a variety of airline partners, hotel partners or get gift cards for merchants like Amazon or Starbucks.  Users accumulate points and transfer them at their leisure.  Most surveys are under 20 minutes, but e-Rewards offers some that are longer that earn more rewards.  Not all of the survey companies have the same rewards set-ups, transfer partners and options.  Also, there are airline specific surveys like United's Opinion Miles Club, JetBlue's Points for Surveys, and Spirit's Miles for Thoughts that offer additional opportunity for miles.  Lufthansa has offered bonus miles for a survey in German, even for U.S. customers!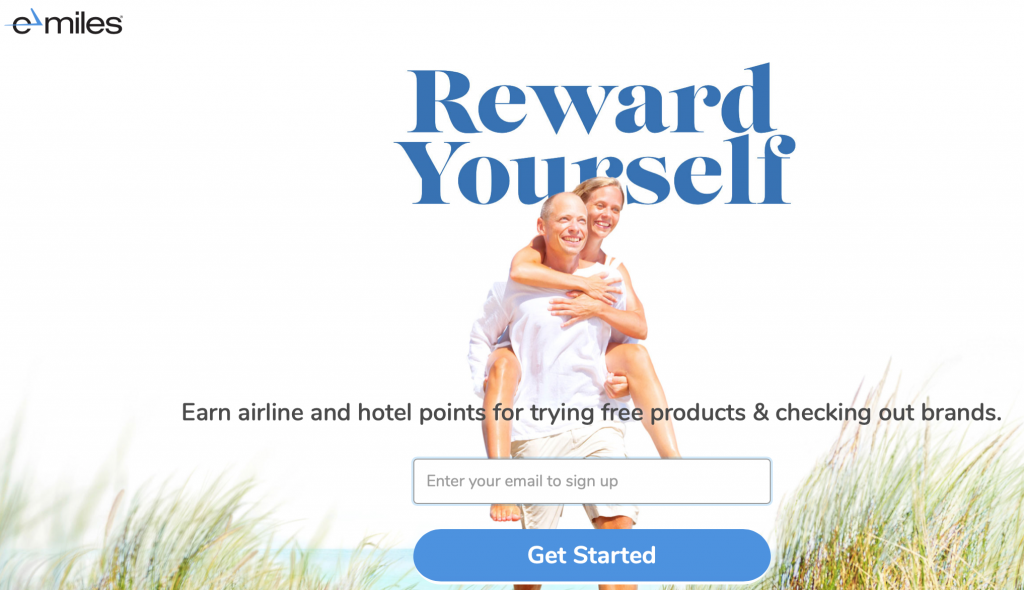 33.  Golf – Use the website www.golfmiles.com and earn miles for booking tee times.  It's become kind of a trend for businesses to give miles for using their product or service, and golf is one of the latest to do so.
34.  Hotel booking portal sites – websites like RocketMiles and Pointshound offer reward bonuses for hotel stays through their portals.  The bonuses are often in the thousands of miles for each stay.  These websites can offer competitive rates vs. other websites, but it's worth comparing prices before you book.  First bookings with the sites can add an extra 5,000+ airline miles to a paid stay.  The websites are definitely worth trying to get the initial booking bonus, especially if hotel stays are reimbursed business expenses.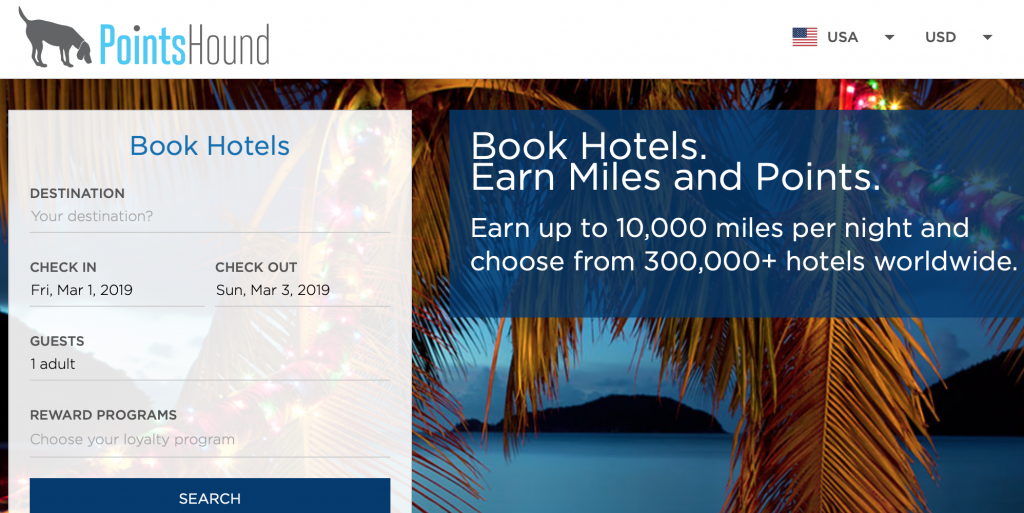 35.  Airline miles for hotel stays – many people don't realize that you can earn airline miles in place of hotel stays.  Marriott and other hotels offer the option of earning airline miles instead of hotel points, although the transfer rates are generally poor.  Other companies like Preferred Hotels, PointsHound, and Rocketmiles also offer additional and sometimes lucrative possibilities. 
36.  Airline miles and hotel points for hotel stays – in early 2019,Hyatt is offered a double dip opportunity with American AAdvantage where customers could earn 1,000 American AAdvantage miles in addition to the hotel points that would be earned from the stay.  Hyatt House and Hyatt Place stays were included in the deal, and stacking with other promotions (like bonus points for progressively longer stays) was allowed too.  
37.  Earn Airline miles for online hotel aggregators – booking.com has a unique partnership with Emirates that offers miles for bookings.  Users earn 1 Skywards Mile for every 1 Euro that is spent on all bookings, inclusive of taxes.  Booking must be made via emirates.com in order to earn the Skywards miles.  There is no minimum or maximum number of nights per stay or cap on the number of Skywards Miles that can be earned, however bookings made directly on booking.com will not earn any miles.
38.  Earn Airline miles for car rentals – if you don't rent cars that often, getting airline miles for your rental may be a better choice.  Recently I rented a car from National but opted to get Alaska miles for my rental vs. points with the car company.  I don't rent vehicles that often and the points would probably expire before my next rental, plus I value airline miles more than car rental rewards.  Hertz, Avis, Dollar, Alamo, Budget, and Sixt also offer airline mileage earning opportunities for auto rentals.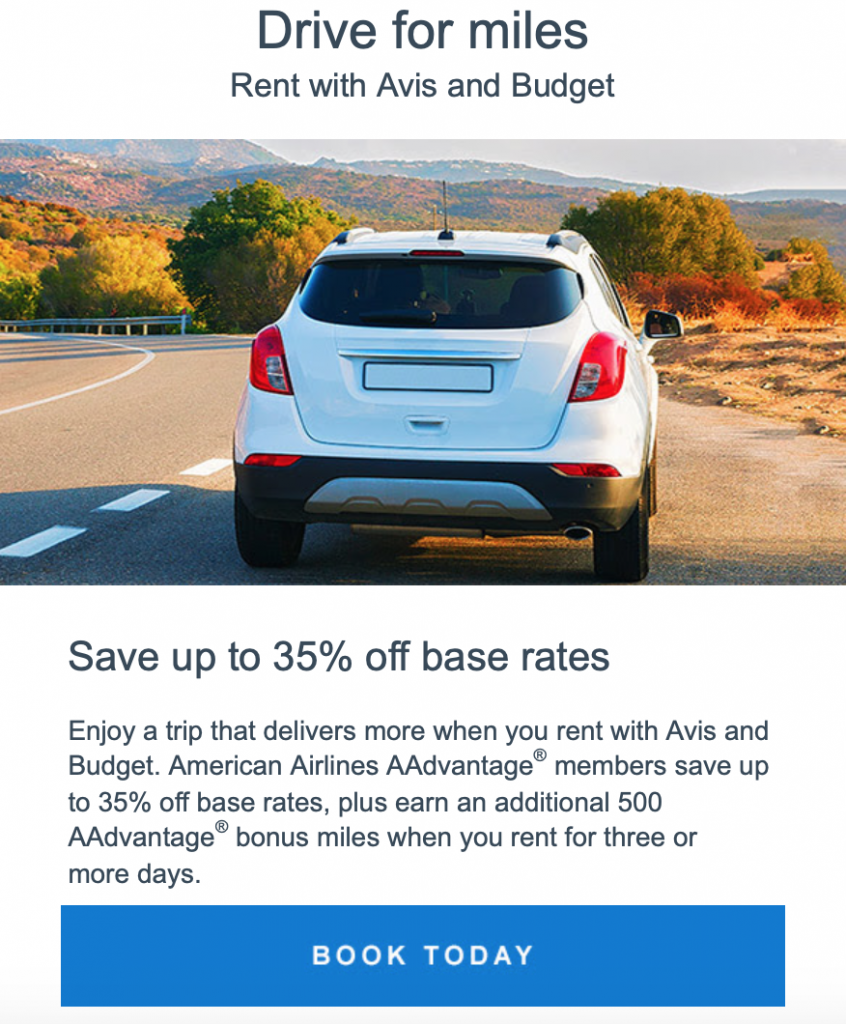 39.  Crossover both partner hotel rewards – so called crossover rewards allow customers to earn rewards with both airline and hotel partner programs at the same time.  Some examples of crossover programs include Alaska Mileage Plan Hotel Partners, American AAdvantage Hotel Partners, and Delta SkyMiles Hotels and Airbnb.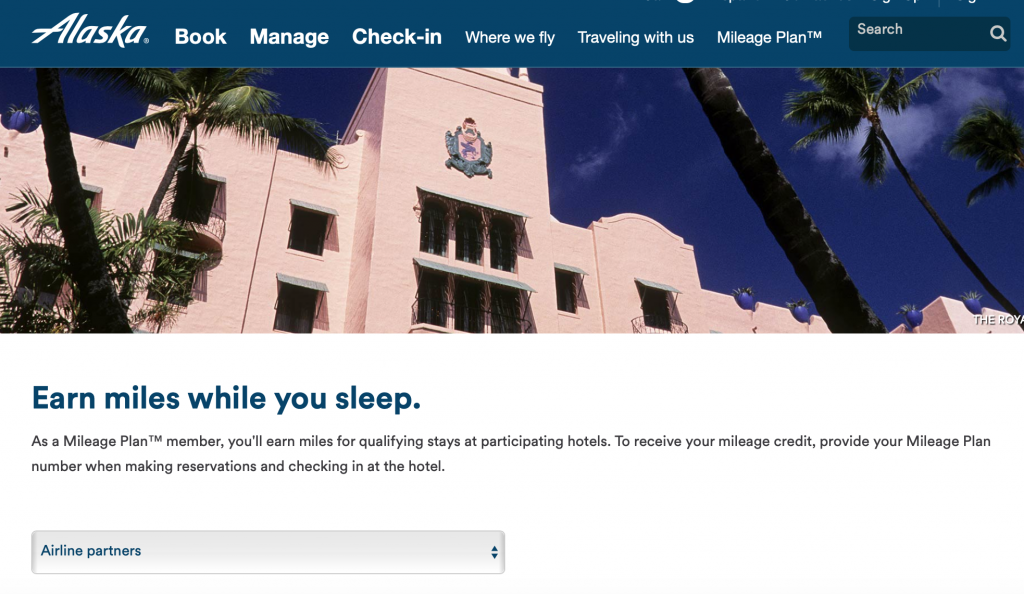 40.  Utilize 5x for Airbnb – hotel accommodation resources and alternatives like Airbnb, GowithOh, VRBO feature apartments and hotels rentals that can be a great way to save money and have unique stays on a trip.  Airbnb gift cards that earn 5x Chase Ultimate Rewards at Staples via the Chase Ink branded business credit cards.  Airbnb gift cards may also be found at select supermarkets too that could earn additional rewards depending on the credit card used (and quarterly bonus if applicable).
41.  Delta portal for Airbnb stays – going through Delta's Airbnb portal allows users to earn an extra SkyMile for Airbnb bookings.  Combine this with Airbnb gift cards at Staples (at 5x Ultimate Rewards via the Ink Plus, Cash, or Bold) and you're earning 6x points/miles on every Airbnb stay.
42.  Host a meeting/event – Weddings, receptions, meetings, and other hosted events can earn points at an enhanced rate.  Starwood Hotels Preferred Members used to offer one point per $3 spent and one point per $2 for booking events/weddings if you had Gold or Platinum status.  A free wedding night room was also available within the SPG/Marriott program.  Hyatt still offers 1 point per $1 spent on a qualifying meeting or event.
43.  Points + Cash bookings – hotels and airlines generally allow people to pay with cash, points, or points + cash.  Paying with cash, points that act like cash, or cash + points will earn additional points for a hotel stay or flight.  Sometimes the cash + miles/points can be compelling if not advantageous, especially with cards that have a high earning rate for paid flights/hotel stays.  For example the Hilton Aspire card earns 14x points on Hilton stays so choosing a points + cash redemption might make sense depending on the nightly cash rate.  I recently chose a points + cash rate option at the Conrade Algarve in southern Portugal for a great stay that decreased my cost and earned rewards in the process.  Other programs like Hyatt, have recently gutted their points + cash programs and are now less attractive than in the past.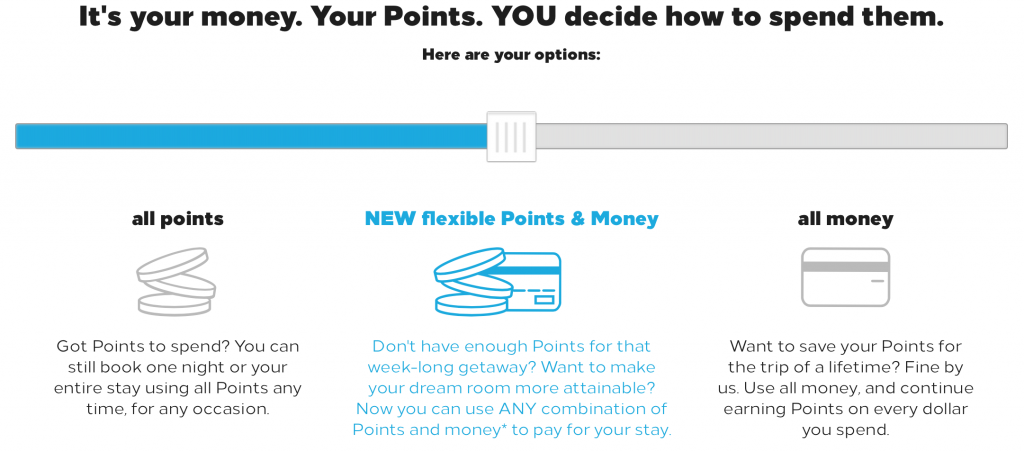 44.  Using points to earn points – Using Barclay Arrival, Discover It Miles, Capital One Venture miles, Wells Fargo GoFar Rewards, Bank of America Travel Rewards, U.S. Bank Flexperks and others allow people to use (bank based) reward points to pay for travel, and earn additional frequent flyer miles or hotel points for their stay/trip.  
45.  Trade or exchange points – Some people trade, buy or exchange points on websites like FlightNuts, PointsPost, and The Mileage Club. Independent points/miles brokers also give cash for rewards, then use them to purchase business and first class seats which are then sold to others at a profit.  Keep in mind that by participating in this kind of activity, you may be violating the airline or bank's frequent flyer/rewards program rules and restrictions.  If you're caught doing so, you may have your account closed (and forfeit any elite status, points and miles).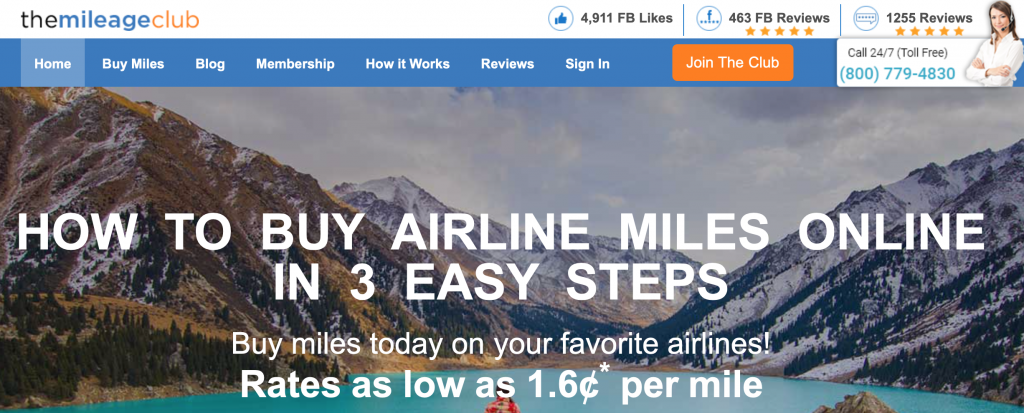 46.  Stacking deals – savvy points enthusiasts often use combinations of deals and techniques like discount codes, cash back, gift cards, shopping portals, and promotional offers to double and triple dip earned rewards and decrease transaction costs.  Sears, Kmart, 1-800 Flowers, and others have all had deals that have paid high (20-50 points per dollar or higher spent) rates of return.  Manufactured spending also uses stacking techniques on some deals.  The website Frequent Miler maintains a page devoted to stacking deals.
47.  Donate to charity – Many charities allow people to pay with credit card for donations.  Some cards offer increased rewards for charity donations like the U.S. Bank Flexperks (2x as of January 1, 2018).  Example charities that take credit card donations include Susan G. Komen, National Foundation for Cancer Research, United Service Organizations and others.  Promotions also pop up like American Airlines' offer in 2018 of 20 miles per dollar donated.  Donating $1,000 suddenly becomes 20,000 extra miles and good being done in the process.  Charitable donations can also be deducted on one's taxes, making promotions like this even more attractive.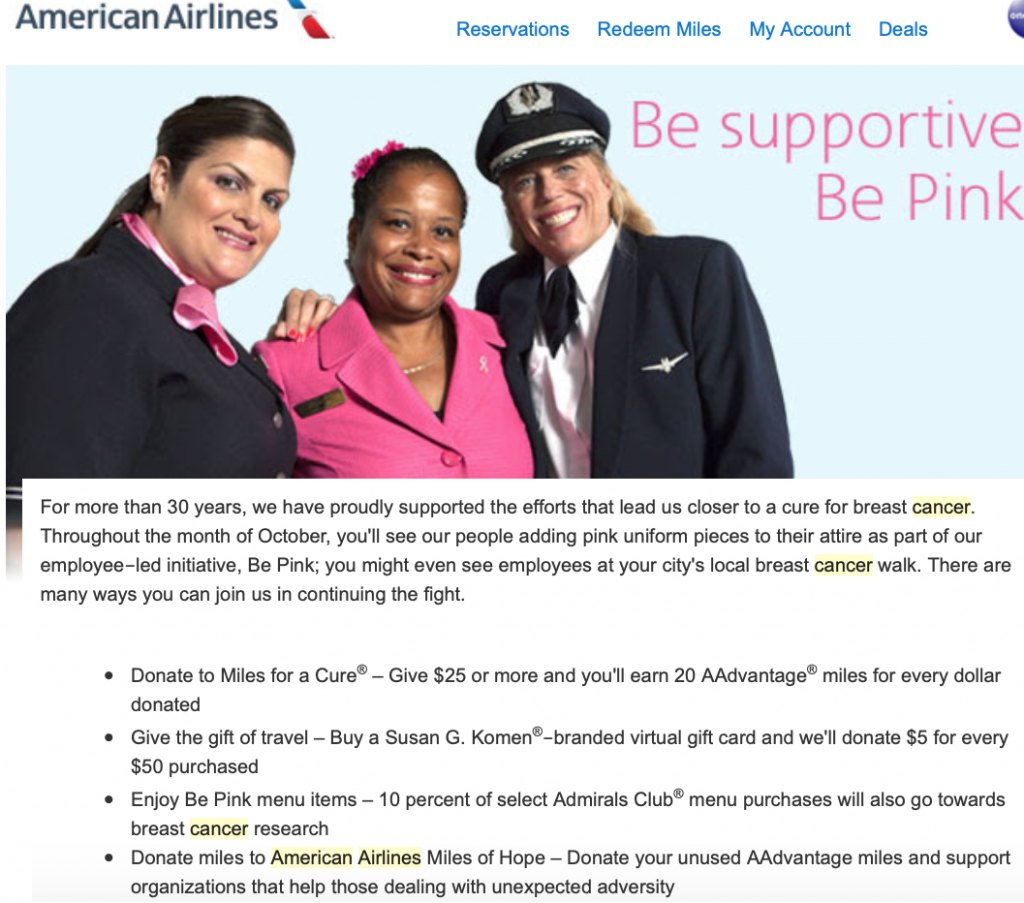 48.  Purchase insurance or get a quote – sometimes a simple insurance quote can earn extra travel rewards.  Several years ago, companies like Farmers Insurance and 21st Century Auto Insurance ran promotions giving miles for basic insurance quotes.
49.  Switching auto insurance – sometimes simple insurance quotes won't generate opportunity for earning more rewards, but switching services will.  California Casualty Insurance has a current offer for 20,000 United miles for switching over to their company for auto coverage.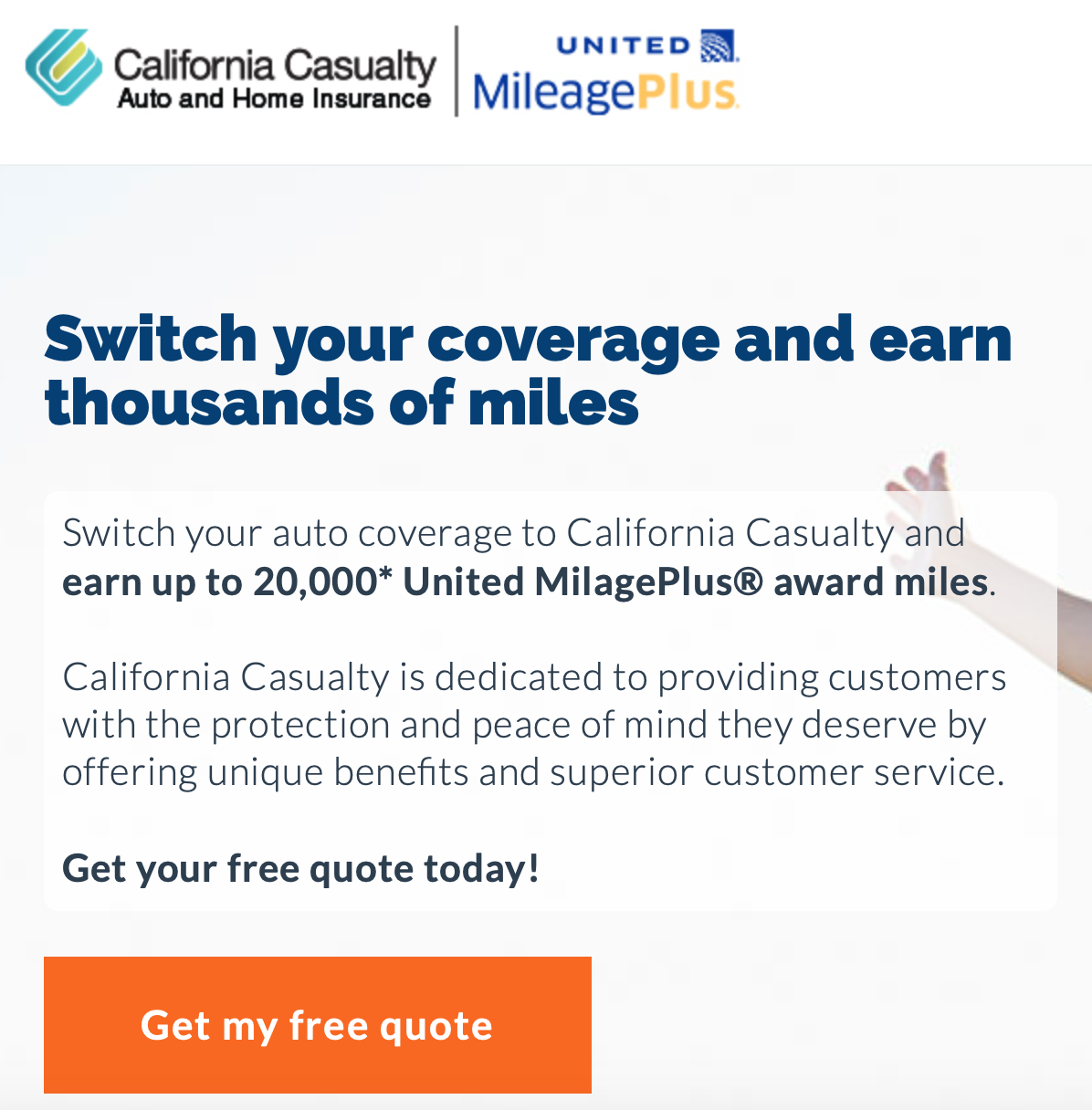 50.  Pay taxes – it's possible to pay your taxes with a credit card.  It's also possible to overpay your taxes via credit card and get a refund.  I don't do it, but I know others who actively use this method to generate extra rewards.  Go to the IRS website for more information.  Some other credit card eligible tax resources include https://www.pay1040.com, https://payusatax.com, and https://www.officialpayments.com/fed/index.jsp. 
51.  Microlending – you can lend money to people and entrepreneurs trying to start small businesses around the world and hopefully be repaid.  Resources like Kiva to lend their own money via a credit card, earn travel rewards, and do some good in the process.  Micro-lending has risks as it is lending people money, and if you lend out enough money or enough times, some loans wont be repaid.  Most Kiva loans are repaid through.  Kiva is nice because you can specifically filter on the type of loans that you're looking for, thus minimizing your risk in advance (default rate is under 1%) as much as possible. 
52.  Home Energy Services – companies like DirectTV, Everything Energy, Reliant, NRG Home Solar, either currently or have offered, miles for products and services.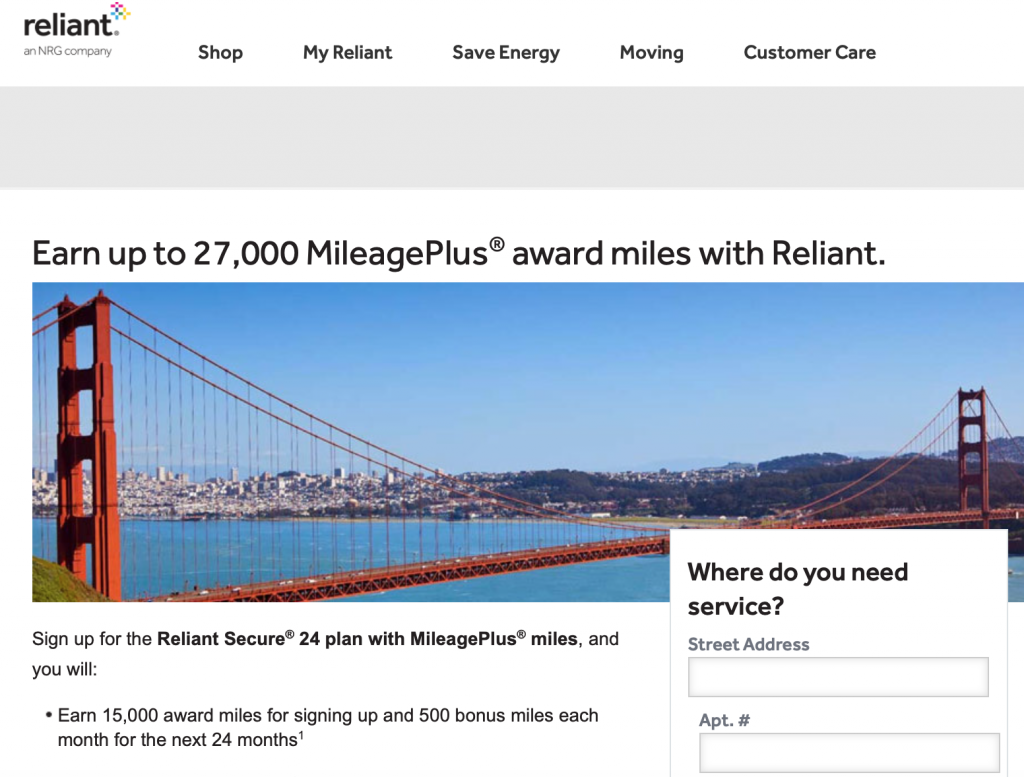 53.  Pay someone else's bills – a friend of mine is building a cabin in the woods several hours from the city.  For the project, he needs a lot of lumber and building materials.  He's in a transition period with a divorce and finances, so he is allowing me to buy the lumber and other building materials, earn the rewards, and he'll pay me back in cash.  Stacking home improvement store gift cards and with cash back/miles shopping portals and other promotions will likely net me  100k+ worth of miles/points on this project and help out a friend.  Another example might be something simple like paying for a group's dinner tab, choosing the best credit card and dining category bonus (plus sign up for an airline dining program to earn more miles), and have the group pay you back in cash.
54.  Buying Groceries – getting category bonus points for supermarket purchases is a pretty common benefit for rewards credit cards, but you can also earn extra points for partner tie-ins, like with Safeway and Alaska Airlines.  Supermarkets also sell store branded gift cards along with Visa, Mastercard, and Amex debit (gift) cards that can also generate substantial rewards depending on the credit card used to purchase.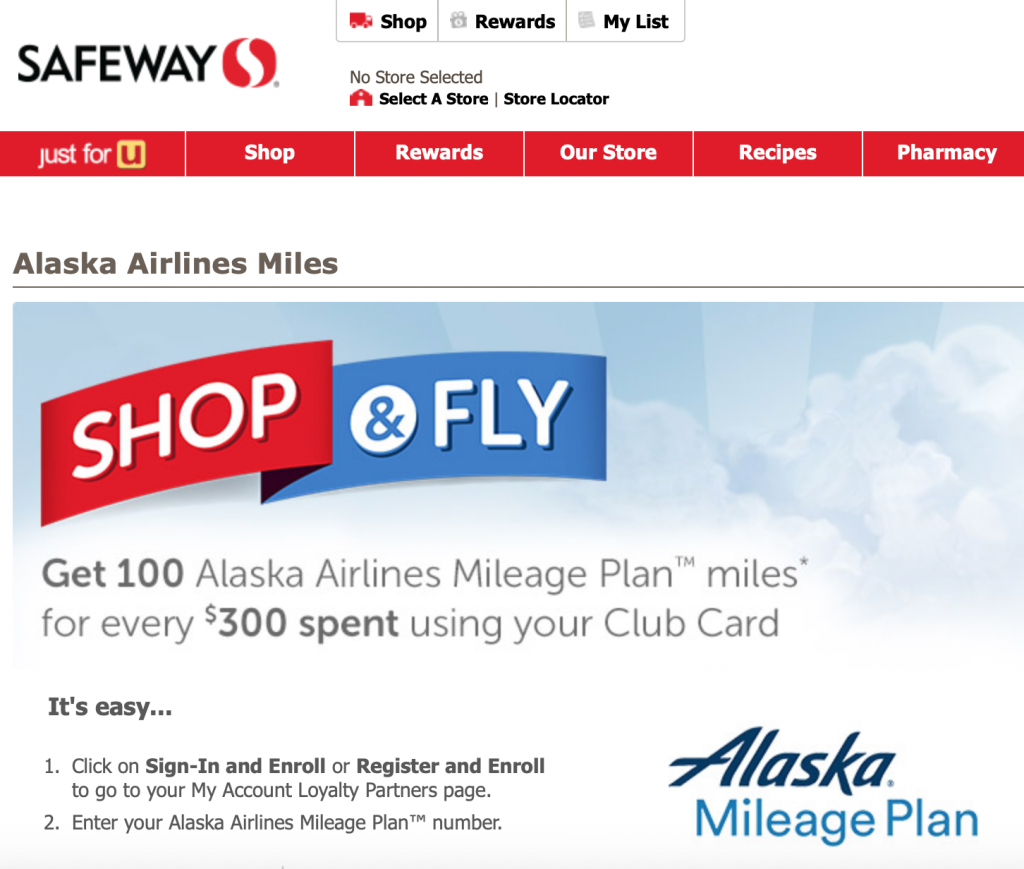 55.  Install a Searchbar (to be used as a shopping portal) – in the past Hawaiian Airlines has offered miles who install their MileFinder searchbar.  Basically that searchbar becomes the primary cashback/miles shopping portal.  I prefer starting with Cashbackmonitor.com and having accounts with a few to several cashback shopping portals to hedge against differences in reward payout rates for shopping online.
56.  Electronic payments and transfers – payment systems like Venmo, and Amazon Payments used to let you send money to other people and earn points for it.  Amazon Payments was great for a time, as it allowed people to send $1,000 per month to someone with no fees.  It was literally free points while it lasted. 
57.  Moving – some companies like AmericanHomeMiles offer generous bonuses for state to state moves with companies like Allied, North American or Global Van Lines.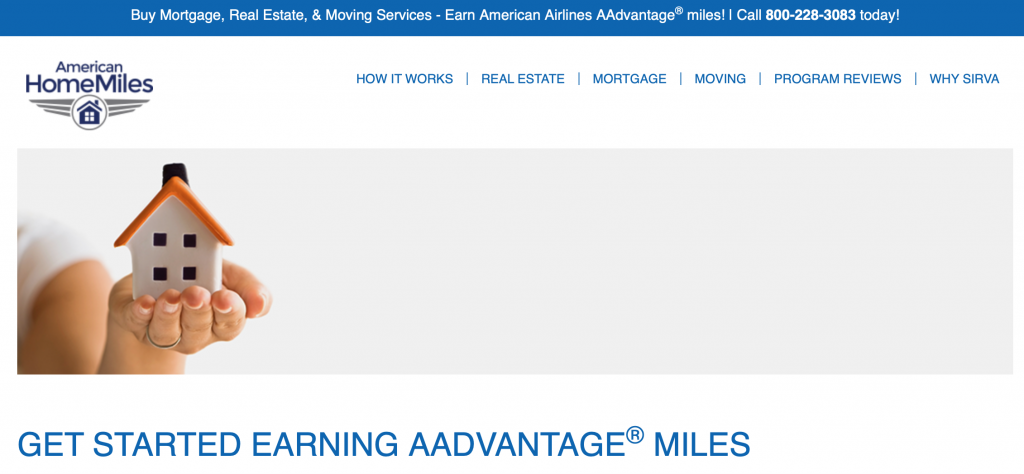 58.  Pay off Credit cards – Earning points on the spend side is easy to do, but there are some ways to earn it on the payment side too.  One of those ways is a new product from Tally.  Basically Tally pays your credit card bill and then you pay Tally.  Read the terms and conditions and work the math to see if this deal is worth it for you.  Customers must pass a soft credit check and have a FICO Score of 660 or higher.  Tally APRs are between 7.9% and 19.9%.  Groupon offered a free $50 for new customers with this deal.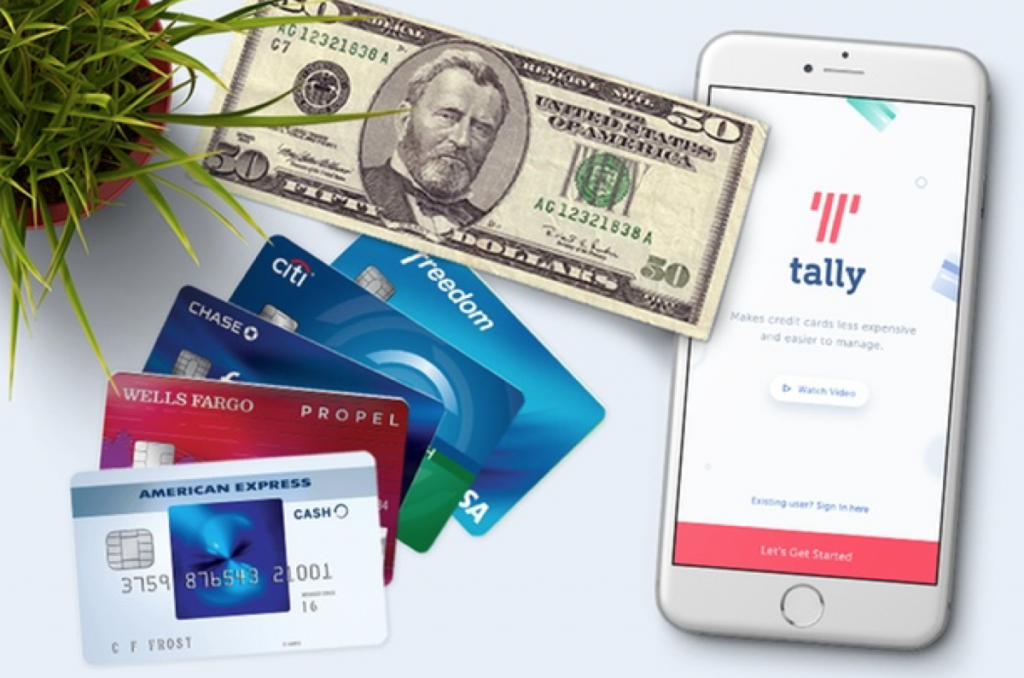 59.  Finance a home mortgage – for financing a home mortgage through the bank, Chase offered 100,000 and 75,000 miles in 2017 and 2018.  Even with those bonus points, it may not be financially worth it depending on the rate you receive (and rewards earned).  American Home Miles also offers bonus miles for mortgages, moving, and more.
60.  Company newsletter – some airlines or hotels will offer bonus miles for signing up for their email newsletter.  It may only be 500 to 1,000 bonus points for signing up, but those emails may be a pathway to future deals and information.
61.  Complaints – trouble with a seat on a flight that didn't recline?  Did you get food poisoning from a meal on the airline?  Did your hotel loose your reservation and then sell your room to another party?  All of these gripes can be put into phone calls, emails, Facebook posts, and Tweets for compenstation.  Other issues such as lost, damaged, or delayed luggage, flight delays, denied boarding, (some) cancelled flights, and tarmac delays all have the possibility of being compensated in some way by the airline.  Be sure and research the compensation that you may or may not be entitled to from a trip issue.  U.S. and European compensation law often differs.  Kayak sends emails to alert flyers that they may be entitled to compensation when flight issues occur.  Firms like Airhelp help consumers get compensation from airlines for a portion of the compensation.  Compensation from the issues listed above may not always be in the form of miles or points, but that money can go towards your current or future trip costs, possibly allowing you to earn more rewards down the line.
62.  Travel Documents – VisaCentral claims it can get you travel documents more quickly and securely while earning extra miles in the process.

63.  Special Partnerships – for a few years, SPG points could be earned through stays at Caesars hotels.  With that offer, Starpoints were earned in addition to reward credits earned through Caesars' Total Rewards program.  Although this example ended at the end of 2016, others like it pop up from time to time.  Before July 2018, SPG points could also be earned when flying Emirates. 
64.  Status Match – having your elite status matched from one hotel or airline to another is a big perk that is consistently offered by various airlines and hotels.  Alaska is one of the few airlines that still grants status matches to elites from other airlines, including matches MVP Gold 75K level matches.  Air Canada, American Airlines, DeltaEmirates, Finnair, Hawaiian Airlines, JetBlue, LATAM, Royal Jordanian, Southwest, Turkish Airlines, United Airlines have all offered recent status match opportunities in various forms.  National Car Rental, Enterprise, Hertz and others have status match programs, while hotels like Best Western, Choice, Hilton, Hyatt, Marriott, Radisson and others have also offered recent status match opportunities.  Having a status match can lead to extra benefits and bonus points for stays, flight and room upgrades, free breakfast, and car rentals that would otherwise not exist.
65.  Gift cards for more than 1x points – earning more than 1x points/miles should be the goal for any transaction.  For example, you can get at least 2x to 6x points on Airbnb, Hyatt, Delta, Southwest, Hotels.com, Whole Foods, and Starbucks at grocery stores and office supply stores via in store and online gift cards by using the right credit card with a category bonus. Note that some gift cards (Airbnb, Amazon, Starbucks, etc.) can be directly loaded to an account so that lingering cards don't have to be kept.  Some gift cards at grocery stores, gas stations, wholesale, and department stores may require a quarterly category bonus to achieve higher bonus point payouts.
66.  Concert/Performances – SPG has offered 2,500 points through its Audience Rewards in the past for concerts and performances, and American Airlines also has offered a similar program.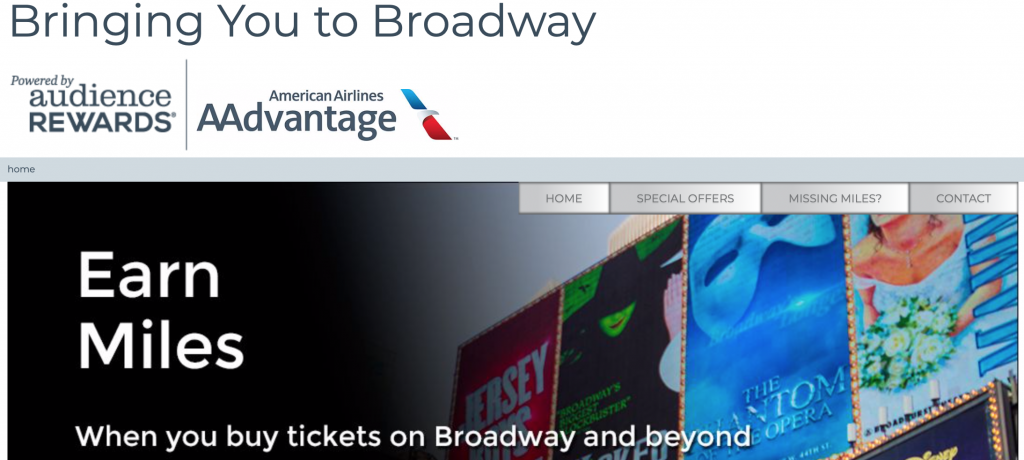 67.  Ridesharing (Uber & Lyft) – Chase and Amex have had partner promotions with ride sharing companies like Uber to earn extra points.  Similar offers from credit card companies are bound to grow in the future as these services become more popular and widespread.  Uber also has its own credit card that earns multiple levels of points that can be redeemed as cash back.  Uber gift cards purchased at Staples and some other stores that allow enhanced points earning rates.  
68.  Frequent flyer account sign-up – similar to newsletter sign-ups, sometimes travel companies offer miles or points just for singing up for their frequent flyer or reward accounts.  A few years ago, Royal Air Maroc offered 5,000 miles for joining its frequent flyer program, Safar Flyer.
69.  Book a Vacation Package – booking an entire vacation package could earn you thousands of up front miles for the initial booking plus additional bonus points on top of that.  Vacation package destinations might include a city, tropical destination, DisneyWorld or DisneyLand.  Examples of major airline's with these programs include Alaska Airlines Vacations, American Airlines Vacations, Delta Vacations, Southwest Vacations, and United Vacations.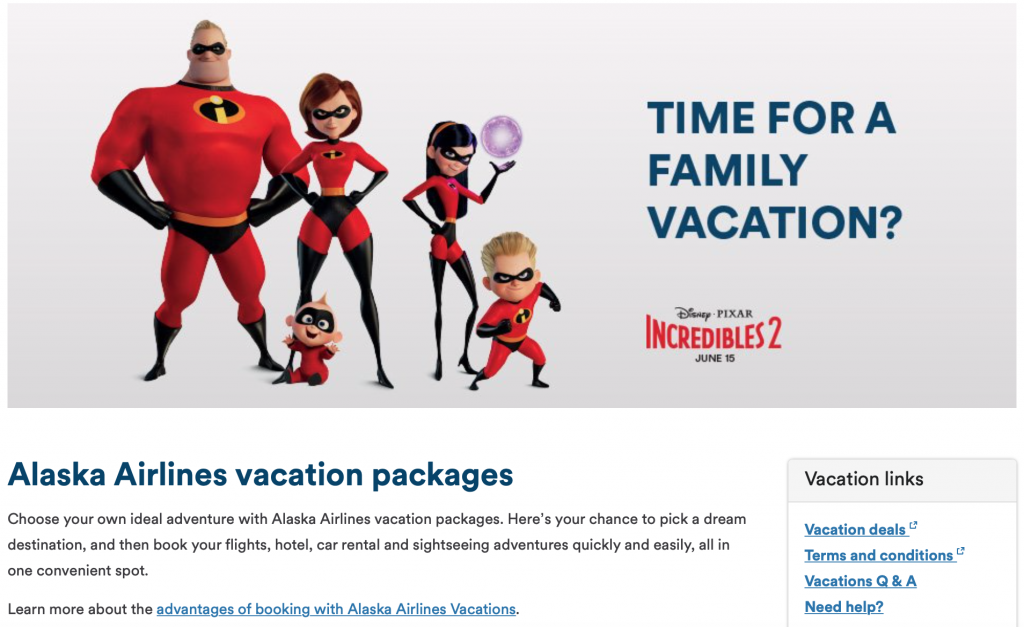 70.  Cruises – credit card companies have historically offered extra points for booking cruises through them.  For example, in 2018 Amex offered 15,000 extra points for booking a cruise with Holland, Carnival, or Princess.  American and United Airlines have also offered up to 50,000 bonus miles for cruise purchases in the past.  Customers can also accumulate cruise travel rewards towards future excursions.  Some cruise linked miles and points offers can be found here and here.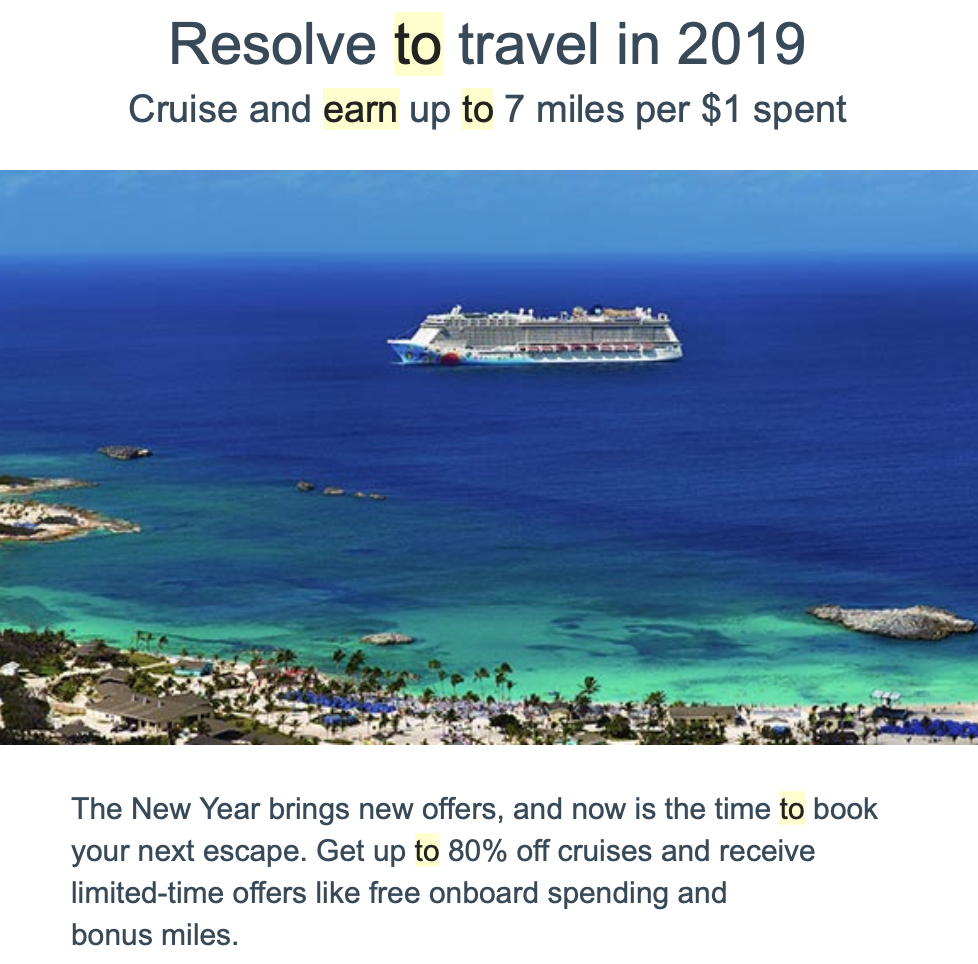 71.  Wire Transfers – Plastiq now allows customers to earn miles on domestic and international wire transfers.  Plastiq includes payment details such as your name and account number and the transactions may also deductible as business expenses.  
72.  Hotel points break promotions – some hotels have special times where they discount the amount of points or miles that it takes for an award night.  IHG offers points breaks each year for many of its hotels around the world.  Technically you're saving points (and not earning them), but saving points on stays is essentially earned points from lower priced awards.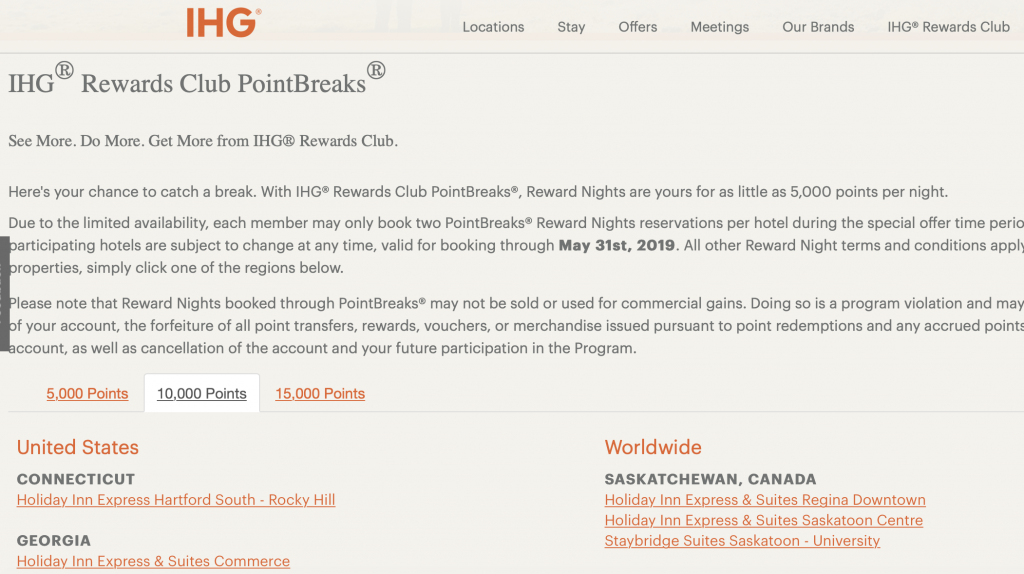 73.  Airline Award Ticket Flash Sales – similar to hotel promotions that offer discounted award flights, often to limited destinations for a limited time period.  Air France consistently offers Promos to various destinations that are updated regularly, while other airlines issue more sporadic deals.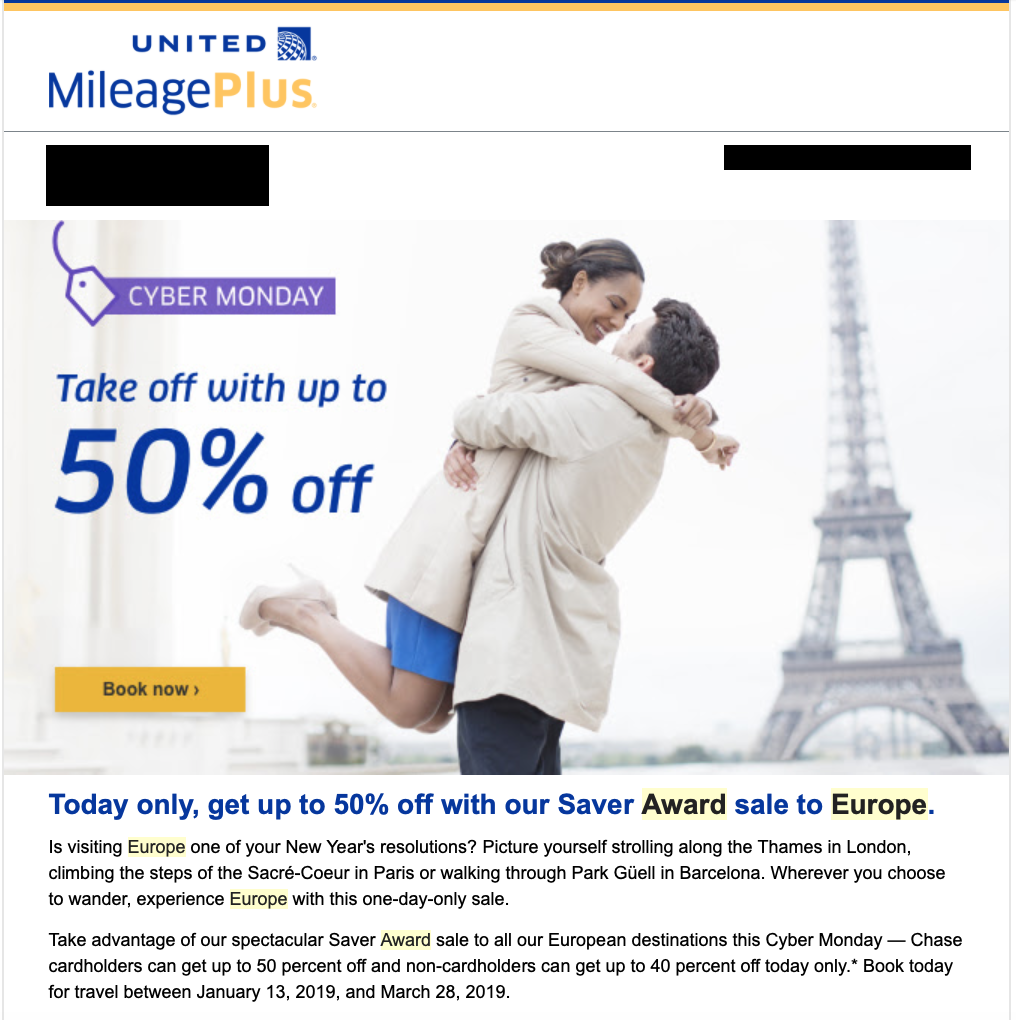 74.  Oversold flights – airlines often oversell routes to ensure full flights.  If they do that, people usually get "bumped" or moved off the flight for a different flight and often accrue rewards in the form of free booking on another flight, free hotel, transportation between the airport to the hotel, airline voucher or cash.  Although you may not directly get miles from getting bumped, getting an airline voucher for a future flight could lead to future miles earned.  Remember that airline seats for children count just as much as adults do.  There was even a recent ruling in Europe that lap infants there are eligible for delayed flight compensation, even if they aren't flying on a full-priced ticket.  
75.  Gifting – instead of giving cash at graduations or other celebrations, consider store gift cards (purchased at 2x to 6x points) or VISA, MasterCard, or Amex debit (gift) cards that you've purchased with a rewards earning credit card.  Money orders (via manufactured spend) are another gifting option.  Money orders are also trackable and replaceable if lost or stolen.  
76.  Attend Time Share Presentations – hotel companies like Hilton, Hyatt, Marriott, Disney, Ritz and others offer incentives, often in the form of cash or loyalty points, simply for attending a timeshare presentation.  For example in the summer of 2016, Hyatt offered 10,000 bonus Hyatt Gold Passport Points for people who attended the Hyatt Wild Oak Ranch talk.  Some time share presentation promotions are targeted while others are basically open to nearly anyone.  During a recent trip to Hawaii and while walking around in a local shopping mall, I found a Hilton timeshare station.  After asking a few questions, I was invited to attend a timeshare presentation and was given 60,000 Hilton Honors points and free breakfast for doing so.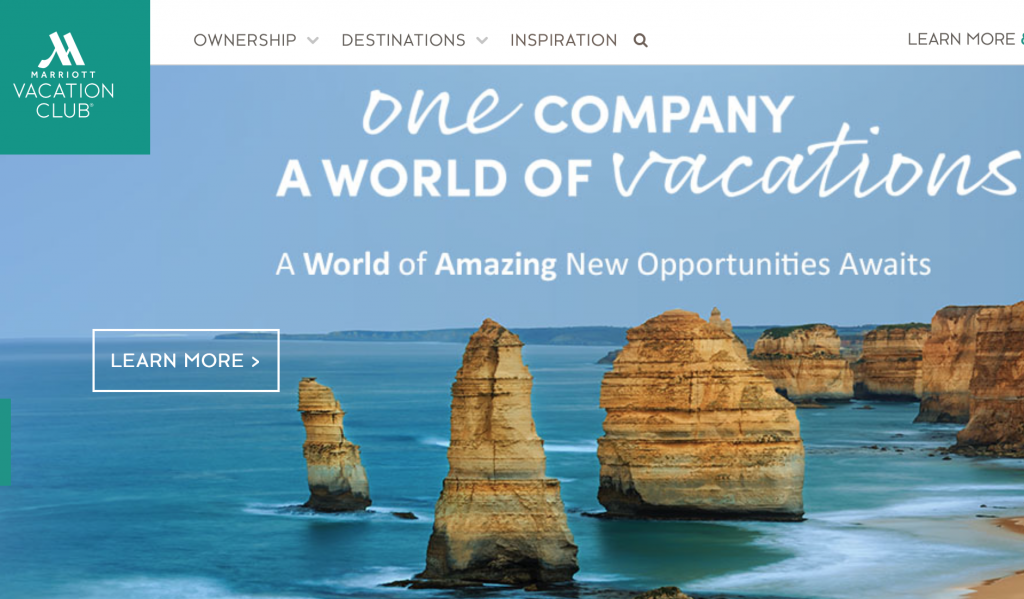 77.  Profile & Security settings – in 2015, Starwood members could earn 150 Starpoints simply by completing their account security questions.  
78.  Secure your information – Lifelock often runs miles promotions (generally 5k-10k mile rewards) for signing up to keep your finance and personal information secured.  There's a current promotion for 12,000 American Airlines miles.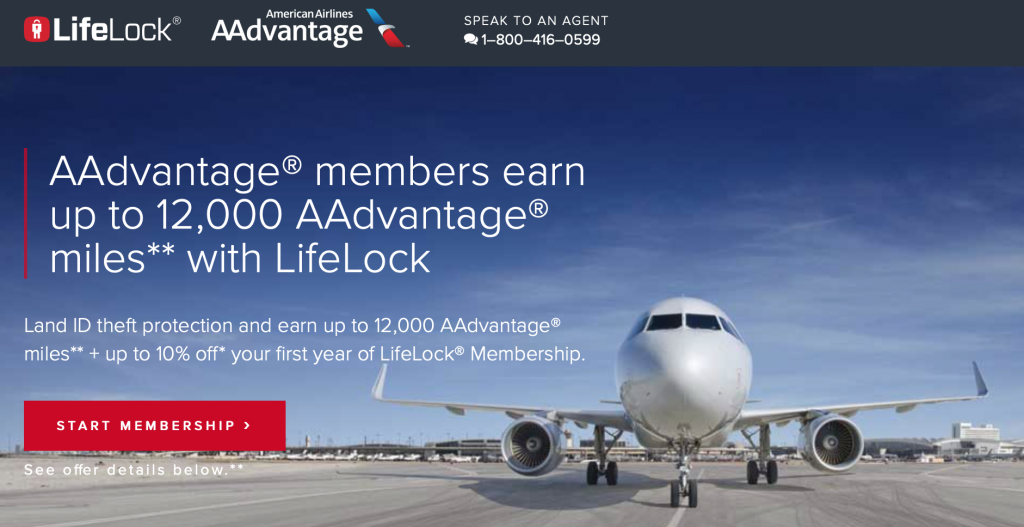 79.  Refunds – purchasing an item at an enhanced (2x+) earning rate, and returning that item at a lower refund rate or even cash, may give points/miles for free.  Let's say you purchase an item with a rewards credit card earning 5x but the refund is at 1x (on a different credit or debit card), you're essentially pocketing the 4x difference (or more), from a simple return/cancellation.  This practice isn't terribly ethical though, could raise red flags rather quickly.
80.  Cancellations – on occasion it's been possible to earn points/miles by booking hotel or airline reservations and cancelling, but earning rewards in the process.  Cancellations may offer rewards because of the difference between points earned on the initial payment and return, multiple stacked layers built into the process of the cancellation, or through software/system glitches and imperfections.  Note that while some of these cancellations were profitable and/or points rich, while others have led to account shutdowns.
81.  Discover debit based gift cards – miles and points aficionados often focus manufactured spending efforts on Visa (and occasionally Mastercard) debit based PIN enabled gift cards.  Discover also makes similar cards but are not as easy to find.  Some malls (plural) sell Discover debit/gift cards (with reduced or even no fees), sometimes up to $500 per card in value.  Corporate mall accounts may exist for these cards too.  Know that malls have the ability to, and often do, track how the cards are used.  If a mall management team doesn't like how the cards are being used, you may be shut out from buying cards in the future.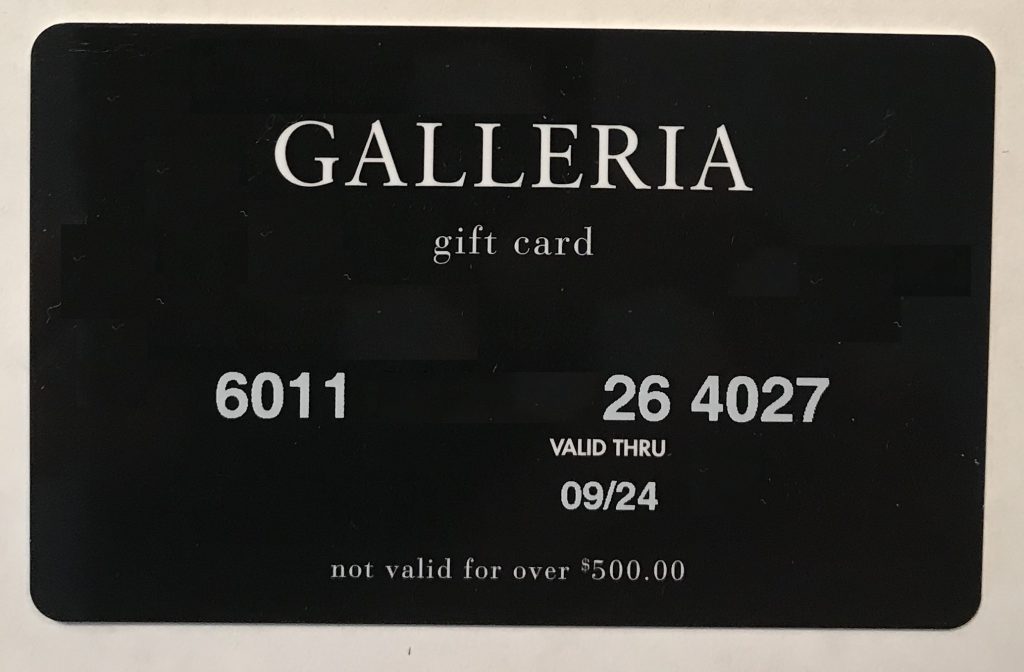 82.  Selling a Home – making miles from a mortgage or through purchasing a home is common, but the sale of a home can often generate big bonus miles too.  Example include AmericanHomeMiles and MilesfromHome.  
83.  Personal Loans – in the past, Lending Club (via United Airlines) has offered 1 mile per dollar borrowed, up to $40,000 for an unsecured personal loan.  Qantas still has a program through Leveraged Equities where customers can earn Qantas Points based on either the loan amount or daily loan balance.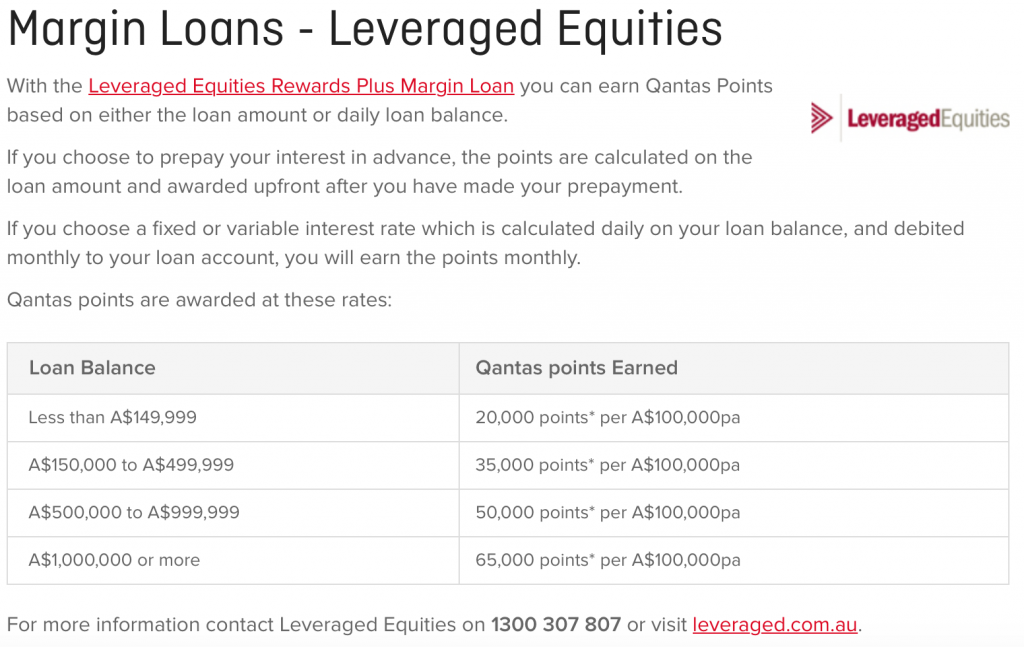 84.  Buy a website/use tech services – companies like Network Solutions often offer a bonus for various tech related purchase and services.
85.  Mobile Payments – using some form of mobile payments may earn additional points for everyday spend, and sometimes debit (gift) cards.  For example, in 2018 over the Christmas holiday season, Chase offered a limited time promotion that gave cardholders an extra point for using Google or Apple Pay.  Costco is one of many retailers that accepts Apple, Google, & Samsung payments, and more should follow.  The U.S. Bank Altitude Reserve offers 3x on purchases made with Samsung and Apple Pay.  At this point with the Altitude Reserve, Samsung Pay can be used more widely than can Apple Pay.
86.  Buy U.S. Mint coins – many think of the buying coins via the U.S. Mint as only being possible from 2007-2011, however the government agency still releases new coins and it's possible to purchase them with a credit card, earn miles, and break even/make money.  In July 2018, the Mint released a new coin that cost about $555 purchasing from PFS Buyers Club including shipping and handling, and returned $575 to buyers.  eBay resales were even more lucrative.  Examples of other companies that have bought Mint coins (often at a profit for resellers) are Pinehurst Coins and Monument Metals.  The main obstacle is the popularity of these releases.  New coin releases sell out quickly, so it's often difficult to get in early enough to participate.
87.  Magazines and media subscriptions – it's possible to redeem miles for magazines, but you can also earn rewards by utilizing websites like Global Traveler for subscriptions.  Airline shopping portals like American Airlines still give away bonus points for media related purchases.Wall Street Journal has offered a number of recent promotions for 1,000 Airline miles (American, United, etc.) for $1 and a 90 day trial subscription.  Barrons has also offered 500 – 1,000 Airline miles (American, United, etc.) for $1 and a trial subscription of its magazine.

88.  Debit rewards cards – using debit rewards cards used to be popular and lucrative, as you could earn points/miles on the front end spend, and more rewards on the back end paying off those same charges.  However debit card are now much less en vogue to earn rewards.  Debit cards that still earn points/miles include SunTrust Delta SkyMiles Debit Card, ufb Direct Airline Rewards Checking, and the United MileagePlus GO Debit Card.  Credit unions often have a rewards earning debit card, although the return rates are very low.  Most points related debit cards seem to offer less a 1% return (for example 3 points spent yield only 1 reward point/mile earned).  Some debit rewards cards may even have annual fees and/or monthly spending caps.  Some cards, like Green Dot, may also incur load fees, with some other debit having additional restrictions.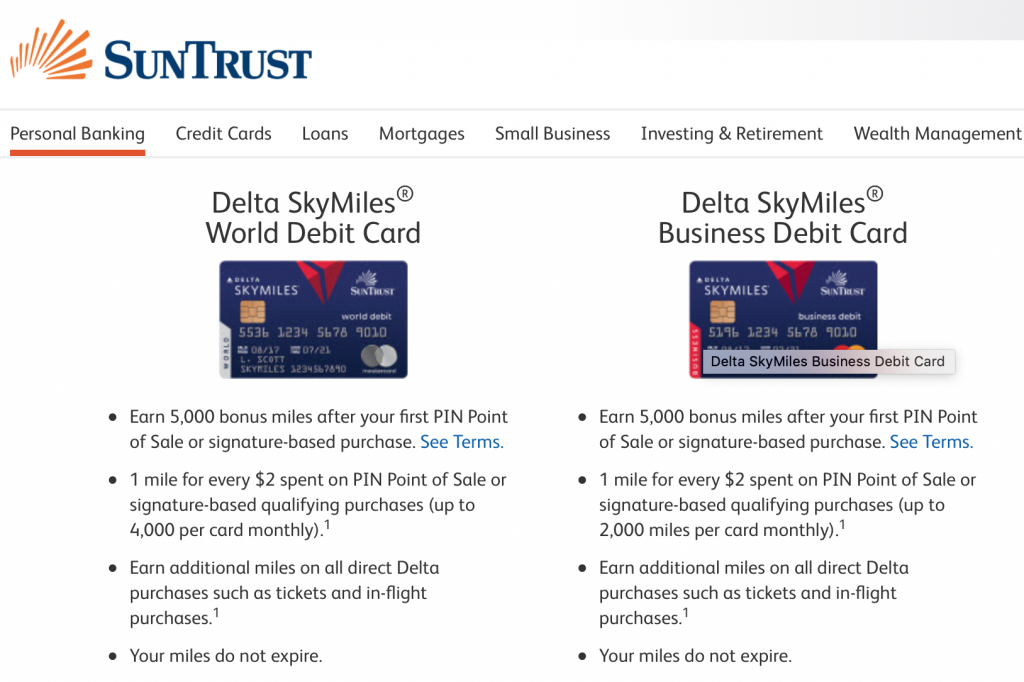 89.  Medical bills reimbursement – depending on your employment and healthcare insurance, if you enroll in an HSA you should have the option of paying medical bills with a credit card and getting reimbursed via your healthcare savings account (HSA).  Depending on your healthcare setup and needs, this could means substantial amounts of extra points.
90.  Outside Rewards Programs – rewards programs like Plenti points were linked with companies that earned (Plenti) rewards from purchases taking place at a variety of major retailers points that could in turn be used at those same retailers.  Dosh is another program that connects customer's credit & debit cards to a cash back app.  After customers use any linked cards for purchases with a participating Dosh partner, they earn cash back.  Cash back caps and some restrictions often accompany these programs/rewards.  Swagbucks is a virtual currency that's earned for buying items, redeeming coupons, watching promotional videos, referrals, playing games, answering surveys and polls, and using their search engine (easiest method).  Swagbucks earns money from Google advertisements and passes on some of their earnings to members.  You can redeem Swagbucks for Paypal gift cards, and Swagstakes entries that give you the chance to earn bigger prizes.   Also, referrals give you 10% of the Swagbucks your friends earn, for as long as they remain active.  Swagbucks now has a loyalty program too, launched in February 2019.
91.  Using Apps – the United MileagePlus X App gives extra points for some stores and services (like Airbnb).  Stack with gift cards at office supply stores, supermarkets, and discounted gift card retailers for even greater rewards.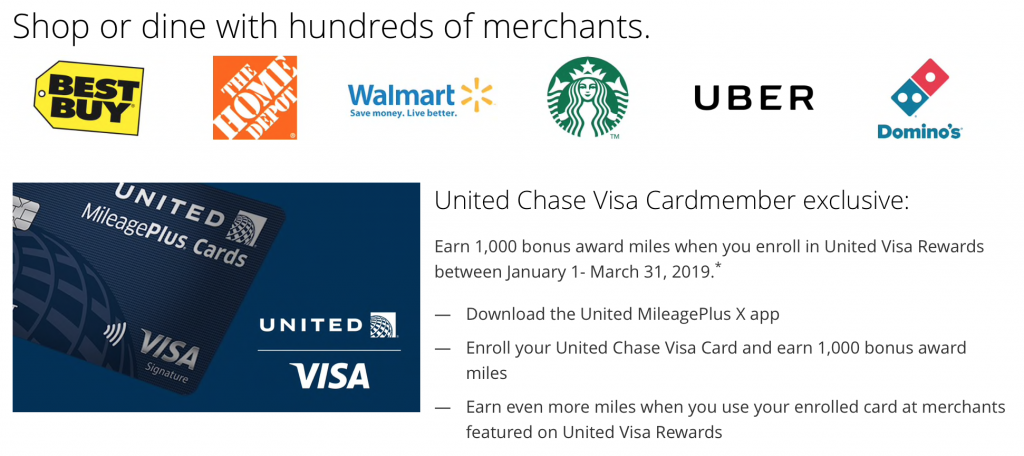 92.  Authorized User (AU) – getting an additional credit card for or from a friend or relative can grant access to more points potential.  Most credit card companies give authorized user (personal) cards out without credit pulls or social security numbers, but some charge fees for extra cards.  Note that primary cardholders are responsible for any transaction from extra AU cards.  With that said, make solid decisions on who may get an extra card that's linked to you.
93.  Joining Sam's Club – the store chain has offered some nice AA mileage bonuses in the past for becoming a member.  
94.  Wine Clubs – with most wine clubs, customers are sent new wines over a period of time (often every month) and earn extra points and miles for each purchase.  Sign up bonus miles also generally accompany wine programs, along with additional points when wine is purchased.  Airline programs with wine clubs include Alaska Mileage Plus: Vinesse Wine Club, American AAdvantage: Vinesse Wine Club, Delta SkyMiles: Vinesse Wine Club, Southwest Rapid Rewards: Laithwaite's Wines, and United MileagePlus: Vinesse Wine Club.  Laithwaite wine has offered 2,000 Southwest Rapids Rewards miles to join its club. Vinesse has a bunch of point bonus offerings with airlines and hotels including Delta, Amtrak, Hawiian, Spirit, Best Western, Hilton, Choice Privelages, and Club Carlson.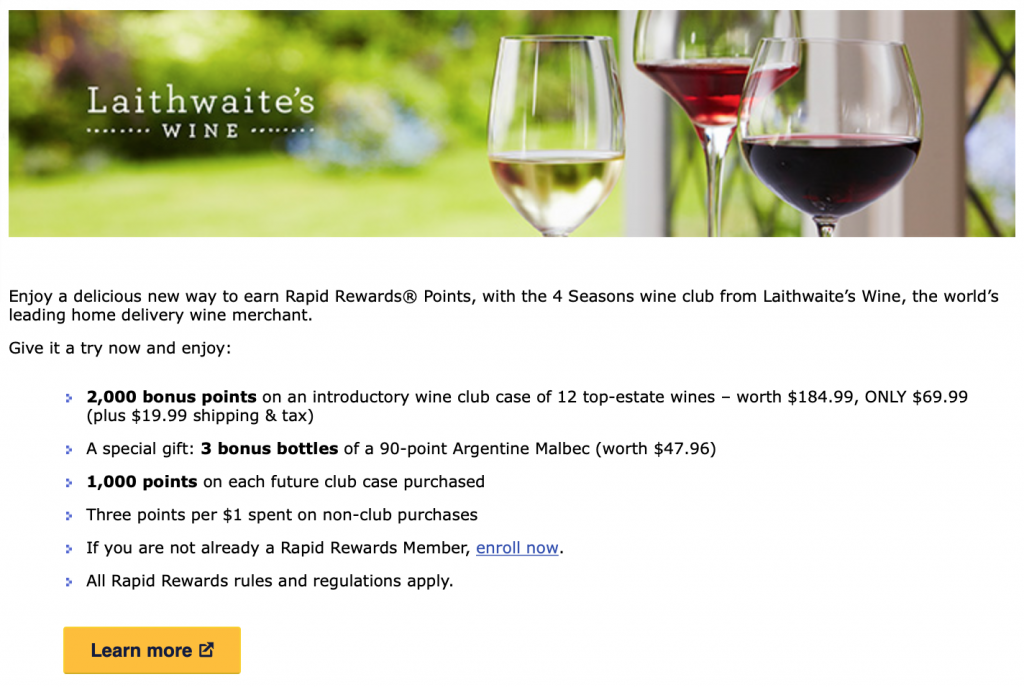 95.  Family miles – if you take a trip with your kids, don't forget they are earning frequent flyer miles for their flights.  Some frequent-flyer programs like JetBlue and British Airways allow families to pool or combine their miles at no cost.  Frontier Airlines also now allows pooling of miles.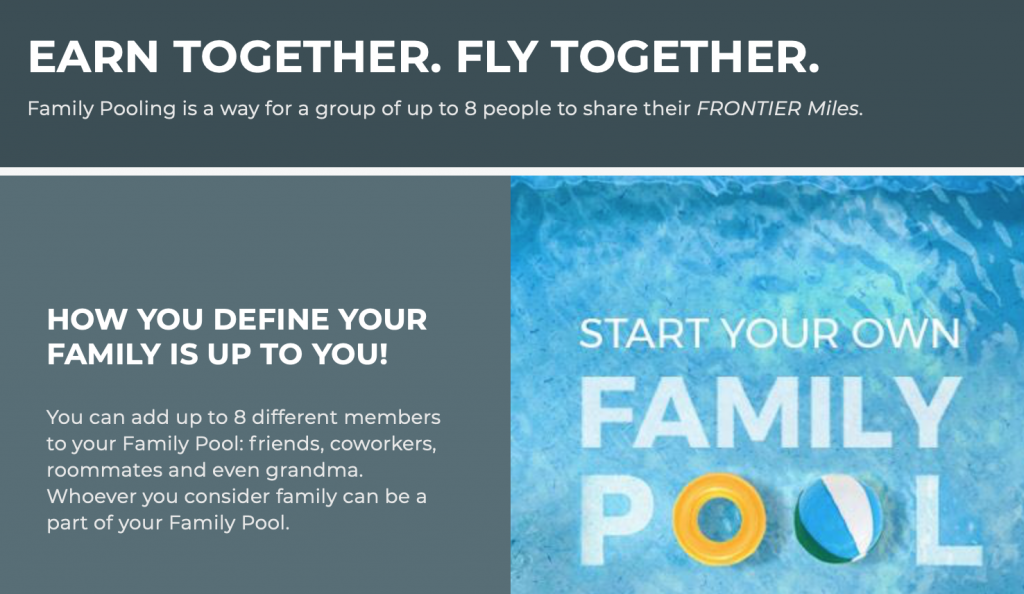 96.  Other products – Webflyer maintains a list of current promotions for anything from flowers to jeans and hardware.  Amex and Chase also have promotions on everyday products and services after logging into your online accounts.
97.  Dating – eHarmony and match.com occasionally offer mileage bonuses for joining their dating websites.
98.  eBay Bucks – a program that earns rewards for buying and selling on the website that can be redeemed for gift cards, which can then in turn purchase airline and hotel gift cards or other products from the website at a discount. 
99.  Buy a car – promotions for auto sales like earning 25,000 to 50,000 United miles for the lease or purchase of a new Mercedes.

100.  Thanks Again Points – use a phone app to make purchases and collect points that can later be used to purchase a variety of options.  Simply register an Amex, MasterCard, or Visa credit, debit or prepaid card, make purchases using the app, then redeem your Thanks Again Points for cash back, airline miles, hotel points, TSA Precheck, and other airport perks.
101.  iBotta– your data now can earn your rewards.  iBotta works by taking a photo of your receipt that's then matched to promotions linked with certain products that you may have purchased.  Those promotions earn you cash back rewards that can be transferred to PayPal, Venmo, or redeemed for gift cards.  Note that gift cards are likely excluded from earning iBotta rewards.
102.  Other travel promotions– Frequent Flyer Bonuses has compiled list of promotions that earn extra miles for certain flight routes, hotel stays and much more to fit a variety of travel needs.  As an example, in June 2018, Iberia Airlines offered customers an incredible 90,000 bonus Avios if they spent roughly $350 flying with the airline.  
103.  Play Games – Spirit Airlines has offered free miles in the past through sites like FreeSpiritPlay just for playing games online. 
104.  Pay for Student Loans – GiftofCollege gift cards were sold in Babies R Us and Toys R Us, each of which could earn category bonuses for extra points/miles and pay for college expenses at the same time.  It appears that select Target stores now stock these cards.  Paying federal student loans over the phone with MC or VISA debit cards is still a viable option too.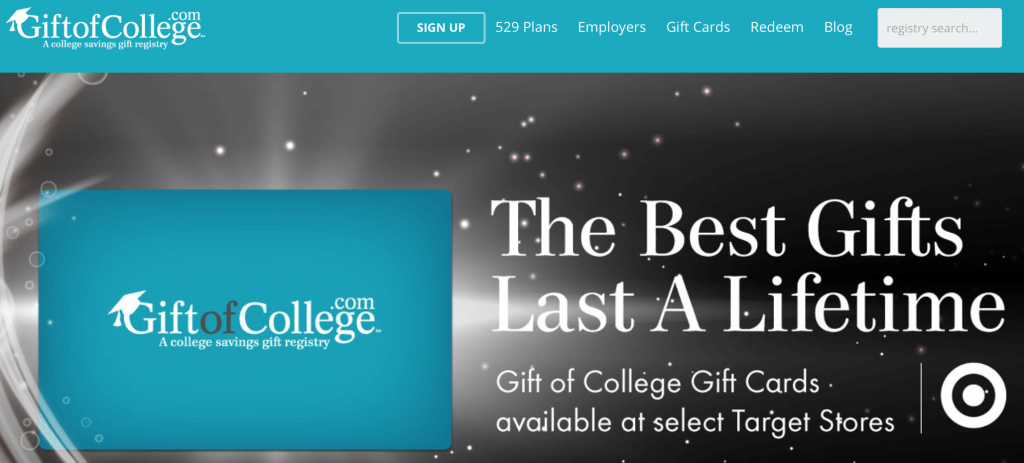 105.  Points redemption rebates – credit cards like the Citibank and Barclays American Airlines credit cards have earned rebates (10%) back on redeemed miles, but that perk is going away (May 2019).  The Barclay Arrival Plus 5% rebate on redeemed points still works.
106.  Refinancing student loans – places like Credible.com have offered up to 50,000 United miles for refinancing your student loans with them.  In June 2017, Jet Blue also offered up to 50,000 miles for refinancing student loans through Sofi.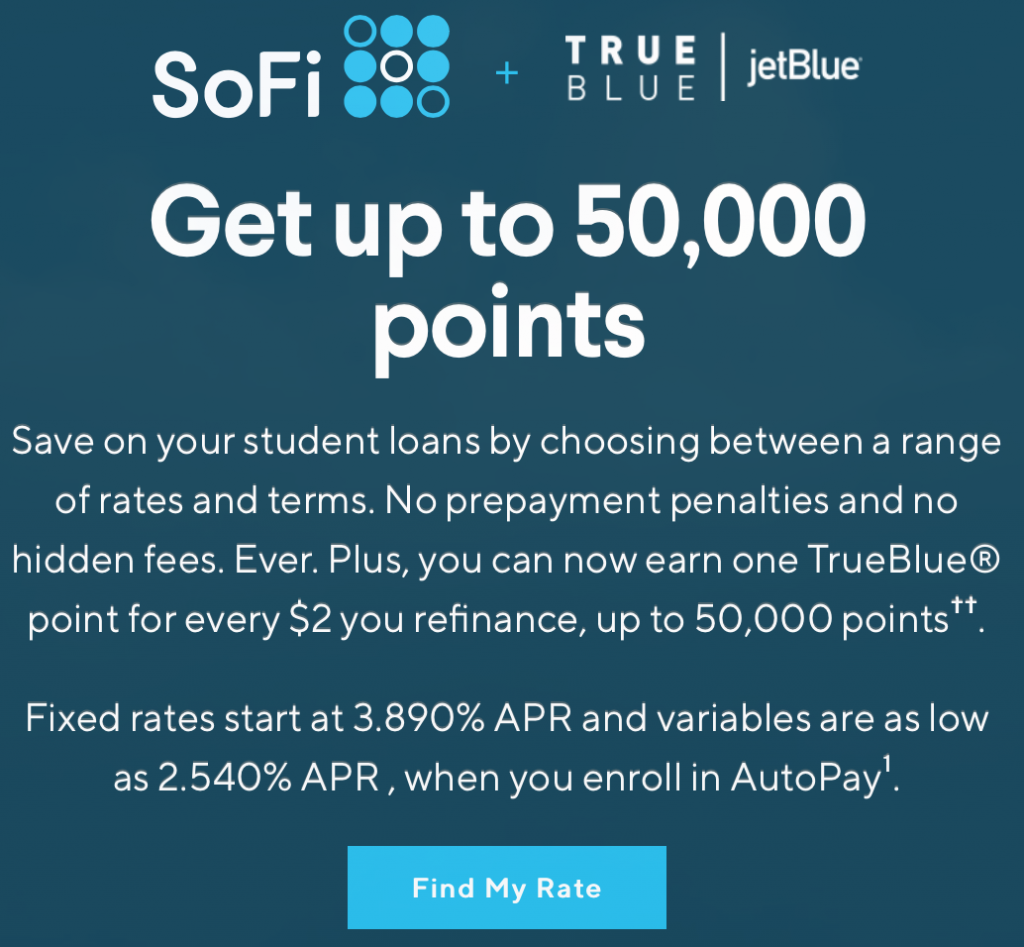 107.  Buy Bitcoin or other cryptocurrencies – investment vehicles like Bitcoin have been possible to purchase with a credit card.  Crypto purchases from websites like Coinbase, CoinMama, BitPanda, and others usually incur a rather steep 3% to 4% fee, while other banks don't allow crypto currency purchases via credit card.  These instruments are very volatile though, proceed with caution.
108.  Pay forward – you can overpay your credit card (or other) bills, and have a negative balance, or possibly get a refund or statement credit for the difference.  In some circumstances, this can be done in substantial amounts, but I wouldn't recommend that for most people.  Paying forward can be a red flag on your account and could lead to a shutdown.  There can also be a difference in how personal and business accounts (by bank) are treated for overpayments.  
109.  Buy Gold – commodities like gold can be used as a tool in manufactured spend and/or reselling.  Similar to Bitcoin purchases, customers buy gold and pay a small fee (often around 2%) and hopefully sell at a time that breaks even or makes a small profit (including fees).  However, different tactics for buying gold for miles such as through eBay Bucks, and cash back via Paypal may not be available now.  Buying commodities like gold is a risky method but some people have accumulated substantial rewards from it.
110.  Buy Fractional Stocks – Stockpile (https://www.stockpile.com) offers individuals the opportunity to invest in dollar amounts (not share amounts) in individual stocks, ADR's (which enable you to invest in non-US companies), and ETFs.  Some stocks are extremely expensive and out of reach financially for many consumers, but Stockpile allows people to own pieces of those companies.  Since buyers are not buying stocks but investing amounts of money, gift cards are also an option for customers.  Customers can buy stock using a credit, debit card, or PayPal.  Purchases are 99 cents (plus a 3 cent credit card fee).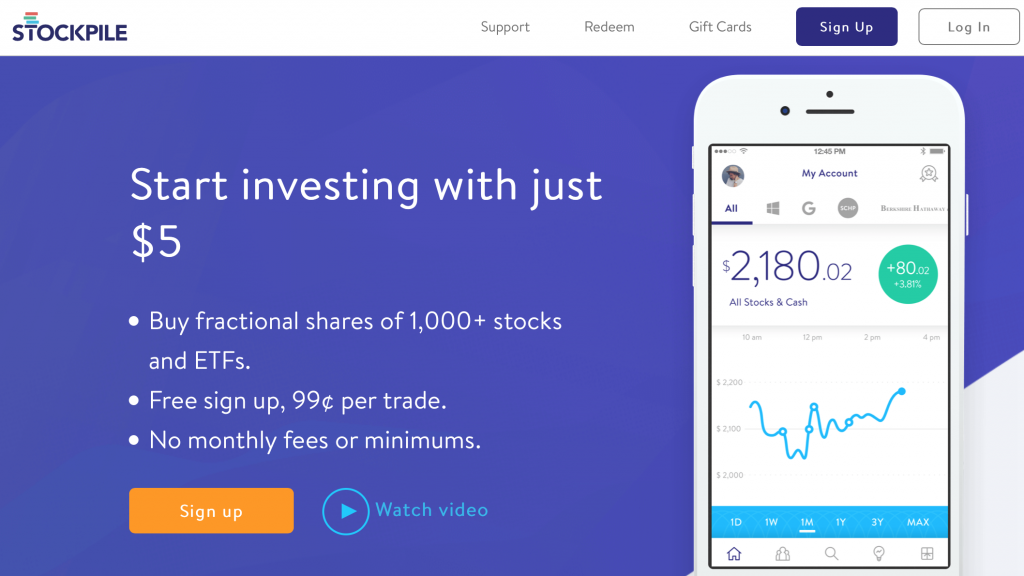 111.  Twitter – Contests from blogs, banks, airlines, hotels, and other travel linked companies often have Twitter tie-ins that generate rewards.  Marriott offered a promotion that allowed up to 45,000 points to be earned via social media.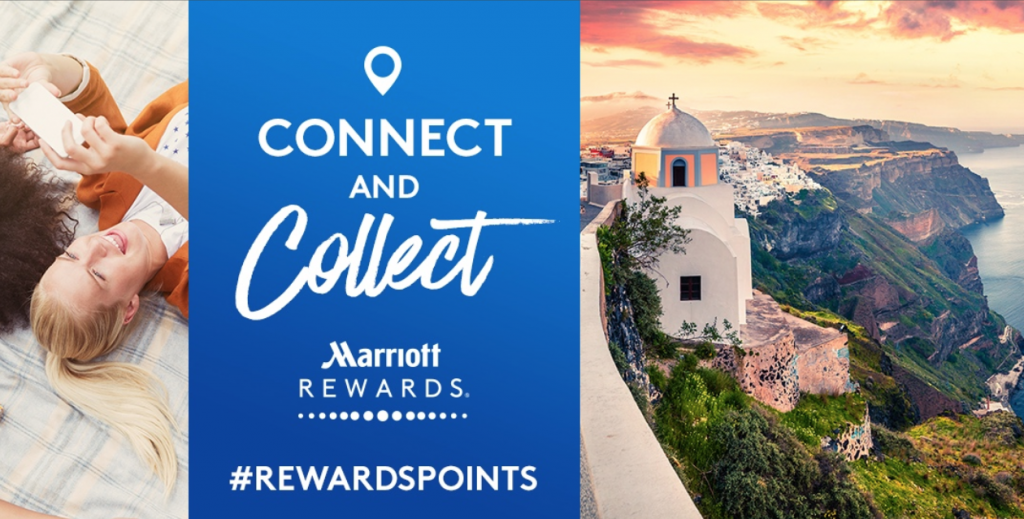 112.  Facebook – Contests from blogs, airlines and hotels often have Facebook like or share tie-ins that generate rewards.  For example, VOILÀ Hotel Rewards recently offered 1,250 points when you like the VOILÀ Hotel Rewards page on Facebook with one member winning 150,000 points in the same promotion.  Facebook is huge and incentives for likes and posts are only increasing.  Points and miles focused Facebook groups also abound.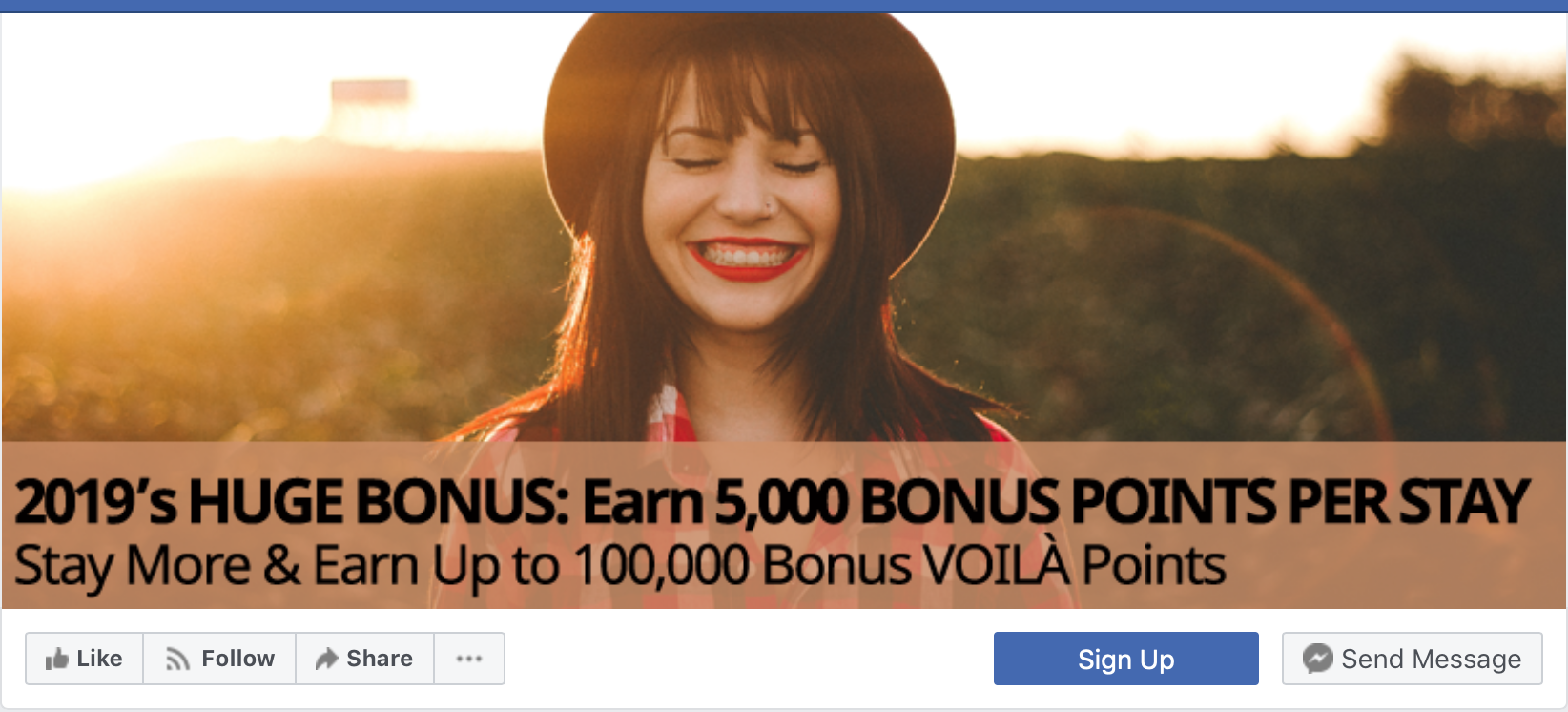 113.  Instagram – sometimes creating or sharing photos from trips, airlines, hotels, or other events can earn rewards.  Marriott has offered points to loyalists by linking Instagram and Facebook accounts with the company.  Members earned 750 points for connecting their  Facebook, Instagram and Twitter accounts (250 per account), and 250 points for following Marriott on Instagram and Twitter.  Beyond points, many companies offer photo contests linked with photos and sharing for an assortment of prizes including free travel.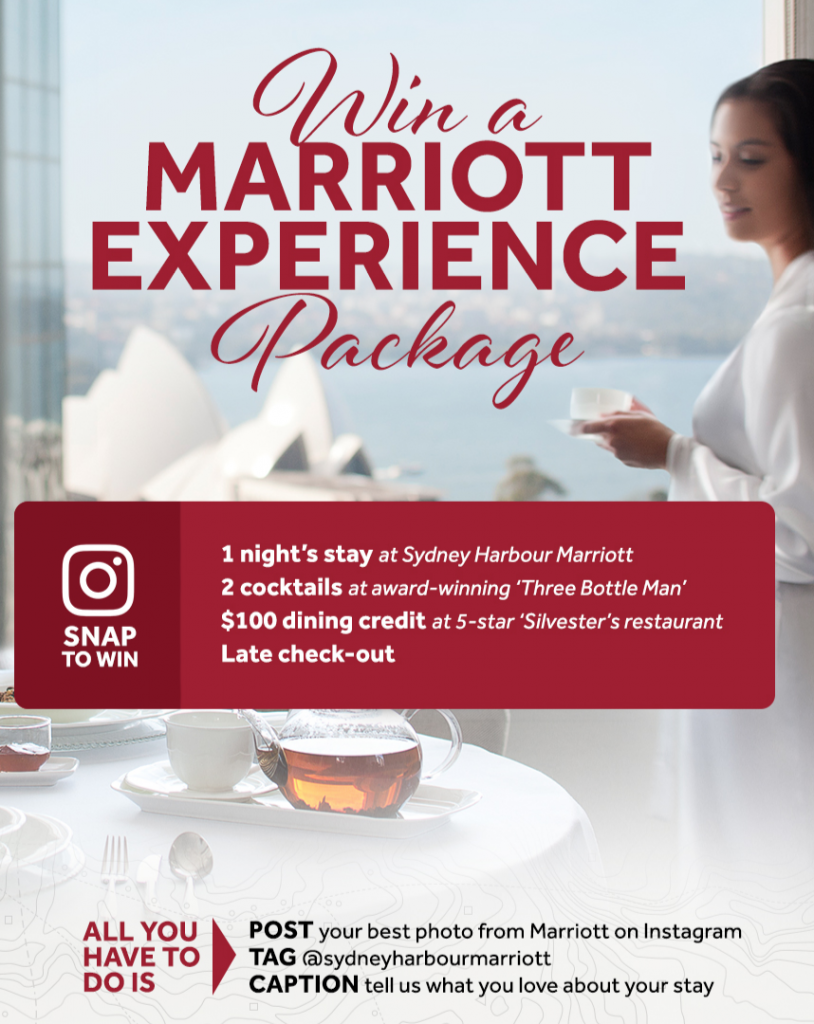 114.  Additional addresses – buying consumer products in bulk, or Visa, Mastercard, and some store gift cards (for reselling), then having them shipped to an additional address can increase purchase volume and rewards, sometimes dramatically.  A P.O. Box address may or may not work for some shipments and physical addresses are sometimes required.
115.  Flexible Point Transfers – points from flexible currencies can be transferred to your favorite airline or hotel partners.  The flexible currencies like Marriott Rewards, Chase Ultimate Rewards, American Express Membership Rewards, and most recently, Barclay Arrival and Capital One miles all allow points to be transferred a number of travel partners.  Sometimes these transfers offer substantial (10%-40%) bonuses.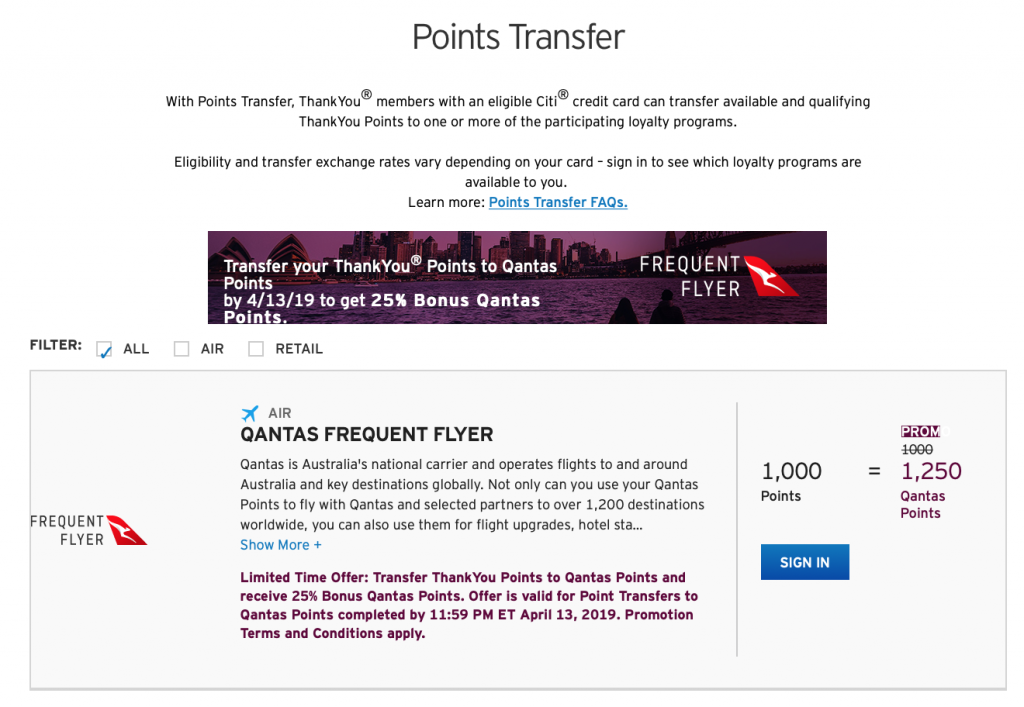 116.  Stay at lower category hotels – the points world is filled with blogs and photos touting flashy hotel suites, ocean front villas, and amazing city view rooms.  But those stays cost points, and generally lots of them, even with top tier status.  You could have an equally great time in a city and stay at a lower category hotel, saving points in the process.  As an example, Loyalty Lobby maintains a useful Hilton webpage that details all of the hotel properties that offer outsized value.  
117.  Fly coach instead – seeing photos of first class flights with champagne, huge seats or even apartment beds is a high standard to achieve for many, especially for families.  There are almost always more coach/economy awards seats available with points than business or first.  Flying coach in long haul transoceanic trips isn't easy, but it is the cheapest and will also probably be the easiest to book.  Flying to the Carribean, Hawaii, Mexico, or Central American isn't that far from the U.S. and sitting in coach for a family is entirely doable.  Flying coach will save you and your family a ton of points.
118.  Inventory Buying – sites like Kickfurther have opportunities for people to earn points by investing in inventory for companies needing capital to grow.  Basically outside investors purchase shares of inventory and get repaid when it sells.  Repayment may take a few months to recoup the initial investment so the float time may be substantial.  There is also risk involved in an investment like this too so read the fine print for more details.
119.  Utilize hotels.com – Like staying in hotels but possibly not big brand chain hotels like Hyatt, Hilton, and Marriott?  Hotels.com has an abundance of hotel properties to choose from in towns and cities all around the world.  Hotels.com gift cards can be purchased from Staples via the Chase Ink cards at 5x.  You can also utilize cash back (www.cashbackmonitor) with Hotels.com to earn even more rewards/cash back.
120.  Upgrade to higher annual fee rewards card without hard credit pull – some banks allow some existing cardholders to upgrade from lower or no annual fee rewards cards to premium products.  For example, in 2018, American Express offered a Hilton Aspire upgrade with a prorated annual fee, 150,000 bonus points, and all without a hard credit pull.  Better yet, the Aspire bonus could be earned again in the future.
121.  Mock Booking – sometimes customers can go through a hotel booking without actually submitting it and an enhanced points/miles credit card offer will appear that beats the current publicly available offer.  Hilton has offered higher than publicly available offers to customers attempting to book rooms on their website.
122.  Airline Courier – programs like Airmule allow airline passengers to make money by transporting goods to various destinations.  China was the first country to be included on the transport route list, with India, Thailand and others to follow in the near future.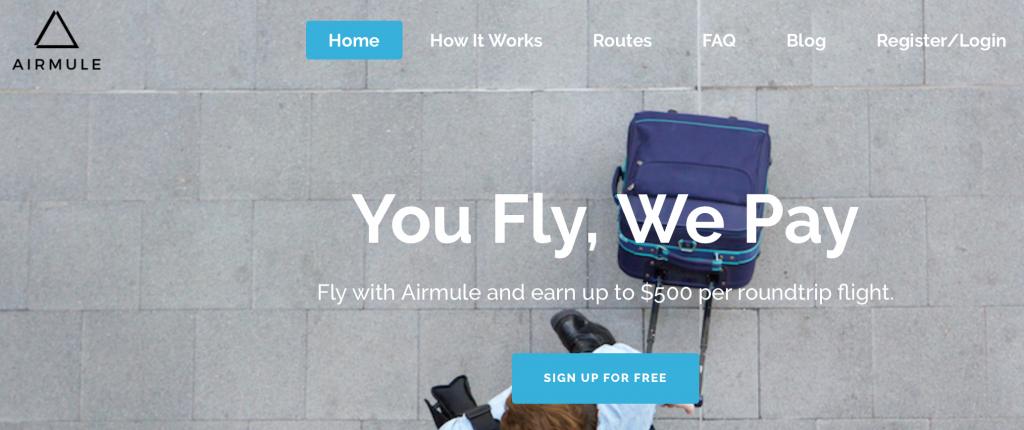 123.  Hotel to Airline Transfer Bonuses – In September 2018, Marriott offered a 35% bonus for points transferred to Aeroplan which allowed 60,000 Marriott points to be converted into 20,000 airline miles, along with a 5,000 mile bonus (for every 60,000 Marriott points transferred).  Most hotel to airline transfer rates are very poor, but this promotion basically allowed a conversion of Marriott points to Aeroplan miles at a ratio of roughly 1.78:1.
124.  Sweetspot Award prices – collecting multiple types of rewards points is often beneficial because it allows access to different airlines and therefore different award charts and rates for the same flight routes.  Flying to
125.  Casino and Hotel Programs Partnerships – M-Life and Hyatt have a partnership in place that allows double rewards dipping/earning.  M-Life eligible says will earn Hyatt loyalists 5 Gold Passport points per dollar spent at participating MGM Resorts that also includes elite bonuses for Hyatt Platinum or Diamond status members.  For each qualifying stay, 25 M life Tier Points are also earned per dollar.  There are more intricacies in this partnership such as what an M life-eligible stay is, Tiers and Base points, Comps, and points earned for your room vs. all rooms in the reservation, and more so read the more about the programs and partnership before booking.
126.  Airline Award Sweetspots – an award sweet spot is when a flight purchased with miles that is significantly cheaper with one airline than it is with another.  Realizing there are better miles to use for certain flights/routes can save thousands of miles.  For example, flying to Asia using Delta miles on Delta aircraft is actually more expensive than using Virgin Atlantic miles and flying on Delta aircraft on the same routes.  The same can be said for using Etihad Miles to fly on American Airlines aircraft (vs. Etihad's own planes).  The difference in miles, especially in premium cabins could be substantial, plus possible savings with fuel charges and taxes depending on the airline and flight routes.
127.  Use Companion Passes on Paid Flights – using a credit card's companion pass with some airlines earns rewards but not with all.  The Platinum Delta SkyMiles Credit Card and Delta Reserve from American Express offer miles to the primary passenger, but not to the person using the companion pass.  The AAdvantage Aviator Silver World Elite Mastercard does not offer miles earned with companion pass use.  Southwest's Companion Pass allows only primary passengers to earn Rapid Rewards points.  However, the Alaska Airlines companion certificate that comes with the Alaska Airlines Visa Signature credit card allows both people the opportunity to earn miles.
128.  Trade airline miles for Amtrak points – it's possible to convert/trade some airline miles, such asIcelandair miles into Amtrak Rewards.  United also has a partnership with Amtrack on flights from Newark Liberty National airport.  Not all trades give equal value so check each program to see what may be possible.
129.  Pet Grooming – Recently American Airlines sent me special promotion via email to join Rover, a pet services company that provides options like dog walking, pet boarding, drop-in visits, dog walking and more for pet owners.  Basically pet service providers contract through Rover for jobs and Rover takes a cut of the service transaction.  I hadn't heard of Rover before, but the promotion offered a nice 2,000 mile bonus for an initial try with Rover.  I don't have a pet, but others who may have an interest in such a service should try this link for the same promotion.  More and more companies are trying to link with airlines for services and goods, and bonuses for first time uses/purchases are bound to increase in frequency too.
130.  Downgrade credit cards – moving up in credit card class (and often annual fees) is one way to earn more rewards, but downgrading from one credit card into another might actually earn more rewards too.  For example, the Chase Ink Preferred often has a sign-up bonus of 80,000 Ultimate Reward points.  That sign-up bonus is substantial, but many people aren't able to maximize the category spend bonuses.  Downgrading the Ink Preferred into the no annual fee Chase Ink Cash card is often a cheaper, and better annual points earning strategy for most people, as it gives a whopping 5x earn rate for up to $25,000 in office supply stores (which includes gift card purchases).  That change opens up opportunity for at least 125,000 Ultimate Rewards in a year, all with no annual fee.