16 Jun. 2018
Shutdown
About 6 months ago I was shutdown by Barlcays.  The shutdown was unexpected, affected 3 rewards cards that I had with the bank, and it was largely my fault.  Basically late last year I took a couple of back to back trips overseas, and used Barclays Arrival Plus card for a good deal of the trip expenses.  After the trip was over, I redeemed points for major travel related expenses (anything over $100), but noticed that a significant amount of smaller expenses remained.  Since I wanted my trip expenses to be as low as possible, I called Barclays to see if I could use points for an array of travel expenses under $100.  Barclays said yes, created a case number, and the charges fell off my card a few weeks later.  Then 24-48 hours after the charges were eliminated, my account was closed.
Call Me Maybe
From other Barclays shutdowns, it seems like a shutdown with the bank isn't a lifetime ban.  That part is good news.  Most sentiment that I've encountered seems to point to a 6-8 months blacklist until Barclays will allow you to be approved for one of their cards again.  That 6 month mark has now passed, but to hopefully improve my chances, I've decided to use what I learned with Citibank and open a savings account with them.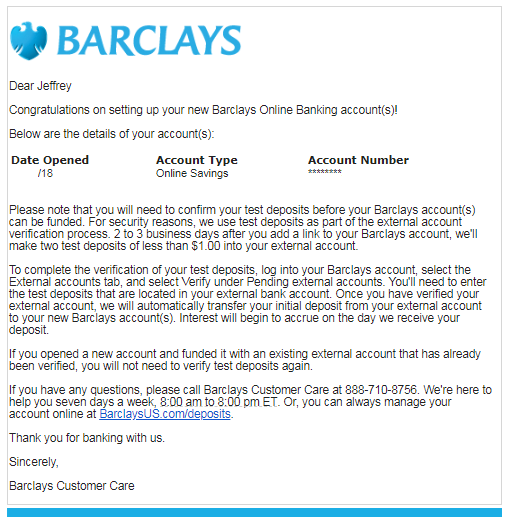 Barclays didn't have a checking account option available to me, so I'm hoping that opening a savings account might either
 Improve my chances for a credit card approval
Create an offer code for one of their credit card products either via email or mail
I'm assuming that without an existing line of business with Barclays, I won't be part of any target (credit card) offers.  That's especially true from my fairly recent shutdown.  Hopefully a savings account with Barclays, even a small one, will sweeten the pot for some new credit cards.  In the past, I churned the Arrival Plus twice and did a pretty heavy amount of manufactured spend (MS) on them.  If I was to get approved for another one, I would probably treat it in a similar way but perhaps MS them not quite as much.
Conclusion
Barclays has reintroduced the Arrival Plus, this time with a 60k sign-up bonus offer.  That offer has made me want to be a customer again, as Barclay Arrival points are very versatile for travel redemptions.  After 6 months of shutdown, I'm going to try and get back into Barclays' good graces, hopefully with a savings account.  In the end, if my Barclays relationship is toast, it's definitely not the end of the world.  I don't have any Barclays branches near me.  I'm not looking to put any substantial money into a loan, or any significant investments with them.  I just want their rewards cards.  Before my shutdown last year, I did a really good job at accumulating Arrival Plus, Choice Hotel points, and Lufthansa miles that paid off with some nice redemptions.  If I can back into Barclays good graces again great.  If not, there's definitely life with other banks.