22 Sep. 2021
Amazing Grace
I love America's national parks.  The amount of geographic diversity we have in our country is incredible.  One of my favorite places to visit in the U.S is southern Utah.  If you haven't been there, I highly recommend it.  Utah has some of the most beautiful land in the country, but many don't make it there.  Zion National Park is also in my top 5 national parks in the U.S.  The trip took place during the first week of September.  I'll go over the trip a little, share some photos and thoughts, then go over my costs and how I offset those at the end of the post.
Trip: 5 National Parks:
Zion National Park
Bryce Canyon National Park
Capitol Reef National Park
Canyonlands National Park
Arches National Park
Plus Salt Lake City & Park City
900 miles of driving
30 miles of hiking
The Narrows (Zion)
Angels Landing (Zion)
Plus Shafer Canyon Road (Canyonlands)
A few photos from the trip:
Inside the door of the Riverside 1 Bdrm King Suite (upgrade via Diamond status) at the Hilton Cliffrose Springdale in Zion National Park.  I was really excited to stay here, but unfortunately was left wanting more.  I had thought the property would be Hilton's answer to Hyatt's spectacular Ventana Big Sur.  But it's not; in fact it's not even close to it.  The living room and kitchen are in one room, with the bathroom and bedroom in the other.  The interior was pretty average looking, and the rooms kind of sparse, lacking a luxury or even 'upgrade' feel.  I wanted to be impressed with the room and had high hopes, but was mostly disappointed.  Suits me for creating high expectations in advance!
The bedroom was fine.  Nice pillows, comfortable space, good tv.  But again, for the prices often charged for this hotel and this room, especially at peak times (saw this room for over $1,000/night for some peak season nights), it wasn't an off the charts feel.  The lobby is very small, the bottom of the curtains in the living room were dirty, and the rooms were sparse looking and feeling.  There really isn't much about the property that gives off a luxury vibe.  The selling point for the hotel is 1) the proximity to the front gates of Zion.  At around 300 yards away, you can walk to the front gate at Zion. Other hotels require a longer walk, shuttle, or drive to the park then parking and using the national park shuttle.  Once you're in the park, using the park shuttle to get around is wonderful.  The shuttles are on time, quick, and almost no waiting.  And 2) the mountain views, which are amazing, in the back of the hotel.  It looked like all rooms have a mountain view and deck/balcony, but I can't confirm that.  All rooms also look like they had either a patio or balcony area.  Being an upgraded suite, we had a small patio with an oldish grill along side metal chairs and table.  There's also a river in back of the hotel and an outdoor restaurant.  It's odd too because across the river there's an RV park that is actually closer to the mountain views, but they probably pay $30 a night (vs. the $400+ a night for this room).  The property is the last hotel before Zion's park entrance so it's a popular place for travelers, especially during Covid.

For me, walk in showers are kind of mandatory in a nice hotel room.  Hotels with tub based showers are almost always underwhelming.  This bathroom was fine, but not great.  I stayed at a 28k per night Hilton DoubleTree in Minsk, Belarus that had a nicer shower and bathroom than this (80k – 200k+ points per night) one.  The staff was nice, as was the management.  Securing an upgrade before our stay was a bonus, but the room and property, needs some upgrading.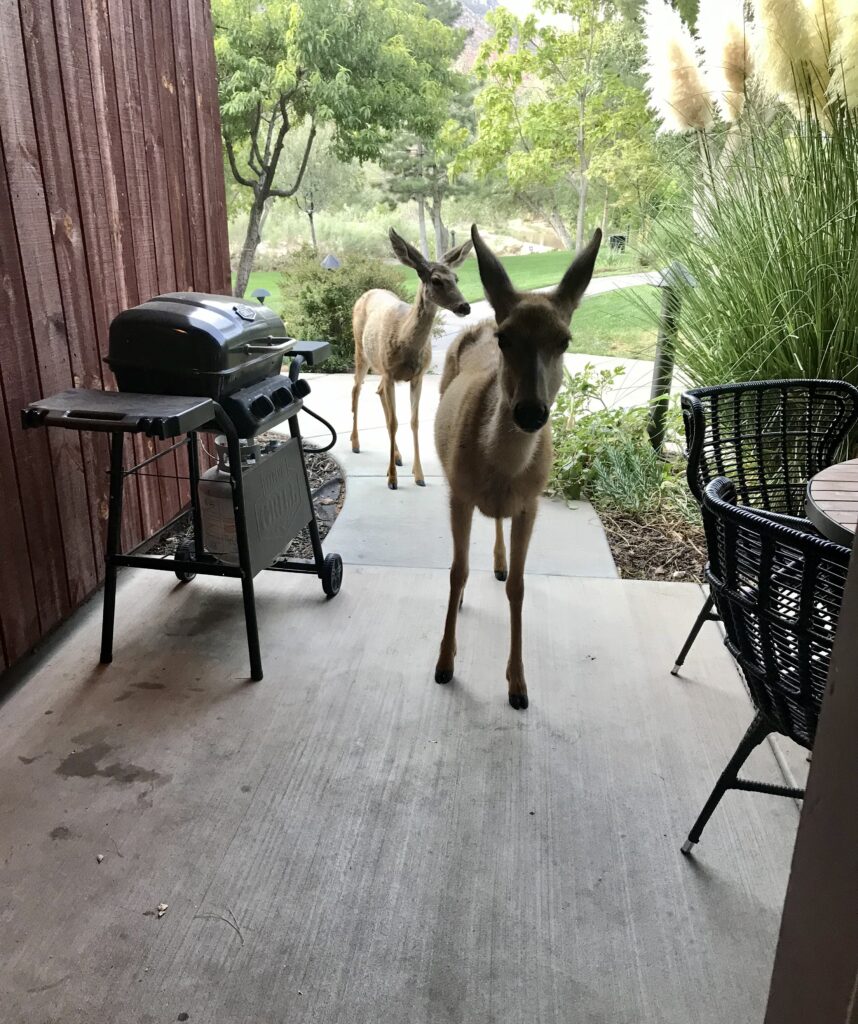 Deer were in our backyard every morning.  This day I popped some popcorn and that got some big time attention!  There were fruit trees in the grass in back of the property so the deer seemed to like that as well as the nice green grass.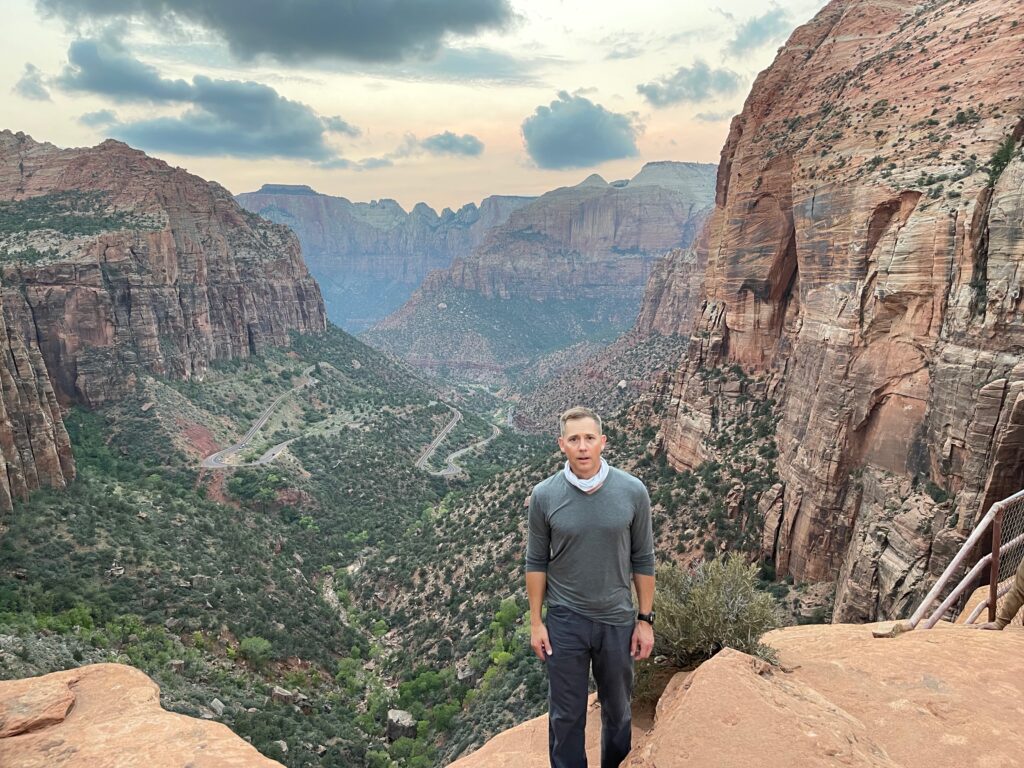 Atop Observation Point in Zion National Park.  It's an incredible view.  I recommend visiting early morning or late evening.  This was near sundown on day 1.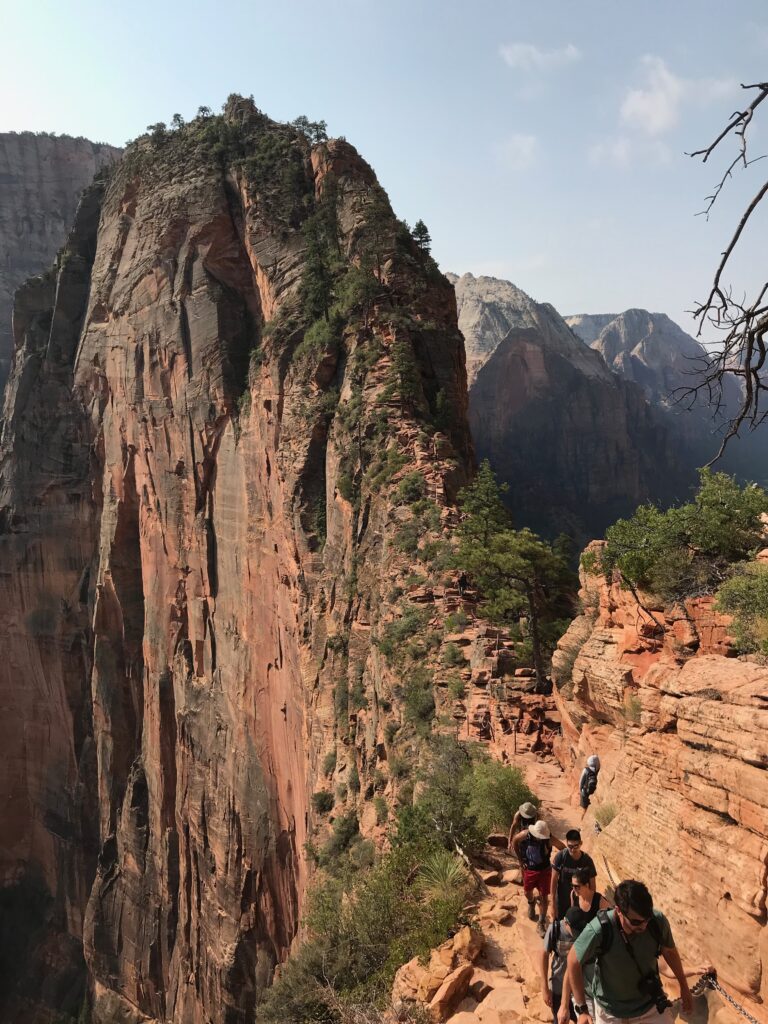 "Are we going up there?" – Yes, we are.  Just before the final ascent of Angels Landing.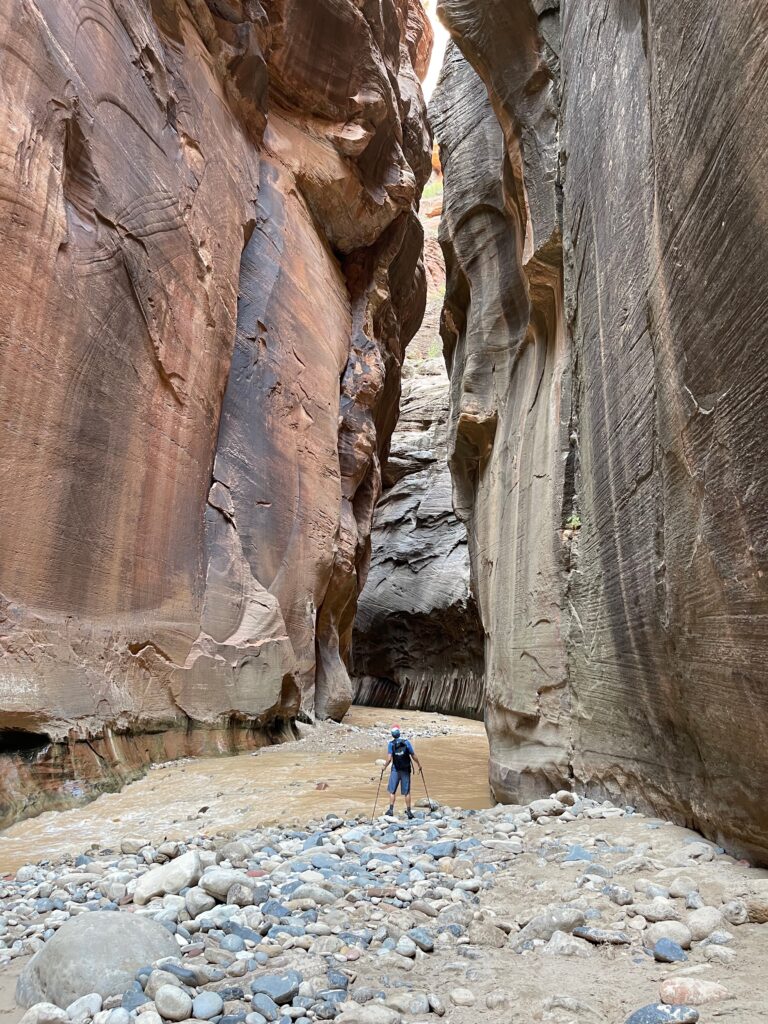 The Narrows in Zion National Park.  We hiked about 5 miles upstream, but you can go all 13 miles.  We had to catch the last bus or we would have kept going, even after hiking Angels Landing earlier that morning. The further you got, the cooler it seemed to get.  After 15 miles of hiking that day, with 10 of those miles through water, we were pretty exhausted that night.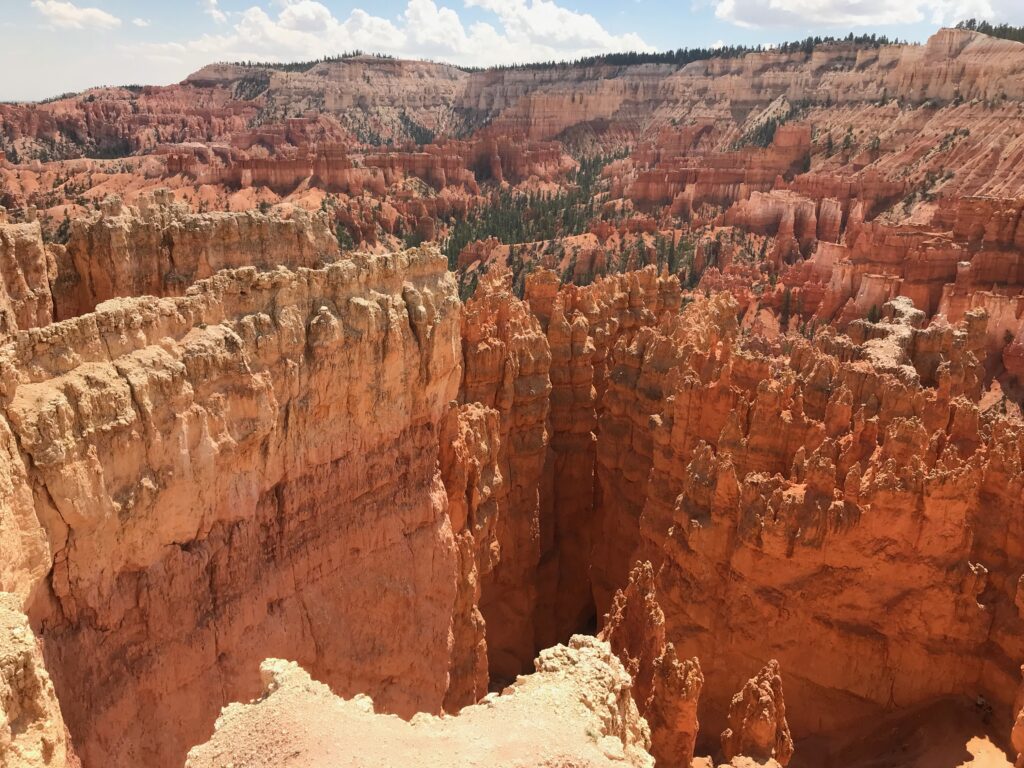 Bryce Canyon National Park is beautiful, and a little less than 1.5 hours from Zion. This was the second visit to the park and the first decent down into the trails to see it from below.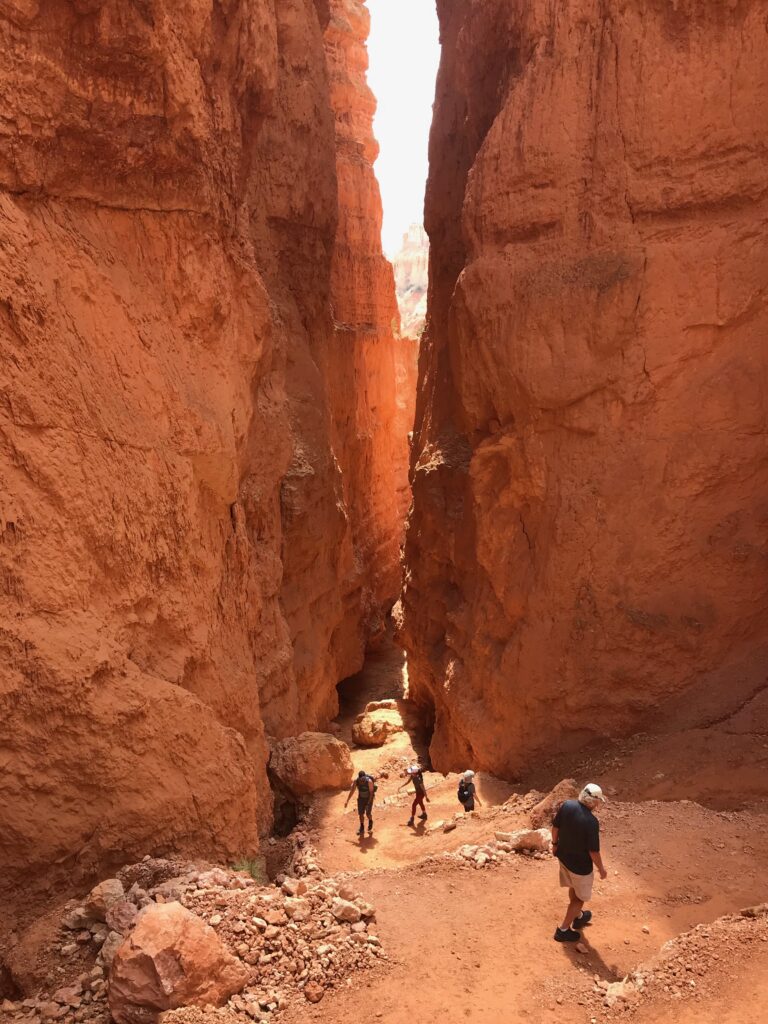 At the bottom of Bryce it's much cooler if you're in the shade, but a cooker if you're in the open and in the sun.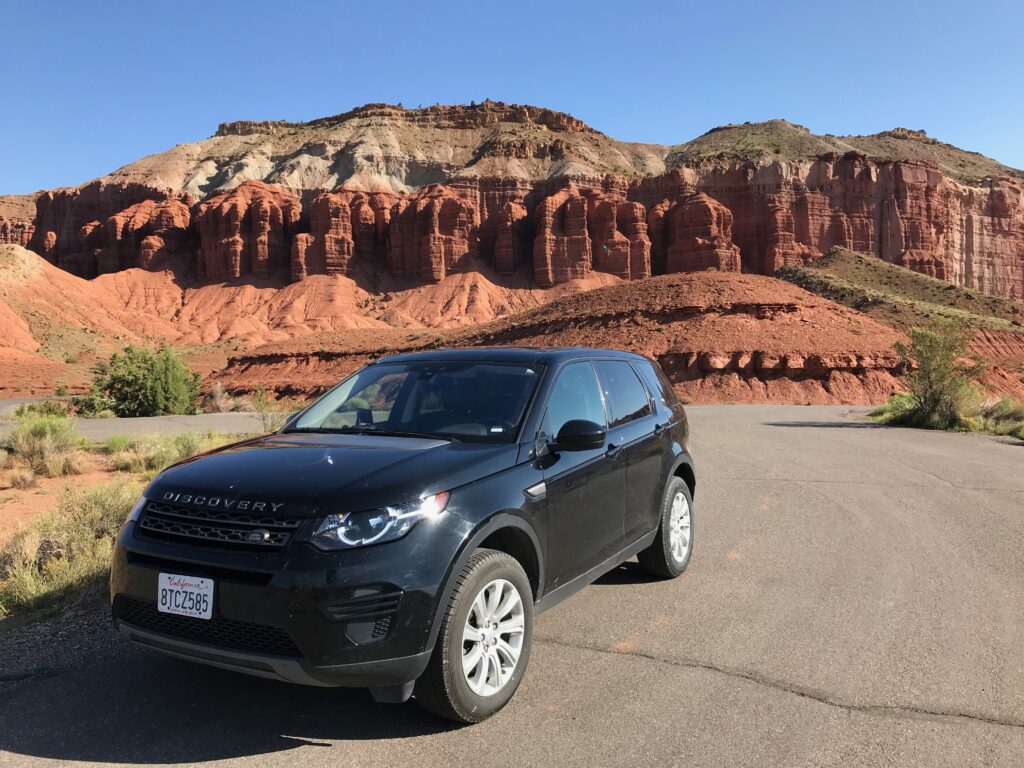 The upgrade from Alamo = Range Rover Sport.  I have no status with Alamo and haven't rented with the company in many years. But the agent explained to me that since we were ultimately going to Salt Lake City, I was doing him a favor transporting this vehicle there because they can rent it out for more money at that location.  At first I wasn't too taken with it and didn't understand why people would buy something like that for such a big premium.  I've driven pickup trucks and SUVs and didn't get what the hype was about.  But over time, I thought the driving experience was the difference.  Lots of power but smooth, nice handling, sturdiness, and off road capability.  It was a great vehicle in Utah.  We saw lots of Jeeps on our trip, but I'd take the Range Rover in a heartbeat over anything else we saw.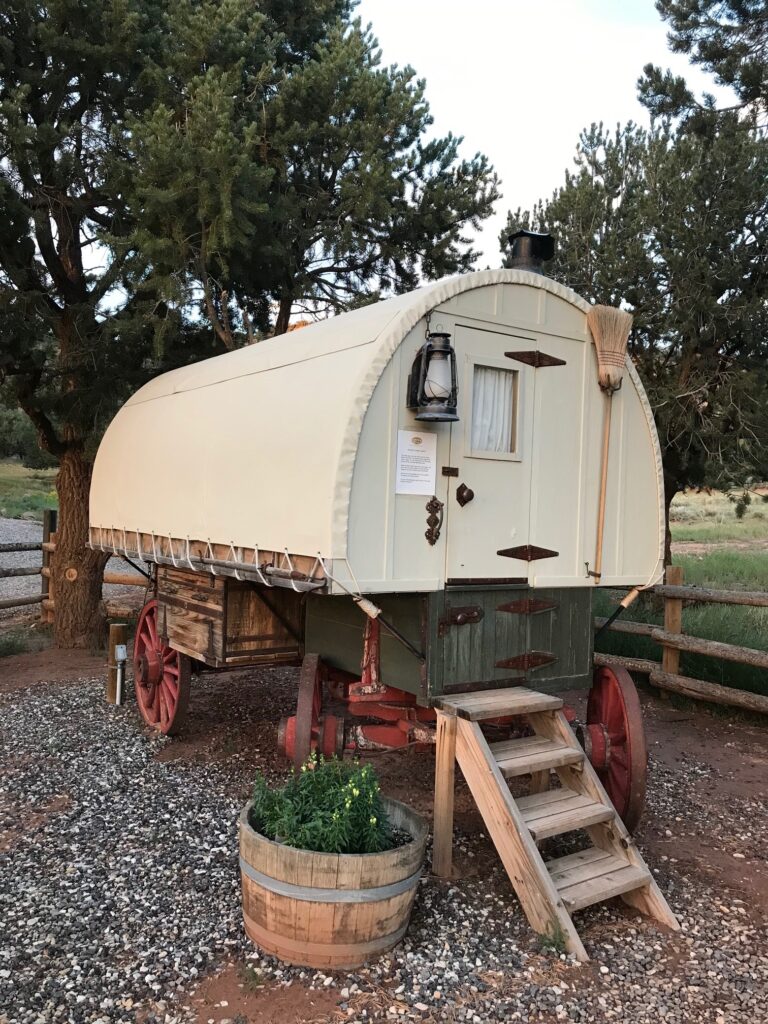 My gal offered to pay for a night at an Airbnb.  She does a nice job researching places to stay, and often finds unique options.  We arrived at this settler's wagon at sundown (thankfully, as it wasn't easy to find).  There was also a fire pit, and bathrooms on the property (50 steps away) with large acreage and views of the mountains in both directions.  The carriage was original but the top canvas was a replica.  There was an iron stove inside the carriage and raised full bed.  There was actually room for 2 adults and 2 children if you maxed it out.  Although it looked small, we had plenty of room inside.  Thankfully it was cool in the evening, as there wasn't much airflow.  Mid summer in the carriage would be pretty hot I think.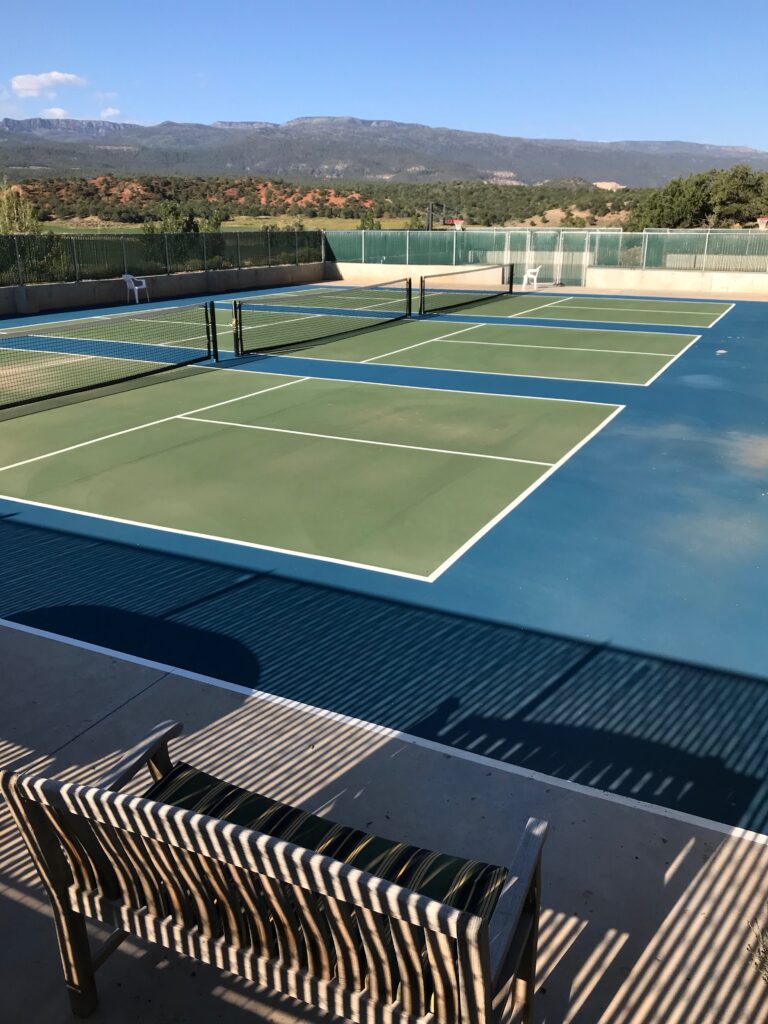 The owners of the wagon also had several houses on the property as well as a 3 court pickleball court and attached basketball court.  Needless to say, they weren't hurting for money.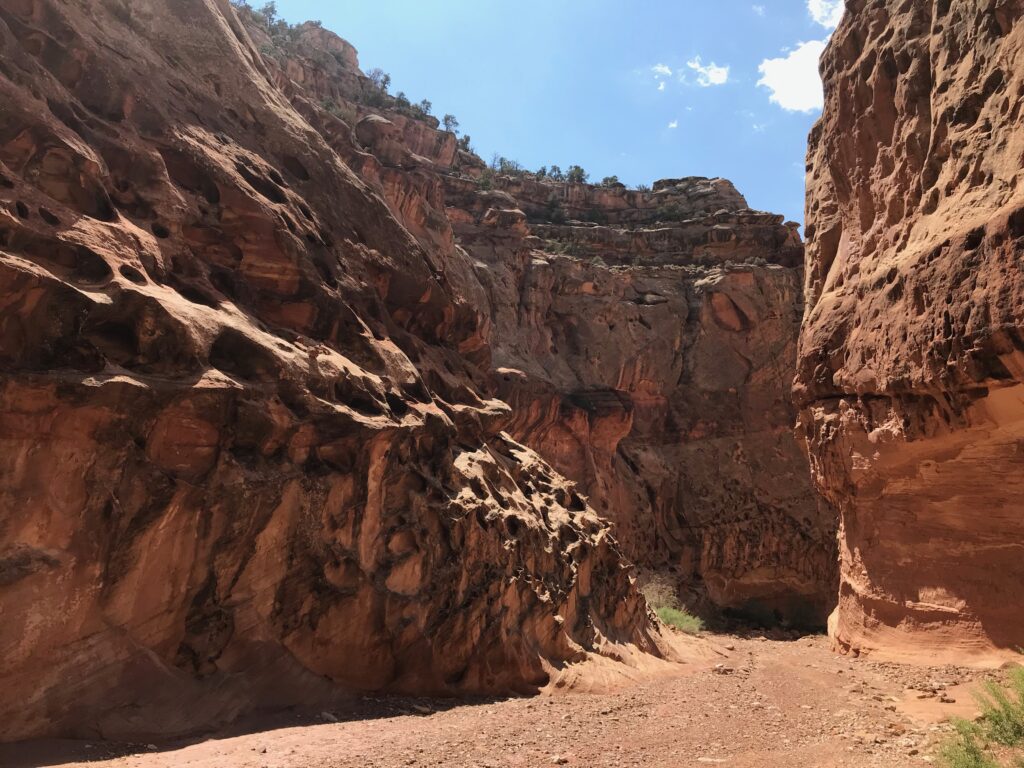 After Bryce Canyon and after staying at the Airbnb carriage, we headed for Capitol Reef National Park.  The rock formations there are odd, like being on another planet at times.  There are nice hikes though, with some nice shorter hikes.  We went on 3 hikes, even in 90 degree heat they were all really nice.
Near the "frying pan" in Capitol Reef National Park. I assume the name comes from being exposed to the intense sun in that area.  You're elevated and closer to the sun in almost every part of Southern Utah, so 90 degrees (with little to no wind) every day feels a bit hotter.  Packing plenty of water is the key, and mandatory if you don't want to have a serious health issue.

From Capitol Reef we drove to Moab to stay at the Hilton Hoodoo, another Curio property. This property was more luxurious, larger, and comfortable than the Hilton at Zion.  Our first dinner was pretty poor actually; the worse burger I've ever had – nearly tasteless, which is hard to accomplish!  Breakfast there was good though.  They have a pool here too, but it's on the small side.  I don't remember seeing a nice pool at any property in Moab, but with all of the hiking and sightseeing we did, there wasn't time for pooling.

We got 2 queen beds in a standard room for this (2 night) stay.  I called about 7-10 times before the trip including the morning of check-in to try and get an upgrade.  They didn't allow upgrades before arriving, as upgrades were "first come, first serve".  Even a call at 8 am the same day of check-in didn't produce a positive result, as there weren't any upgrades available because those rooms had been sold ahead of time.  Moab is a very popular area and the town isn't that big (population 5,200).

All aspects of this hotel were better than the property in Zion.  Just a more luxurious and modern feel to our room and the hotel vs. the Cliffrose in Zion.  This hotel also has a lower cash rate per night on average than the Cliffrose, yet was "better" in our opinions.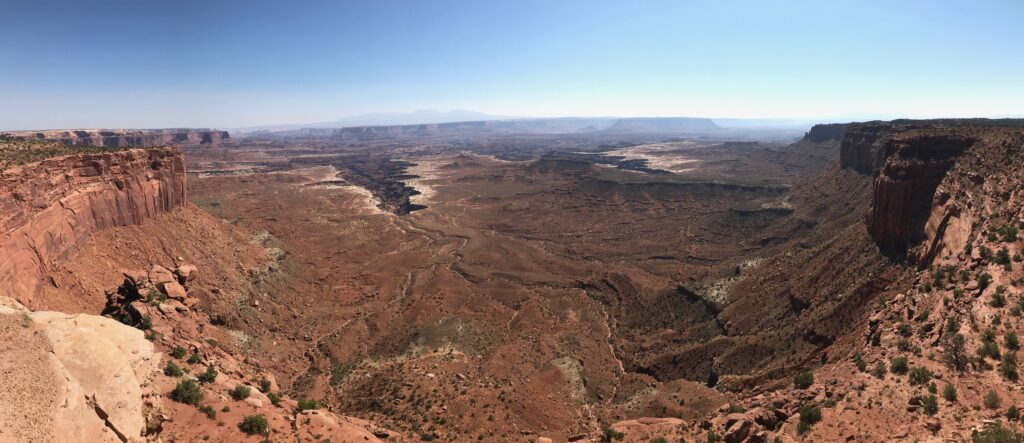 Canyonlands National Park and Arches are both just outside the town (population 5,200) of Moab.  Canyonlands is kind of like a min Grand Canyon.  The difference is that the Grand Canyon is one giant, wide open canyon, where Canyonlands is a wide open space with a canyons within canyons.  They are really amazing if you look closely.  Canyonlands is mostly a drive, stop, walk to a lookout and take photos kind of park.  The hikes are mostly longer in duration, and in 90+ degrees, you need some serious water  on a longer hike.  We stopped at every lookout, walked some shorter hikes for views, but did not do any longer hikes to save energy for Arches later that day.

On the way out of Canyonlands I wanted to check out Shafers Canyon Road, a slim, fairly terrifying dirt road that winds down a canyon that's full of switchbacks and no guardrails.  The road is mostly single lane with a few turnout spots for cars to pass/squeeze by one another.  You need four wheel drive in order to drive the road, and vehicles go up and down, creating issues because the road is so narrow.  If you go off the road, there wouldn't be time to worry, because there's no recovery – you just die.  This video gives a nice feel to the drive down.
Before starting the Shafter Trail Road, we sat in the car while I paged through the owners manual of the Range Rover, trying to figure out the best setting for the steep, winding road.  Finally I gave up and just drove the road in regular drive.  I wasn't confident that making a change to the driving functions would necessarily produce positive results, and I didn't want any surprises on this type of road.  Shafers Trail or Canyon Road was pretty intimidating at first.  Within the first mile into the drive I heard my gal say, "I think I'm going to be sick" after looking down the cliffside and realizing the consequences of going off the road.  We made it down the road to the bottom in about 25 minutes, then turned around and drove back up in about the same time.  We encountered  4-5 vehicles in one way or another, parked or coming the other way, that had to be negotiated with on the slender roads.  Even now, I'm glad it's done and that we made it through.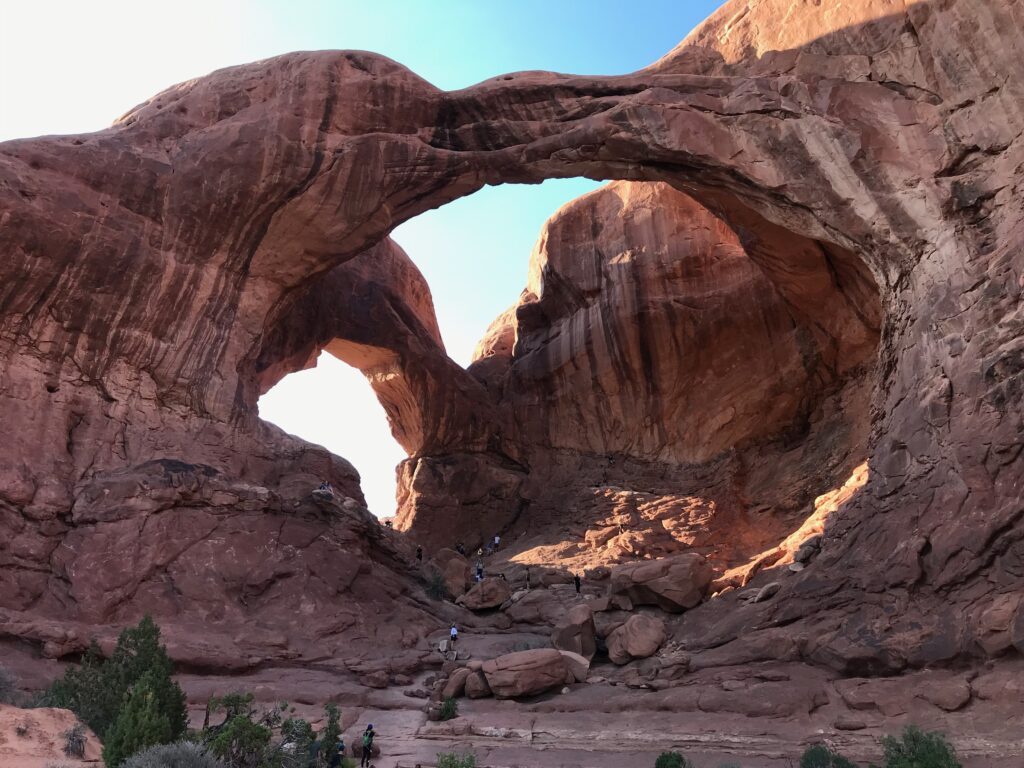 I had initially thought that there were be significant overlap in the 5 national parks in southern Utah because they were all so close to one another.  Each one turned out to be very different than the next.  Even Canyonlands and Arches, which are roughly 25 miles from each other are completely different than one another.  It's astonishing how different they are.  Arches National Park was surprising to me, and I really enjoyed it.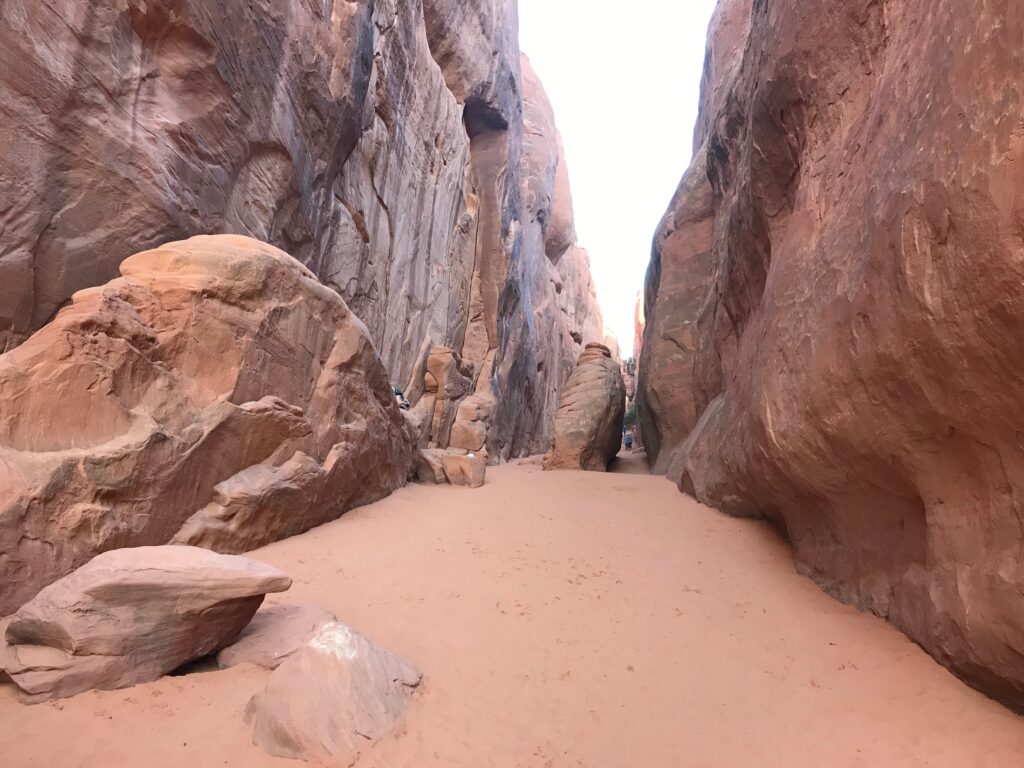 A little passage way in Arches filled with soft sand leading up to another arched rock formation.  Arches was the biggest surprise to me in the trip.  It rated much higher on my list than I thought it would.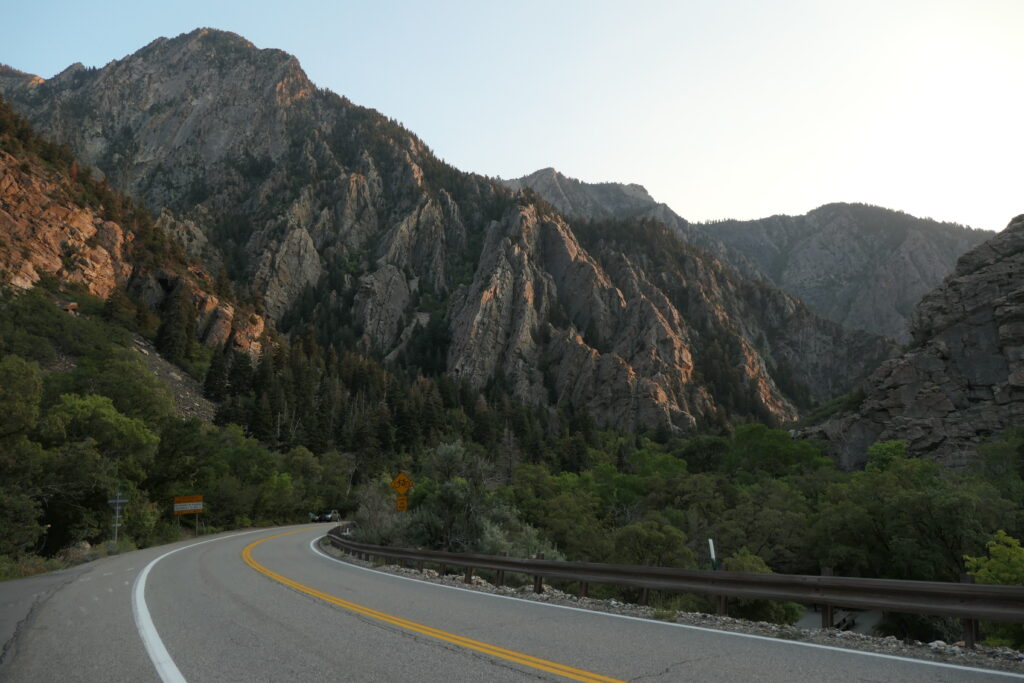 We also visited Park City after arriving in Salt Lake City.  Park City is really great and a wonderful, picturesque town.  It looks completely new, feels totally safe, and has fantastic scenery.  There's also a spectacular drive in the backside of Park City called Guardsmans Pass (photo above).  You drive up, then down the mountain range eventually back into Salt Lake City. Park City did not disappoint!
Costs
Transportation to MSP Airport = Uber credits from American Express (Cost $0)
Checked bags (2) = free via Chase United Business credit card (Cost $0)
Flight: MSP to St. George = Chase Ultimate Rewards @ 1.5 cpp via Chase Sapphire Reserve (Cost $0)
Rental Car (6 days) = Chase Ultimate Rewards @ 1.5 cpp via Chase Sapphire Reserve (Cost $0)
Flight: MSP to St. George = Chase Ultimate Rewards @ 1.5 cpp via Chase Sapphire Reserve (Cost $0)
CLEAR Security Access, Salt Lake City Airport = free via American Express Platinum card +guest (Cost $0)
Checked bags (2) = free via Chase Chase Sapphire Reserve $300 travel credit (Cost $0)
American Express Centurian Lounge, Dallas = free via American Express Platinum card + guest (Cost $0)
Transportation from airport home = Uber credits from American Express (Cost $0)
Hotel (5 nights)*
Hilton Cliffrose Springdale, Curio Collection = Hilton Free Night Certificates (2) via Amex Hilton Surpass 15k spend (Cost $0)
Hilton Hoodoo Moab = Hilton Free Night Certificates (2) via Amex Hilton Business 15k / 45k spend, (Cost $0)
Kimpton Monaco Salt Lake City = US Bank Flexperks @ 1.5 cpp (Cost $0)
Gas = $112.35**
Annual National Park Pass = $80
Misc = $26 daily parking fee at Kimpton Hotel Monaco, Salt Lake City
Food = $141.26***
Total Cost = $333.61
* free nights from 15k spend each of last 2 years on Hilton Surpass Amex card
** some gas expense reduced from Chase Sapphire Reserve $300 travel credit
*** food costs were reduced by $30 per night credits for Hilton stays (4 nights)
Note:  saying there is $0 cost for earning "free night" certificates is half true.  It's true there was no cost for redeeming, or staying at, the properties we visited using those free night certificates.  However, I did incur costs in the process of reaching the $90,000 in spend for those Amex Hilton free night certificates, as most of the spend was inorganic, or "manufactured".  Through the process of spend (and costs associated with the spend), I was also accumulating points.  I generally think of the spend as paying for points.  So for example, in the case of the Hilton Surpass free night at $15k spend, I earned roughly 90,000 Hilton points along the way, as much of the spend was "grocery" based (earns 6x Hilton points) but also incurred roughly $210 (or less) in costs for that spend.  90,000 Hilton points is enough for a free night at a high end Hilton, and the cost to stay at that type of hotel would likely be considerably higher than $210.  So not only did I achieve a free night certificate for the $15k spend, but also earned enough Hilton points for a reduced costs stay on points at a high end hotel in the future.  My actual costs for the free nights was less than $210, but they were still not 'free'.
"Free"
One of my big pet peeves in the points and miles world is the loose and over usage of the phrase "free travel".  I've seen it used repeatedly, even on some of the most notable blogs, podcasts, magazines, newspapers, and interviews.  Apparently using any sort of points, miles or rewards makes a trip "free".  It's pretty ridiculous, and dishonest.  Is it a lie?  For the most part yes, because most of the people saying it know better.  They know there are costs for their trip that they are not including in their "free" claims.
One of my current goals is to travel for free.  By free, I mean no out of pocket costs for the trip.  Sometimes it's not always possible to do.  There could also be debate about the opportunity costs of using some points for travel vs. cash, but that's outside of the parameters I've set.  I do use points for cash, and have done so at a high level the past several years.  But for each trip I take, I try and get my costs as low as possible, and hopefully to zero.  That doesn't mean living off crackers and cheese and packing a sleeping bag.  On the contrary, many of my trips often have elements of luxury in them.  However, I also don't mind to find ways to minimize costs where others may not go, like a short hostel stay mixed into a trip.  Besides credits from Amex and Chase to minimize my trip expense, I also had positive money to offset my expenses from:
Dosh app
Cash back from 2% and 3% credit card
I also took advantage of the Amex Membership Rewards cash out via Schwab at 1.25 cpp before the September depreciation.
It was a great trip.  We did all I thought we could do and more.  I even earned some points along the way too 🙂