19 Mar. 2020
On Fire
As the stock market started tumbling in the past couple of weeks, I thought more about my long term goals both in terms of points and in dollars.  As a step toward saving money, I redeemed 1 million Chase Ultimate Rewards for cash.  That cash-out was about the same time that I was first introduced to FIRE, and started prioritizing saving money towards financial independence and retirement.  Those points were earned a variety of ways and at various earn rates from 1.5x to 5x.  I'm one who loves to see a points balance accrue, so saying goodbye to a seven figure stash wasn't easy.
Recently I wrote about some points goals for 2020 and beyond, some of them linked to possibly retiring in the near future.  A part of that post was accumulating several million flexible points such as Chase Ultimate Rewards.  I was well on my way to achieving all of those goals  in that post well ahead of schedule, but in the midst of a huge downtown in the stock market, thought about how unwise it seemed to accrue millions of points that would just sit there for years without much or any use.
To compound that, the market downtown made using the points in the foreseeable future nearly useless.  It certainly wasn't possible to use millions of travel rewards of any kind in the age of Chinese Wuhan virus.  So I decided once again to cash some points out and invest them.
Show Me The Money
In the fall of 2019, I wrote about trying to add $100k to my net worth.  I accomplished that goal in less than 5 months.  However, that $100k in net worth that I accrued is gone.  Even thought it took a good deal of effort, planning, and diligent saving, it was a paper $100k.  When the market turned south, it took that money with it.  I'm not terribly worried though, as I don't need the money right now, and I'm pretty optimistic on the dissipation of the virus and the return of that money into my portfolio.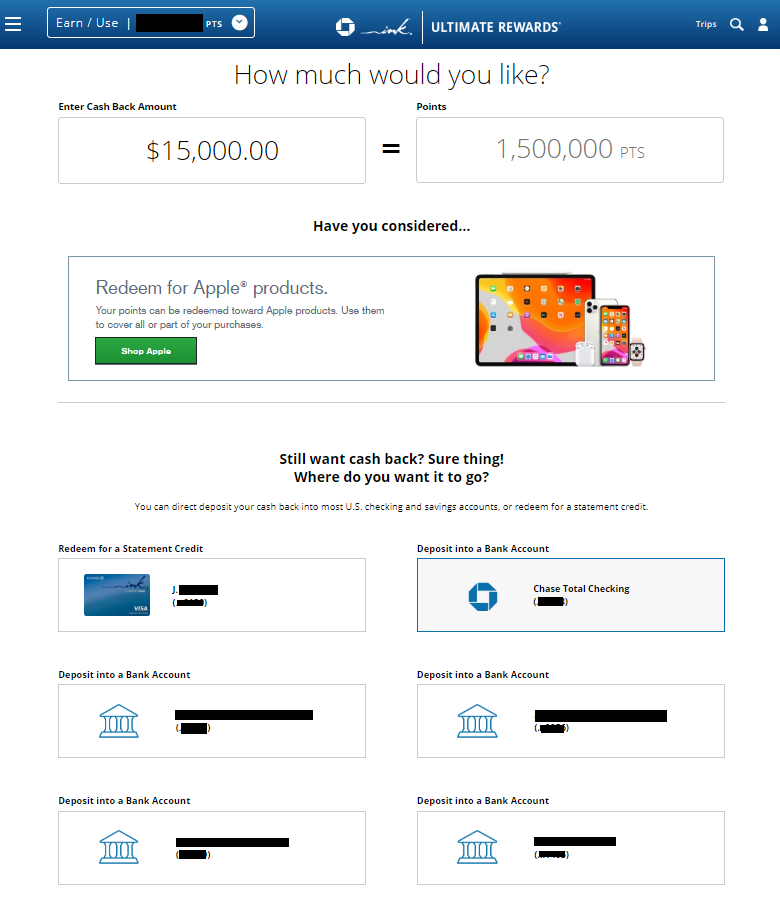 Virtually all of my Ultimate Rewards (URs) are earned at a rate above 1x, but the redemption rate for cash is just 1 cent point point (or 1,500,000 points = $15,000).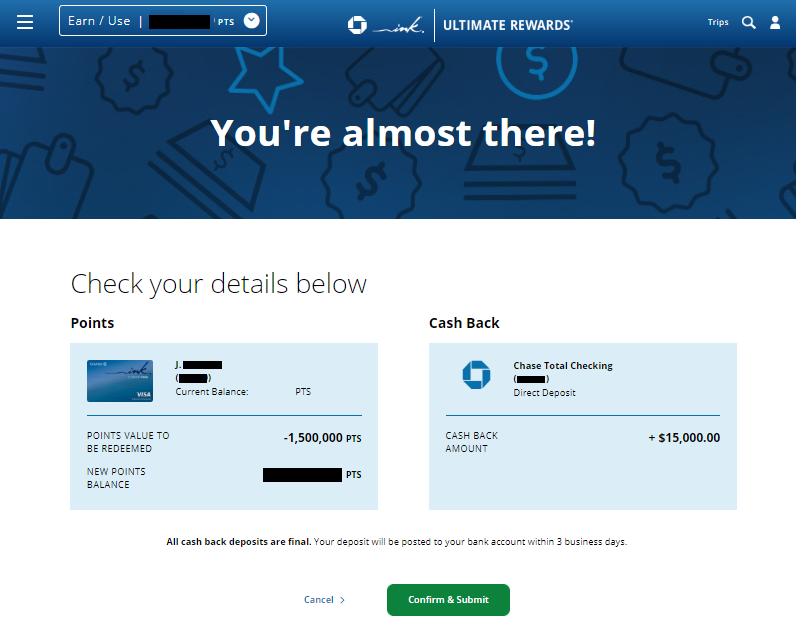 I prefer the Amex Membership Rewards to Schwab cash-out.  The same day transfer is much quicker.
In the past, if I'd cashed out Ultimate Rewards, they were transferred to an external checking account.  That transfer took 2-3 days.  From there it took another day or two to transfer to one of my investment accounts.  The whole process took too long, so I opened an investment account with Chase to simplify and speed up the process.  The Ultimate Rewards redeem to cash into a Chase checking account, then transfer into a (separate) investment account.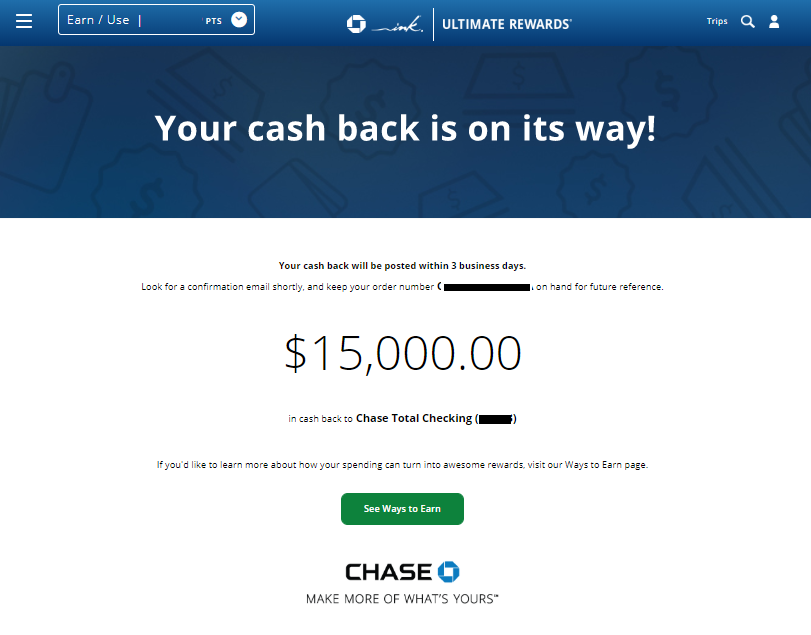 From the images above, it's pretty clear that last week I cashed out a pile of Ultimate Rewards into $15,000 in cash.  A couple nights ago, I cashed out another 500k for an extra $5,000 in cash.  Add to that some Amex Membership Rewards converted into a Schwab investment account along with other cash back currency redemptions, and the total cash-out for the week was a strong start towards the next $100k in net worth.  To be honest though, getting rid of 2 million UR's in a couple of mouse clicks gave me the shakes lol.  I was borderline depressed after seeing my points balance get diminished so quickly.
There are others in the points and miles space that have some similar thoughts about points and moves toward cash.  Mark and Benjy at M2M have some recent posts that are worth reading.
Conclusion
Some think cashing out transferrable points into cash is a waste of valuable travel rewards.  There's an argument to be made around that logic. For me though, the logic around holding onto a huge stack of stale and ultimately depreciating points without near term plans to use them was a bit foolish, and borderline irresponsible.  I have enough actual airline miles and related points for any trips in the near future (and beyond).  Over the next several years, I still want to accumulate a large chunk of transferrable points for future travel which will hopefully coincide with an exit out of the labor force, but that should realistically be a secondary goal until I achieve my financial goals.
The stock market is getting brutalized right now.  Fear is just as contagious as the Wuhan virus.  However, while many are selling stocks in fear of the issue, I consider it a nice time to buy.  My only regret is that I don't have more free cash to invest.